In December, I asked you guys to vote on which fairy tales you wanted to see in my Brothers' Grimm menu this month, and "The Twelve Dancing Princesses" was in one of the top spots. I was thrilled, since this was one of my favorite stories growing up, and I had a great idea for a recipe: white chocolate-covered strawberry ballet slippers! I've seen them done in pink on Pinterest, so to make them more my own, I did them in a variety of colors and set them up as 12 distinct pairs of shoes. I love how bright and cheery the final slippers looked!
I normally do an appetizer as my first dish each month, but even though these are a little too sweet to be a true appetizer, they were just too fun to pass up! In fact, they're easy enough that I'd recommend them as a fun activity for older children (maybe 8 years old and up). It makes me wish we had a little ballet dancer in the family so I could make them for a birthday party! 🙂

 A
Strawberry Ballet Slippers
"Yet each day for the past year, when [the king] unlocked their door and kissed them all good morning, he found to his dismay that their satin dancing slippers had been worn to pieces."

— "The Twelve Dancing Princesses" by Marianna Mayer and K.Y. Craft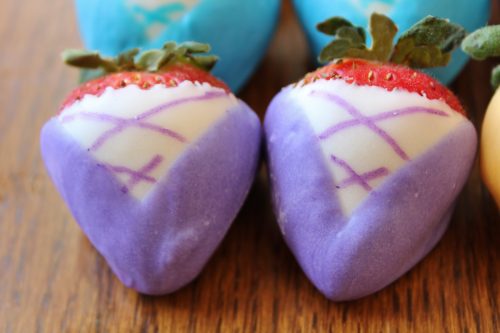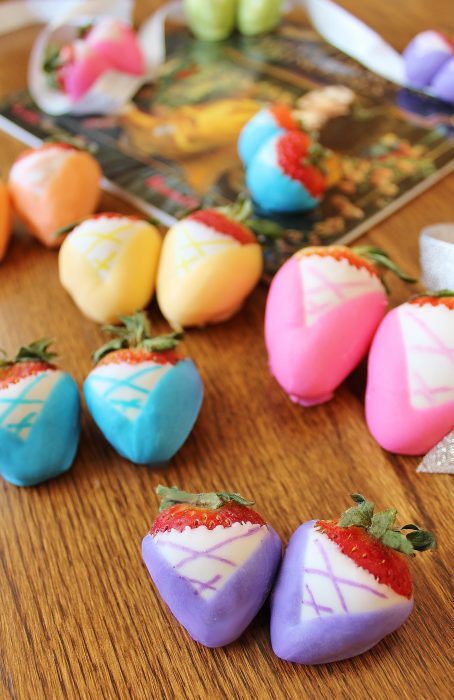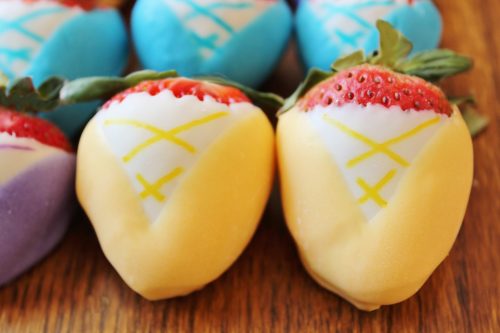 INGREDIENTS: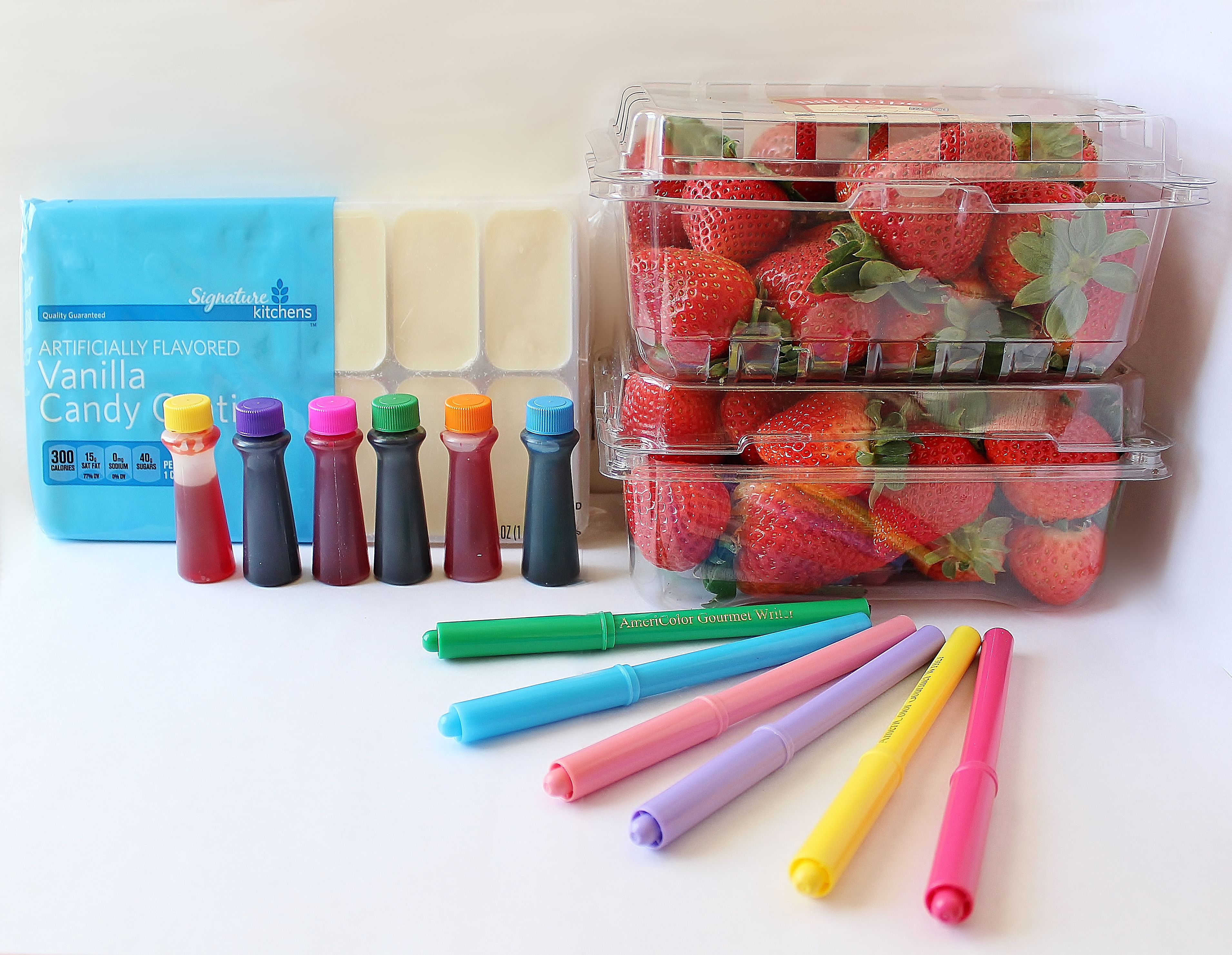 24 strawberries
1 24-oz. container vanilla candy coating
gel food coloring, various colors (This part's a pretty big deal. It really does have to be gel coloring instead of regular liquid coloring. There's too much water in liquid coloring; it would make the candy coating seize.)
Food pens, in the same colors as your food coloring
Makes 24 strawberry ballet slippers (12 pairs)

INSTRUCTIONS:
Line a baking sheet with wax paper and set aside. Place half your candy coating in a large microwave-safe mug and heat according to package instructions. Stir until smooth.
Dip your strawberries into the candy coating and place them on the wax paper to set. By the time you're finished dipping all the berries, the first few should be ready for coloring.


Place 2 oz candy coating in a ramekin or small coffee cup and heat for about 35 seconds. Stir, then heat for 20-35 seconds more, stirring until smooth (how long your coating needs to heat will depend on the size of your ramekin and candy coating pieces). Stir in 2 drops gel coloring, any color.
Dip one strawberry sideways at an angle into the colored coating about halfway. Then rotate it and dip the other side. This should give you an outer coating of color with a "V" of white in the middle. Repeat the process for 3 more strawberries.

2 oz of coating is actually enough for approximately 6 berries, so you may have a little extra.

Repeat Steps 3 and 4 with the remaining candy coating, coloring, and berries. In the end, you should have 4 berries of each color.
On the white portion of each berry, use your food pens to draw one large "X" and one small "X" beneath it, coordinating the color of the pen with the outside coating of the berry. These will be the laces.

I tried piping the extra candy coating onto the berries as laces, but it was either too warm (causing it to drip all over) or too cool (causing it to seize in the piping bag). You could do it with frosting, but I didn't want to go through the trouble of coloring and bagging 6 types of frosting for just a couple teaspoons of piping. In the end, I was happy with how the food pens looked. And they were so easy!

Now you have 12 pairs of strawberry ballet slippers—two of each color!
Serve to some enchanted princesses to break the curse cast upon them.

Check out my other strawberry recipes!