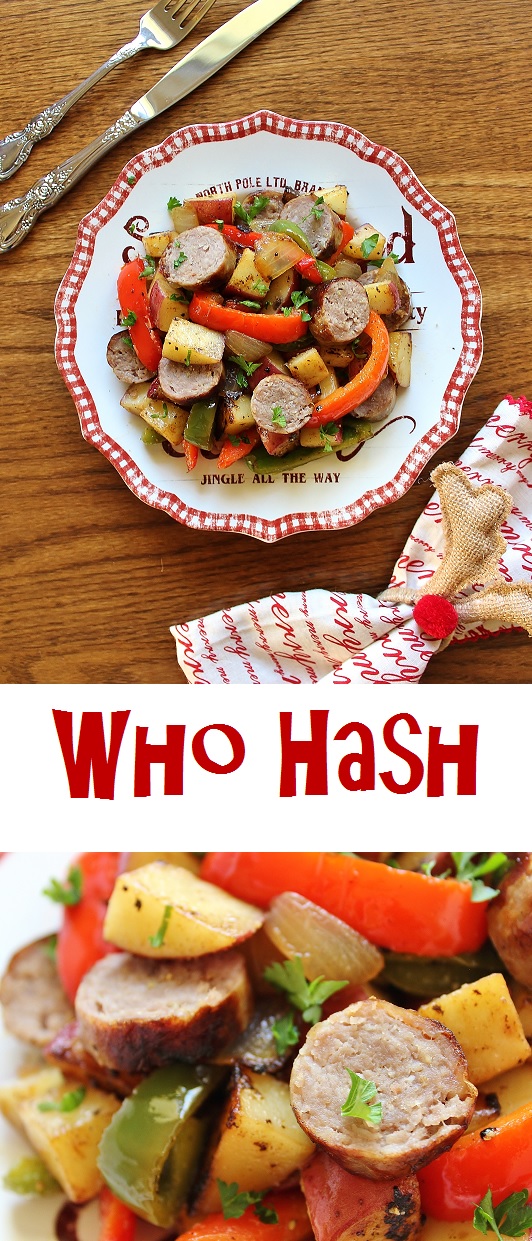 Hey, all! December is here at last and with it our final Book of the Month for 2017: The Grinch Who Stole Christmas. I've been looking forward to this menu for a long time, so let's get started!

Our appetizer for this menu is Who Hash, which the Grinch steals from the icebox on Christmas Eve. Dr. Seuss doesn't give a description of it, so I decided to use it as a chance to get creative!

It seems a little strange that a few months ago I'd never made hash in my life, and now I've made TWO hashes in as many months (you can check out my Stranger Things Pumpkin Hash here). I decided to make a pepper and sausage hash this time, with an eye towards making it different from the hash I made last month. This hash features juicy Italian sausages that have been cut into disks and sauteed in an iron skillet with onions, red potatoes, and Christmas-y red and green bell peppers. It's bright and satisfying with a bit of a kick—I can see why the Grinch would like it! 😉
 A
Who Hash: An AWR Original Recipe
Then he slunk to the icebox. He took the Whos' feast!
He took the Who-pudding! He took the roast beast!
He cleaned out that icebox as quick as a flash.
Why, that Grinch even took their last can of Who-hash!

— The Grinch Who Stole Christmas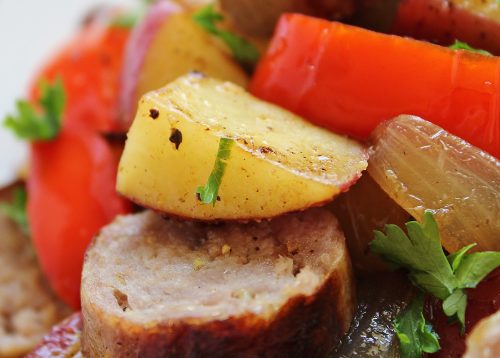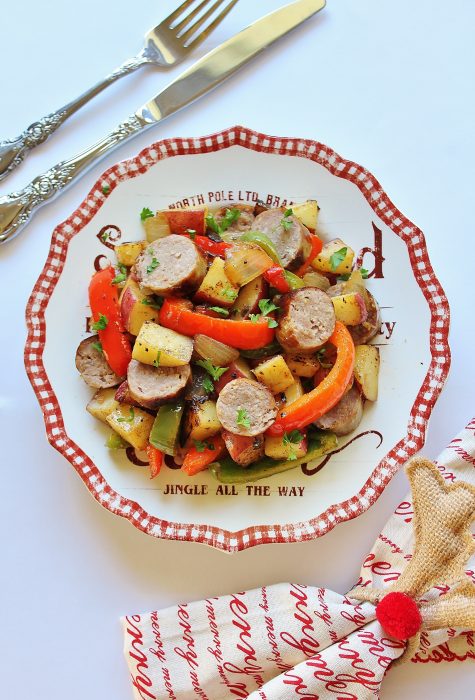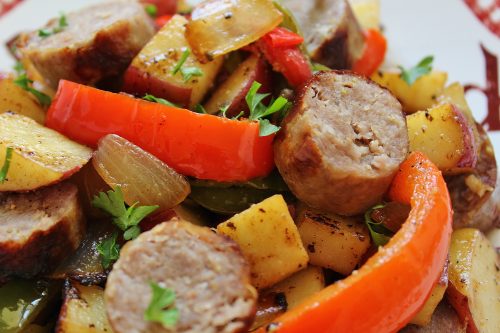 INGREDIENTS: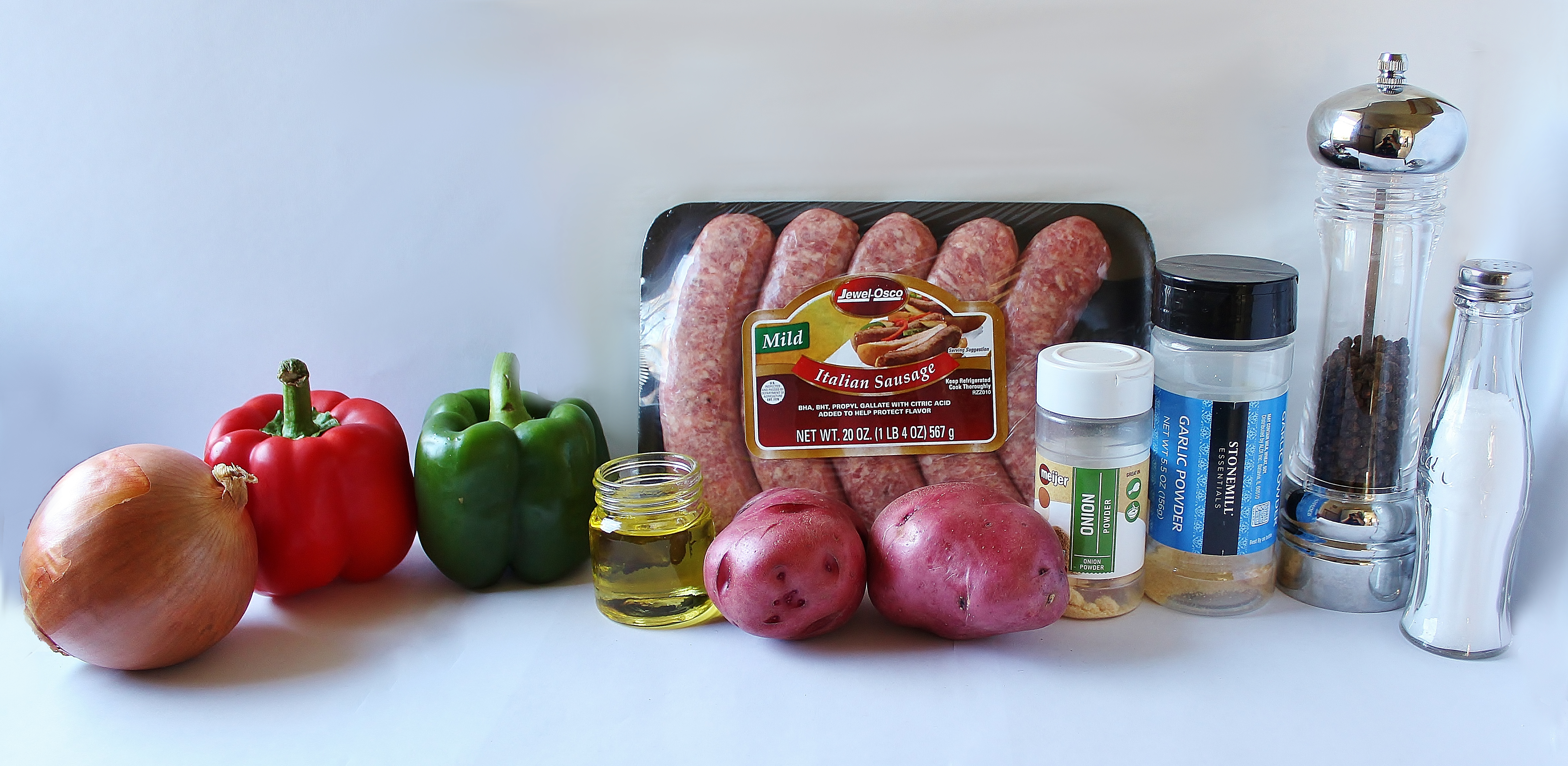 1/2 yellow onion
2 red potatoes
1 red bell pepper
1 green bell pepper
1 tbsp lemon juice
2 mild Italian sausages
2-3 tbsp olive oil
1 tsp salt
1/2 tsp pepper
1/2 tsp garlic powder
Makes 4 servings

INSTRUCTIONS:
Dice your onion. Cut your potatoes into 1/2-inch cubes. Slice your peppers into sticks. Stir them all in a bowl together with the lemon juice and set aside.

Heat a cast iron skillet on medium-low heat and place the sausages on it when hot. Cook the sausages for 15 minutes or until cooked through, turning every 2 minutes.

To make sure I got even browning throughout, I spent some 2 minute rounds with the sausages heating against the sides of the pan or being held down flat with a spatula so the heat could get to the curved side. SIDE NOTE: You can ignore the fact that there are three. I thought I might need the extra one, but two was plenty.

Add the olive oil to the pan and stir in your vegetables. Cook for about 15 minutes or until the potatoes are cooked through, stirring occasionally. While you wait, slice the sausages into disks.

Turn off the heat. Stir in the seasoning and sausages, letting the residual heat warm the disks. If desired, top with a little snipped parsley for color.

Serve to the Whos on Christmas morning!

The Mister was a big fan of this, and even though I'm not normally super into sausage, I'm inclined to agree. The spice of the sausage and bite from the peppers complement each other really well, and it's easier to get the larger chunks of food on your fork than it is with hashes that have smaller bits of food.