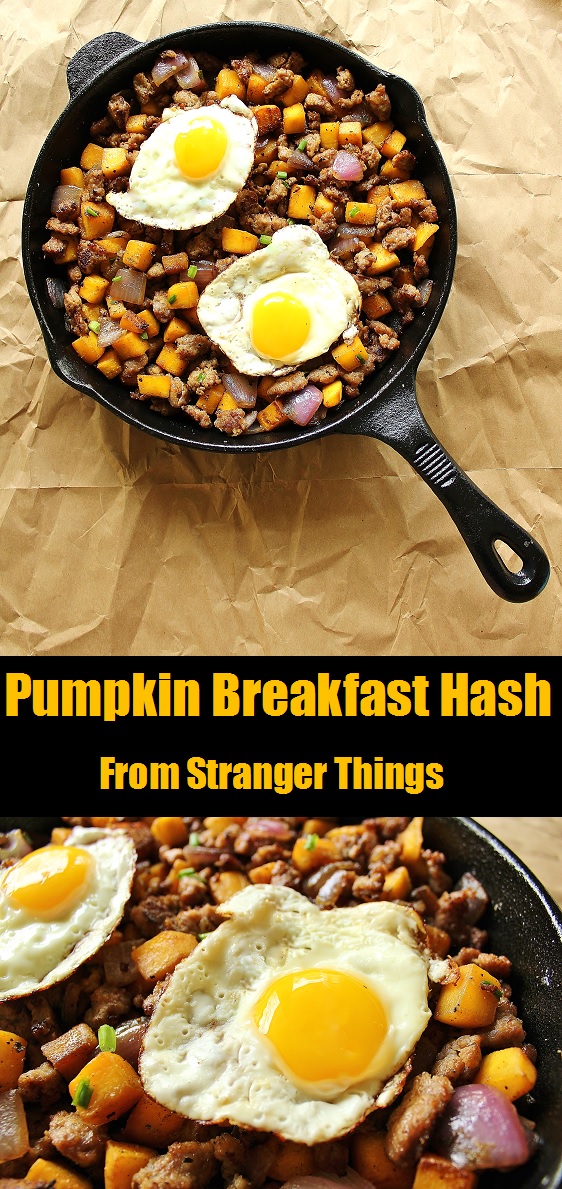 Pumpkin plays a key role in Season 2 of Stranger Things, so I knew it needed to make an appearance in my menu. I wanted to continue my breakfast theme, and pumpkin hash sounded like the perfect side dish to pair with my Fried Chicken Waffle Cones and Bacon Stuffed French Toast.

Pumpkin hash is a little unusual, but I managed to track down a recipe by Eat the Gains to use as inspiration. Like the original, mine starts with crumbled sausage, cubed pumpkin, and chopped onion (though I used red onion for a little extra color). Then I added a little garlic and sage since I've got Thanksgiving on the brain. Stir in some green onion for a pop of color and add some fried eggs on top, and you've got a hash Hawkins, IN would be proud to call its own.
P.S. Can I just say that I'm inordinately proud that, in the three recipes I've made for this menu so far, I've included FOUR kinds of protein? Chicken, bacon, sausage, AND eggs! Whew, I may need to go on a run when this is all over.
P.P.S. That's a hilarious joke because I have, in fact, NEVER gone on a run.
P.P.P.S. Don't worry, I won't be putting meat in the dessert. 😉
 A
Pumpkin Breakfast Hash
Merrill: These were prize winners, Chief. You should have seen 'em. For the life of me, I couldn't figure out what happened. And then I remembered…Eugene.
Hopper: What about him?
Merrill: He's been complaining about me to just about anyone who'll listen.
Hopper: Why's that?
Merrill: Well, he started this "Pick Your Pumpkin" thing. Acted like it was trademarked. I said, "Hire yourself a damn lawyer, see how far that gets you."
Hopper: You're telling me that nice old Eugene came out here at night and doused your field with poison?
Merrill: Not Eugene himself. I'm thinking one of his field hands. Listen, Chief. I don't go throwing around accusations lightly. You know me. This happening the day before Halloween when sales are peaking? That's a hell of a coincidence.

— Stranger Things

INGREDIENTS: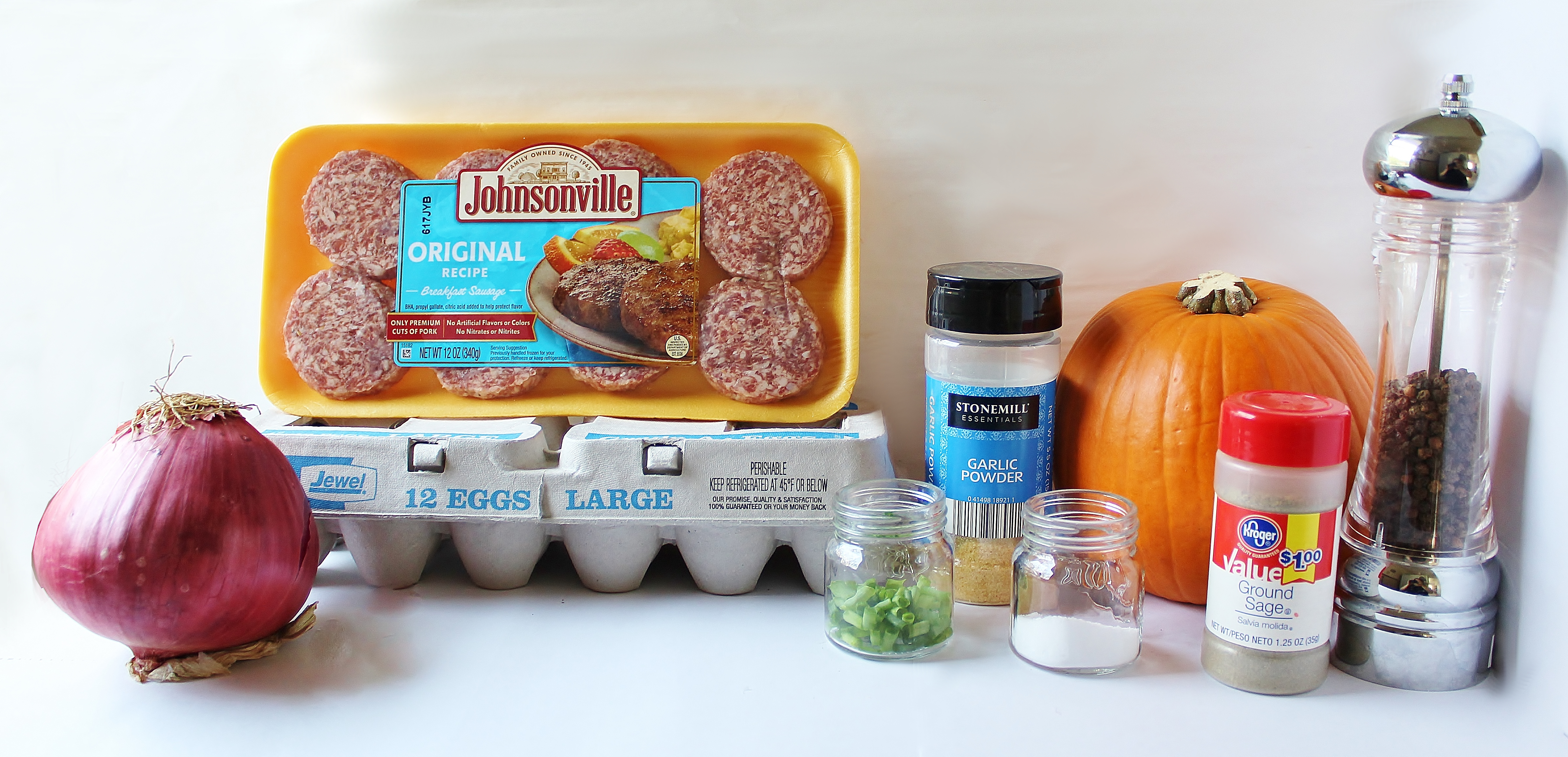 1/2 red onion
1 pie pumpkin
12 oz ground breakfast sausage (It doesn't have to be in patty form like it is in the picture. That's just what was on sale at my grocery store this week.)
a little extra neutral oil, if needed
There was also going to be a 1/2 cup of sliced mushrooms, but I went to get them out of my fridge and they'd gone gross. I had to nix them last minute, but add some to yours if you like!
1 tsp salt
1/2 tsp each fresh ground black pepper, ground sage, and garlic powder
2 tbsp chopped green onion
4 eggs
Makes 4 servings

INSTRUCTIONS:
Coarsely chop your onion. De-seed and peel your pumpkin, cutting it into 1/2-inch cubes. Set aside.

There are lots of theories as to the best way to break down a pumpkin. What worked best for me was cutting off the top and bottom, slicing the pumpkin into quarters, scraping out the seeds with a spoon, and then removing the skin with a vegetable peeler.

Place a cast iron pan over medium heat. Break up your sausage and add it to the pan, heating until cooked through, stirring regularly. Transfer the sausage to a bowl, leaving the drippings in the pan.

Add a little extra oil to the pan (around 2-3 tbsp) and add the onion and pumpkin. Cook for 12 minutes or until the pumpkin is fork tender, stirring regularly. During the last minute or two of cooking, stir in the salt, pepper, sage, and garlic powder.

Remove the cast iron pan from heat. In a separate pan, fry the eggs. Stir the sausage and green onion into the vegetable mix.





 

Check out our other breakfast recipes! 🙂