The secret's out: This whole Stranger Things menu is gonna feature breakfast foods! We started out with Spicy Maple Fried Chicken Waffle Cones, and now we're moving on to rich, fluffy french toast.

This recipe is inspired by the French toast Sheriff Hopper serves to Eleven in Season 2. Granted, the version he made was a little more basic, but you know me—I can resist playing with my food! Stuffed French toast seemed like the way to go, and the bacon stuffed variety was perfect for health-food-hating Hopper.

This was my first time making French toast, so I took inspiration from several recipes: The Kitchn's basic French toast, Spicy Southern Kitchen's Bacon French Toast, and Bon Appetit's tips for avoiding French toast mistakes. Although I'm not the biggest fan of French toast (hence why I've never made it before), I feel like this is a really solid recipe. It starts with thick slices of challah soaked it a lightly sweetened custard, filled with fried bacon and cooked in butter until golden. The texture on the inside was rich, faintly sweet, soft, fluffy, and moist without being wet. In fact, the inside of the bread reminded me a lot of a soufflé. It contrasted so well with the salty bacon in the very center. Top with a dusting of powdered sugar and a healthy drizzle of syrup, and you're all set!

 A
Hopper's Bacon Stuffed French Toast
"Now, what did we talk about? Dinner first, then dessert. Always."

— Stranger Things

INGREDIENTS: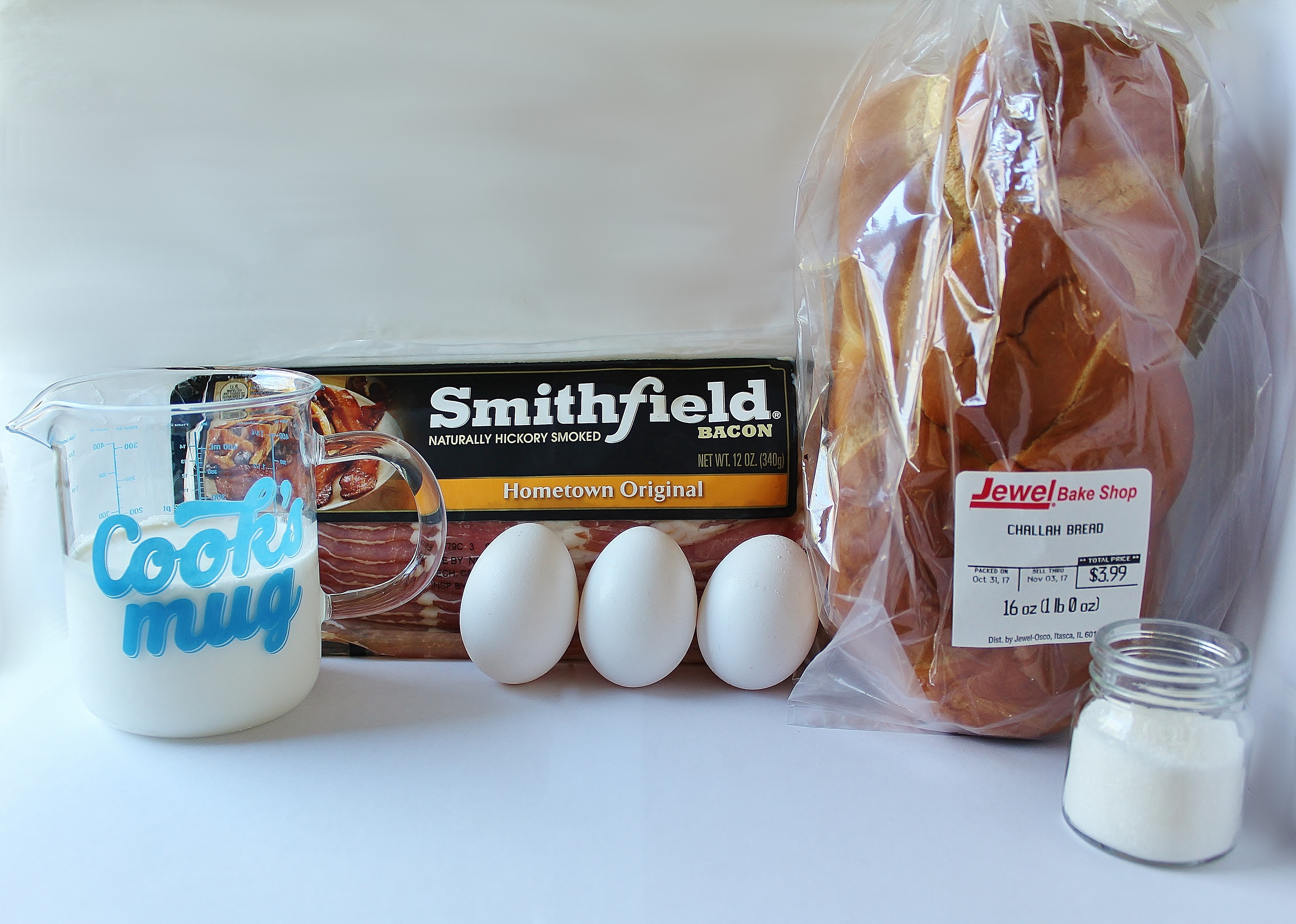 8 slices bacon, cut in half
8 1-inch thick slices of challah
3 eggs
1 cup half and half
2 tbsp sugar
Makes 4 French toasts

INSTRUCTIONS:
Fry your bacon in a large nonstick pan and allow to drain on a plate lined with a paper towel. Wipe all the bacon grease from the bottom of the pan (save for later if desired). Add approximately 1 tbsp vegetable oil and 1.5 tbsp softened butter to the clean pan. Set aside.
NOTE: It may be tempting to use the bacon grease instead of the vegetable oil, but I wouldn't recommend it. The purpose of the veg oil is to keep the butter from overbrowning, so you don't wind up with burned toast. Bacon grease doesn't really help with this, so it's better to just clean the pan and save the bacon grease for another recipe, like johnny cake.
Place 3-4 half slices of bacon in the center of 4 of your challah slices. Place the remaining bread slices on top.

In a 9×9 square baking dish, thoroughly whisk together your eggs, half and half, and sugar until you've broken up the eggs as much as possible.
Place 2 of the "challah sandwiches" in the custard mix and allow to soak for 2 minutes on each side. While the second side is soaking, set the burner under the greased pan to medium low and melt the butter, swirling occasionally.

Transfer the soaked sandwiches to the hot pan and gently press down on them with a spatula for about 30 seconds each. Cook for 1.5-2 minutes on each side. Transfer to a serving plate.

Clean out the pan and add more vegetable oil and butter. Soak and cook your remaining 2 sandwiches as before.
Dust your French toasts with powdered sugar and drizzle with maple syrup.

Serve before heading out to solve the case of Hawkins' Mysterious Dying Pumpkins!




 

Check out our other breakfast recipes! 🙂

 
Save