This post is sponsored by Chef Inside the Box. I was given one free box of four meals in exchange
for an honest review of the service. The thoughts and opinions are my own.
Most of you know I'm juggling a cookbook, a blog, and a baby…which basically means my life is a crazy, wonderful mess at the moment! 🙂 Despite loving to cook, these days I don't always get dinner on the table at a reasonable time (or at all), and when I do, it's often a hassle.
That's where Rachel comes in. She emailed me a couple weeks ago representing Chef Inside the Box, a brand new Chicago-based meal kit service. They send a box of 4 quick-to-make meal kits right to your door, complete with instructions…all for $27.80/meal! Since I'm a Chicago-based blogger, Rachel offered to send me a free box in exchange for an honest review. And I was instantly like: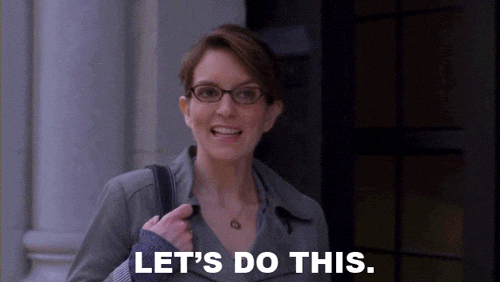 I mean, who DOESN'T want to get a package on Monday that takes care of dinner for the rest of the week?
Plus, with a new school year starting, I figure there are a lot of people out there whose lives are in a similar state of craziness. And I'm pretty sure we could all use an easy way to take the headache out of dinner. So let's talk meal kits! 🙂
My Chef Inside the Box Experience
DELIVERY AND PACKAGING
I'm not sure if the delivery guy was employed by Chef Inside or if they use a third party delivery service, but either way, they should totally stick with what they're doing. The delivery guy was super courteous—even offered to carry the box into the kitchen for me (I turned him down. It was laundry day, and I was too embarrassed to let him pick his way through all the piles of dirty clothes in my living room >.<).
And perhaps most importantly, the package came well before dinner, giving me plenty of time to unpack the box, check everything, and store it before I even needed to think about dinner. I noticed that the kits inside were sized perfectly to fit on any shelf in my fridge. I was able to store one on the bottom rack, two stacked in the middle,  and one on the top rack. It took a little rearranging to find a place for them, but I was able to do it without too much trouble. The box also came with a personalized note from the chef who prepared the food, which was a nice touch.
Each kit contained individually vacuum-sealed packages of ready-to-heat food, a bag of four rolls, a postcard with instructions, and an itemized ingredient list.
THE MEAL KITS
Seared Bourbon and Sweet Onion Chicken
with Garlic Butter Herbed Rice and Dinner Rolls
This was an "express" dish (designed to be super fast and use minimal dishes). All we had to do was microwave two packages and heat the rolls for a few minutes in the oven.
I loved the speedy preparation and easy cleanup. The flavor was great—just the sort of thing the Mister and I like. It was sweet and a little tangy with a hint of salt to balance it out. I was impressed that the onion still had the tiniest bit of firmness to it after being microwaved, instead of being overcooked mush. I'm all about texture in my food, so that was really satisfying for me. I also loved the texture of the chicken (you could tell it had been seared before it was sauced), and I appreciated that there was a lot of meat in proportion to the onion.
I had an issue with the rice, though. It was vacuum-packaged into a thick block, which made it hard for heat to get to the rice in the center when I microwaved it (I had to heat it longer than the instructions indicated, which left the outer rice overcooked). I think packaging the rice in a thinner, wider block would have allowed it to heat more evenly.
The rolls were ok but very clearly the same kind you get in the grocery store bakery section. Heating them was a nice touch, though.
Slow Cooked Turkey Risotto
with Mushrooms, Peas, Parmesan Cheese and Dinner Rolls
Despite being a regular dish instead of "express," this still came together quickly. And the only prep dishes I needed were a sauté pan and a cookie sheet! For us, it easily made 5 servings instead of the average 4 (and the Mister eats pretty big servings).
Although this was definitely good, we both felt like it needed a little extra something (maybe more garlic?). Granted, we're a little spoiled in this department. I have my own quick risotto recipe, which packs a lot of flavor. That made this dish a little lackluster for us, but it was still a good quality meal. I was especially impressed that the turkey stayed moist.
Seared Prime Rib Stroganoff
with Twisted Egg Noodles and Dinner Rolls
This was another express dish. It was rich and beefy, and unlike a lot of stroganoffs I've tried, it wasn't too salty. The hunks of meat were large and tender. And the Little Mister loved the egg noodles (they're the perfect size and shape for someone just starting finger food!).
However, I had the same issue with the noodles that I had with the rice from the Bourbon Chicken recipe. They were packaged in a dense block, so even when I microwaved them for the maximum suggested cook time, the noodles in the center of the block were still lukewarm. This wasn't an issue for us since we used the outer noodles and saved the inner ones for leftovers, but it could be a problem if you need to use all the servings at once. Again, this would be a pretty easy fix: just pack the noodles in a wider, thinner block.
One thing I really liked about the express dishes is that the instructions for both were virtually the same. I barely had to look at the recipe card for the stroganoff, which saved even more prep time.
Smoked Pork Chops
with Red and White Quinoa, Maple Brussel Sprouts and Dinner Rolls
Right now, this is the only meat-with-a-side-dish meal kit on offer. I ordered it specifically with the Mister in mind, and it was easily his favorite. I was surprised by how much I loved it too. I'm normally super picky about pork chops (this is another one of those cases where I have my own go-to recipe), but the seasoning and tenderness had me like:
It seriously tasted like a thick, juicy ham steak. The maple brussel sprouts and quinoa were good too. When I first saw them on the site, I was like, "Umm…ok?" But now that I've had them together, I get it. The sweetness from the maple and the nuttiness from the quinoa complement each other really well. We ate them right up!
FINAL THOUGHTS
All in all, the Mister and I really enjoyed our Chef Inside the Box experience. The food was delicious and plentiful, especially for the price. I could really see this taking off with busy families or couples who don't have the desire or kitchen space to make a meal from scratch.
The bottom line for me is you're getting restaurant quality food at a fraction of the price, designed to save you time across the board (you don't need to go the the store, chop anything, or clean a lot of dishes after). I had noticeably more time in the evening, which I could alternately spend on myself or my family. Plus, it's a local business, which is a big deal to me.
Other Things Worth Noting:
Delivery is free.
It's not a subscription, so you can order whenever you want.
Dinner rolls are currently the only side dish on offer, but they're planning on having more (they just launched a few weeks ago, so this is just what they're starting with).
If you're interested in meat-and-side-dish meals like the pork chops, they're expanding their menu to have more, including two types of burgers.
The instructions are brief, easy to follow, and include pictures. I was never unsure about what I needed to do or how long I needed to do it. Even cook times that seemed a little short to me worked out fine.
These folks do NOT skimp on meat. I love that! So often with a meat-and-rice or meat-and-noodles dish, the chunks of meat are small and few. In all of our meals, the meat was generous, flavorful, and tender.
They only deliver in the Chicago area. You can check here to see if they deliver to you zip code.
They do not currently offer allergy accommodation but have plans to include it in the future (ideally for 2018).
Interested in learning more?
Click the icon below to get started! 🙂