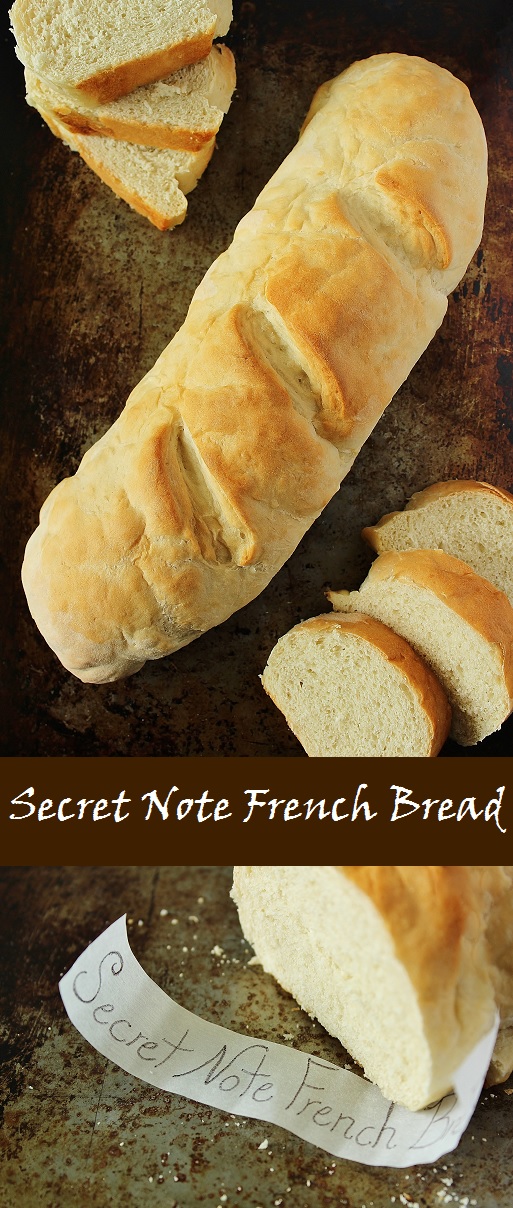 Our new Book of the Month is The Man in the Iron Mask by Alexandre Dumas, and I can't wait to get started! It took me forever to finish it (60 chapters, y'all. Dumas ain't kidding around), but it was still a really fun read. It's got everything you could ever want in a classic book: Intrigue! Adventure! Bishops on the run for trying to put the king's displaced twin brother on the throne! Yaaay! 🙂
When I started reading, it didn't take long for me to find my appetizer: early in the book, Aramis sneaks Prince Philippe a secret note in a loaf of bread.
"Fun!" I thought. "I can make french bread and hide a little note inside."
In my hubris, I decided to make authentic french bread, because, y'know, historical accuracy. Then I saw that the Julia Child recipe takes seven hours. And most other "authentic" recipes take anywhere from two to four.
There are people out there who have hours and hours to devote to the refined art of traditional bread making. These people do not have 6-month-olds who are teething and mobile, which means I am not one of them. So instead we're going a less historically accurate route and going a more fast-and-easy-but-still-french-bread-and-still-delicious route.
Enter Leigh Anne from Your Homebased Mom's recipe for Easy French Bread. It caught my attention because of the short rise time (40 minutes total), making the whole recipe just a little over an hour from start to finish. It's not as porous inside as a traditional French baguette, but it's delicious, with a beautiful crust and tender crumb.

Maybe it's a good thing that Aramis didn't give Philipe this EXACT loaf of bread…he probably would have eaten it all without even stopping to notice the note! 😉
 a
Secret Note French Bread

"Why, then—being better, I have no longer the same need of a confessor, I think."
"Not even of the hair-cloth, which the note you found in your bread informed you of?"
The young man started; but before he had either assented or denied, Aramis continued, "Not even of the ecclesiastic from whom you were to hear an important revelation?"
"If it be so," said the young man, sinking again on his pillow, "it is different; I am listening."
a
INGREDIENTS:
1 1/4 cup plus 2 tbsp warm water, separated
1 packet active dry yeast
1 tbsp plus 1 tsp sugar, separated
1 tsp salt
3 1/2 cups flour
1 egg white whisked with 1 tbsp water
Makes 2 "batards" (short loaves) or 1 long baguette

.
INSTRUCTIONS:
In a small bowl, stir together 1/4 cup water and 1 tsp sugar until the sugar is dissolved. Add the yeast (you may need to gently stir to get all the yeast in contact with the water). Let sit for 5 minutes.
Pour the yeast mix into the bowl of standing mixer. And 1 tbsp sugar, salt, and the remainder of the water. Stir to combine. Add the flour and mix on medium speed with a dough hook attachment until combined (approximately 2 minutes).

Knead the dough for 5 minutes or until smooth. Coat a large bowl with cooking spray. Place the dough inside and lay a clean  kitchen towel on top. Allow to rest for 20 minutes or until double in size. NOTE: If you don't have a warm place in the house to put it, you can place it in a closed microwave to protect it from drafts (just make sure you don't turn it on!).


Cut the dough in half.
Place one half onto a floured surface and roll until it reaches approximately 10 inches in diameter. Roll the dough up Swiss-roll-style. Place seam side down with the ends tucked underneath on a greased baking sheet.
Repeat Step 5 with the remaining dough.
Preheat your oven to 300°. While you wait, boil 3 cups of water. With a sharp knife, cut 3 diagonal slits 1/4-inch deep across each of your loaves. Brush the tops of the loaves with the egg wash.

Place your loaves on the top shelf in the oven. On the bottom shelf, place a second baking sheet, and pull out the shelf slightly. Pour the boiled water into the bottom baking sheet and gently push the shelf all the way in.
Turn off the oven and allow the loaves to rest inside with the steam bath for 20 minutes (they should double in size).
Remove the pan of water (much of it will have evaporated). Turn your oven to 425° and bake the loaves for 15 minutes. To clarify, you're not preheating this time, so the 15 minutes starts from the moment you set the oven to 425°.
Turn the oven down to 375° and allow to bake for another 8 minutes or until the loaves sound hollow on the bottom when you tap them firmly.

Remove to a wire rack and allow to completely cool.
Now for the note! Cut a strip from a roll of parchment paper and write your note onto the paper. I used a Sharpie, since I knew the note wouldn't be staying in the bread very long, but if the note is going to be sitting for more than a few minutes, be sure to write with something food safe, like a china marker/grease pencil or a 100% beeswax crayon.

Roll it into a tight tube, making sure to keep the side you've written on on the inside of the roll. Use a knife to cut a slit in the bottom of the bread and insert the note. If you're confident you'll find it again, go ahead and stick it all the way in. Otherwise, you can have the bottom of the note sitting flush with the opening of the slit, so it will be easy to see.


NOTE: You can try sticking the note inside the bread before you bake to make it even more super secret, but I can't testify as to how that will affect the bread's bake/rise. I didn't try it, since I figured Aramis wouldn't have been there for the baking of the bread and would have needed to hide the note in the already baked loaf anyway.
Pair with our Three Musketeers recipes
for the ultimate French food experience!