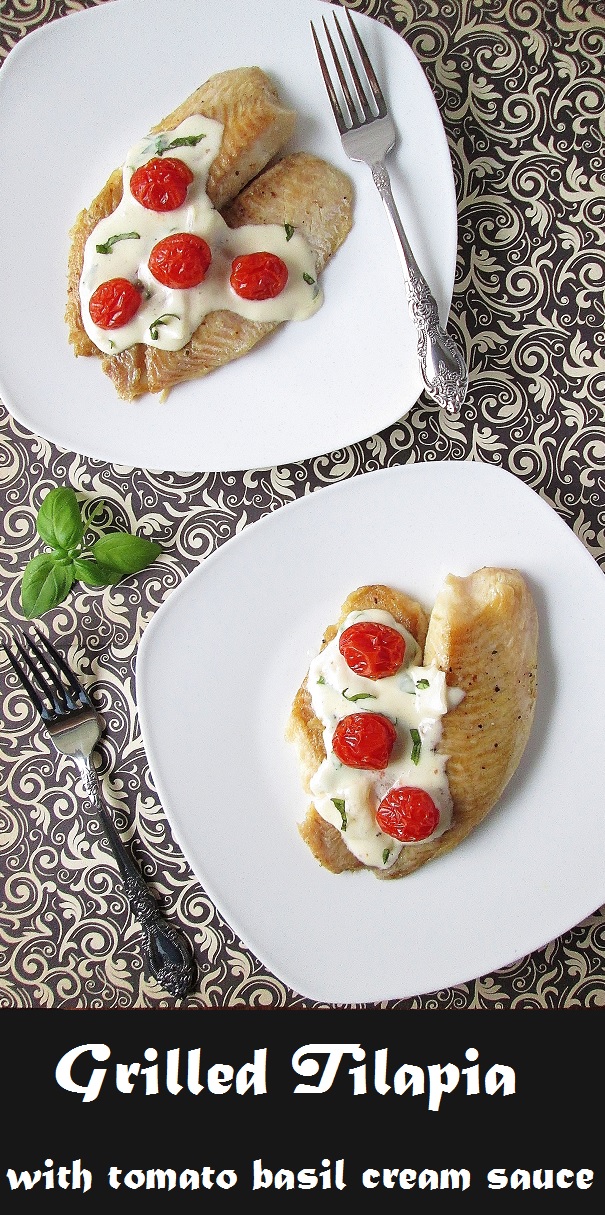 While reading Sabriel, one of the dishes that stood out most to me was the grilled fish Sabriel eats when she arrives at her father's house. The fish itself is described as "small and almost circular," and it's served with a delicious-sounding sauce of tomato, basil, and garlic. As soon as I read those words, I knew I'd found the entree for my Sabriel menu!
Though the sauce's base isn't described, it sounded to me like it was most likely a cream sauce (I've seen similar sauces served with fish before). The fish had me stumped at first. The closest comparison I could think of was tilapia, since it's silver and on the smallish side. I grilled some up, whipped up a cream base I adapted from this recipe, and roasted some grape tomatoes. This has become one of my favorite ways to prepare fish!

 a
Grilled Tilapia with Tomato Basil Cream Sauce

"The cat didn't answer at once, his attention focused on the plate of fish the sending had just put down – small, almost circular fish, with the bright eyes and shiny scales of the freshly caught. Sabriel had them too, but hers were grilled, with a tomato, garlic and basil sauce."
INGREDIENTS: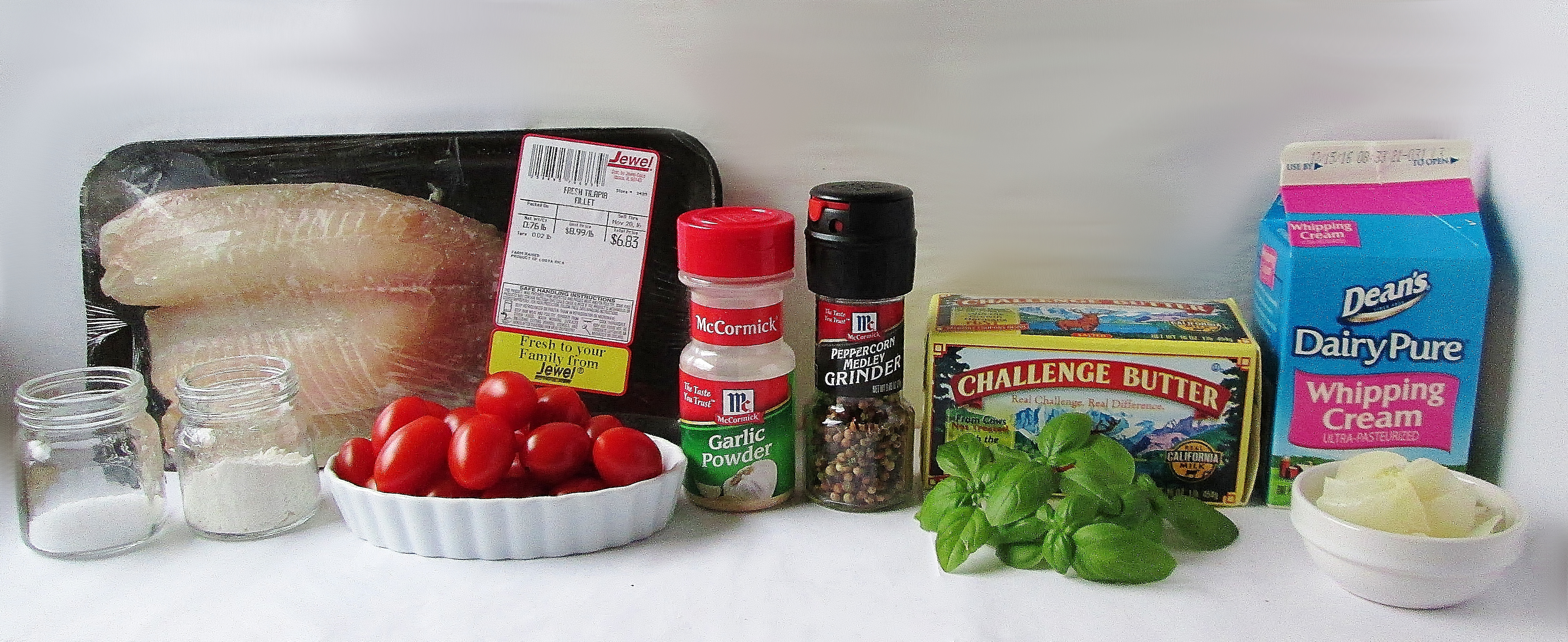 1 cup cherry tomatoes
3/4 tsp kosher salt, separated
3/4 tsp black pepper, separated
4 tilapia fillets
3 tbsp butter
1/4 white onion
1/2 tsp garlic powder
1/2 tbsp flour
1/2 cup plus 2 tbsp whipping cream
2 tsp fresh basil—stacked, rolled into a tube, and cut width-wise into thin strips (The fancy term for this is "chiffonade." You can view a video tutorial of the technique here.)
Makes 4 fish fillets with sauce

.
INSTRUCTIONS:
Preheat your oven to 375°. Place your tomatoes onto a baking sheet and toss them in a very light drizzle of olive oil (just enough to coat them). Roast them in the oven for 15-20 minutes or until the skins begin to wrinkle.

Sprinkle 1/2 tsp each salt and pepper over your fish. In a large skillet, heat approximately 1 tbsp of oil (just enough to lightly coat the bottom of the pan) on medium heat and lay your fish in the skillet. Cook 4 minutes on each side or until fork tender.

While your fish cooks, melt the butter in a smaller skillet on medium-low heat and saute your onion until translucent. Whisk in 1/4 tsp each salt and pepper and 1/2 tsp garlic powder. Whisk in 1/2 tbsp flour and cook 1 minute, stirring continuously.
Stir in cream and heat until thickened, stirring continuously.

Add your basil to the sauce. Stir in your tomatoes as well.

You can also choose to keep the tomatoes separate from the sauce and place them on top of the fish when you're ready to serve, after you've ladled on the sauce. This results in a cleaner look, since none of the tomatoes break and leave red streaks through the sauce.

Transfer the finished fish to serving plates and top with the sauce.
Serve to the new Abhorsen on a cold night in the Old Kingdom.





 
Check out our other seafood recipes! 🙂