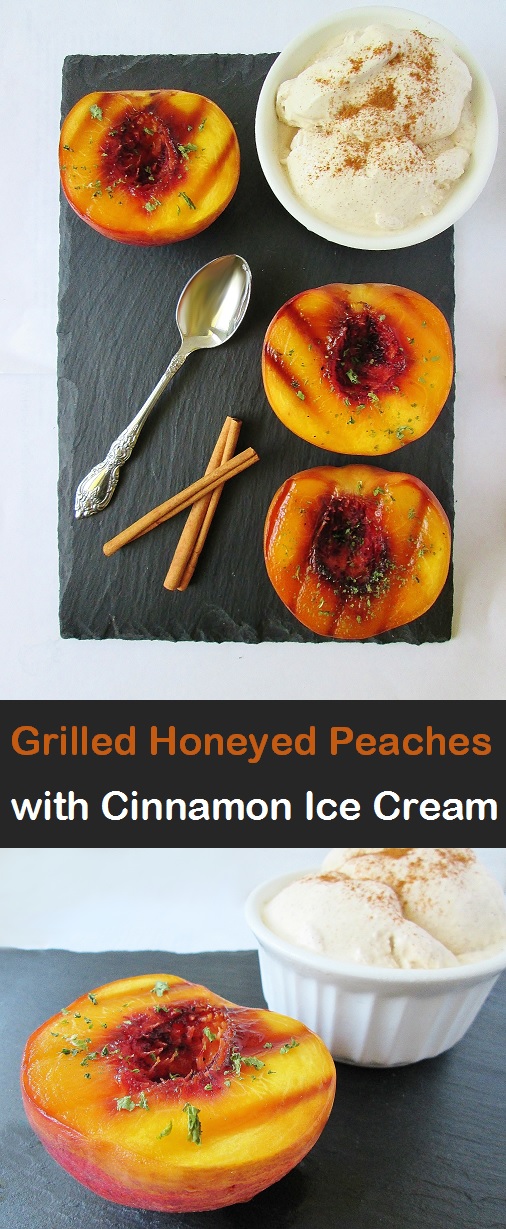 What would a James and the Giant Peach menu be without peaches? A travesty, that's what. Of course, not just ANY peach recipe will do. I wanted to make something special but simple at the same time. After all, this is a kid's book we're talking about! Grilled peaches with ice cream came to mind, and I dressed them up just a little by glazing the peaches with honey and making homemade ice cream with the most glorious of all the spices: CINNAMON. The end result was sweet, refreshing, and delightfully simple. The perfect snack after flying across the ocean on a giant peach!

P.S. The cinnamon ice cream recipe included below is for a Cuisinart ice cream maker and is a slight variation on the vanilla ice cream recipe that comes with the machine.
Grilled Peaches with Cinnamon Ice Cream

""Cheer up,Earthworm!" they said. "Come and eat!"
And they all went over to the tunnel entrance and began scooping out great chunks of juicy,golden-colored peach flesh.
"Oh, marvelous!" said the Centipede, stuffing it into his mouth.
"Dee-licious!" said the Old-Green-Grasshopper.
"Just fabulous!" said the Glow-worm.
"Oh my!" said the Ladybug primly. "What a heavenly taste!""
INGREDIENTS: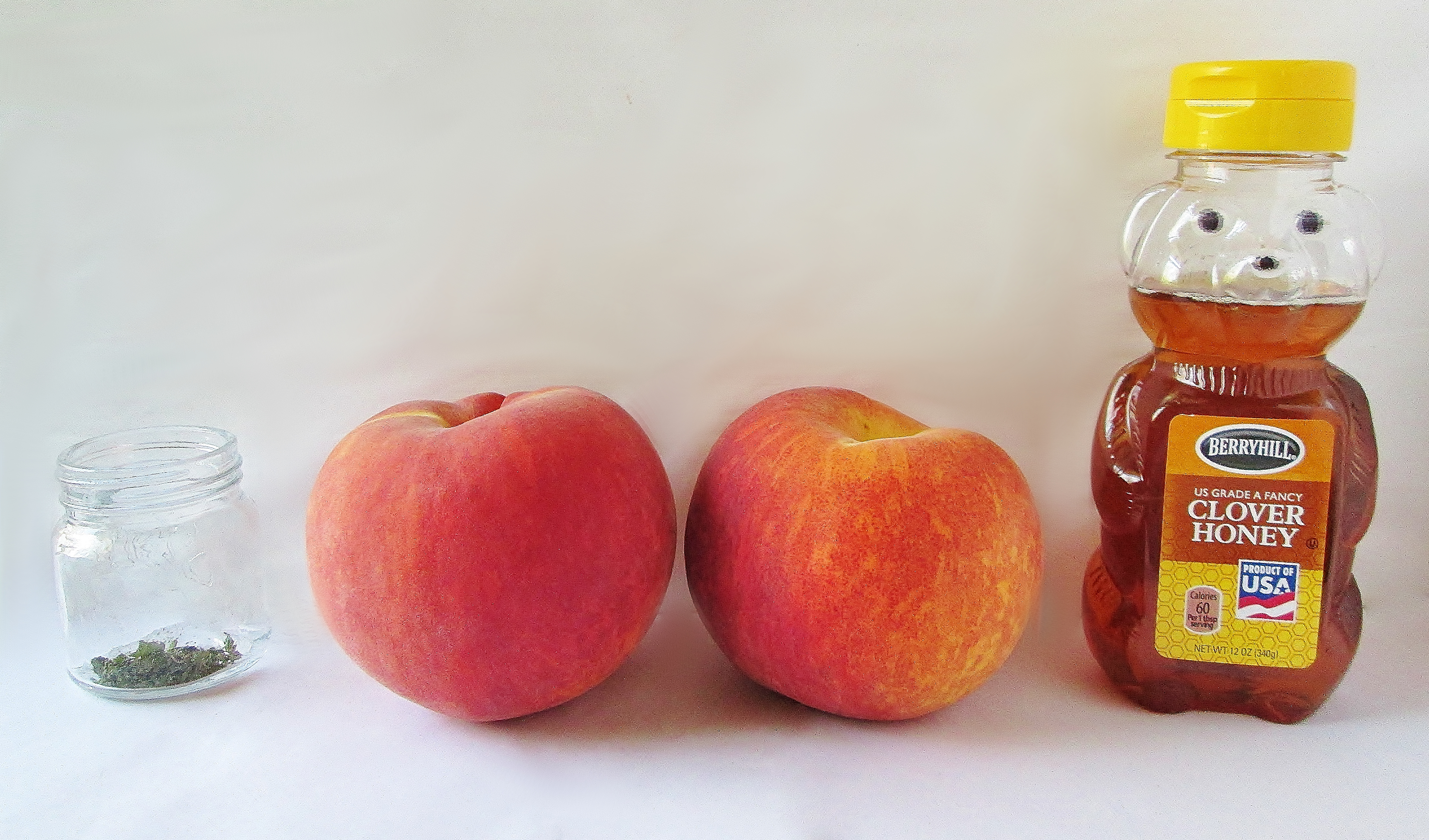 For the Ice Cream

1 cup milk
3/4 cup granulated sugar
a pinch of salt
2 cups heavy cream
1 tbsp vanilla extract
1/2 tbsp cinnamon

For the Peaches

2 peaches
1/4 cup honey
1/4 tsp dried mint (or fresh finely chopped mint, if you've got it)
Makes 4 servings

.
INSTRUCTIONS:
To make the ice cream, mix your milk, sugar, and salt together with a whisk until the sugar dissolves. Whisk in the heavy cream, vanilla, and cinnamon. Cover and chill for 1-2 hours.

Set up your ice cream maker and turn it on. Pour in the ice cream base and let it mix for 15-20 minutes or until it reaches the desired consistency.


Place the ice cream in a sealed container and freeze for 1-2 hours or until firm.
Lightly spray a George Foreman classic plate grill with cooking spray and heat the grill plate. Wash your peaches and cut them in half, discarding the pit. Brush each peach half with honey on both sides.

Place two peach halves cut-side-down on the grill plate. Allow them to cook with the lid open for 2 minutes or until you achieve strong grill marks. Close the lid and cook for 1-2 minutes more.

Can you tell I've had my grill since college? The poor guy's looking pretty rough these days. 🙁

Repeat Step 4 with your remaining peach halves.
Plate your peach halves and sprinkle a pinch of dried mint on each. Add a scoop of ice cream on top or serve it in a bowl on the side.

Serve atop a giant peach to a group of equally giant insect friends. 🙂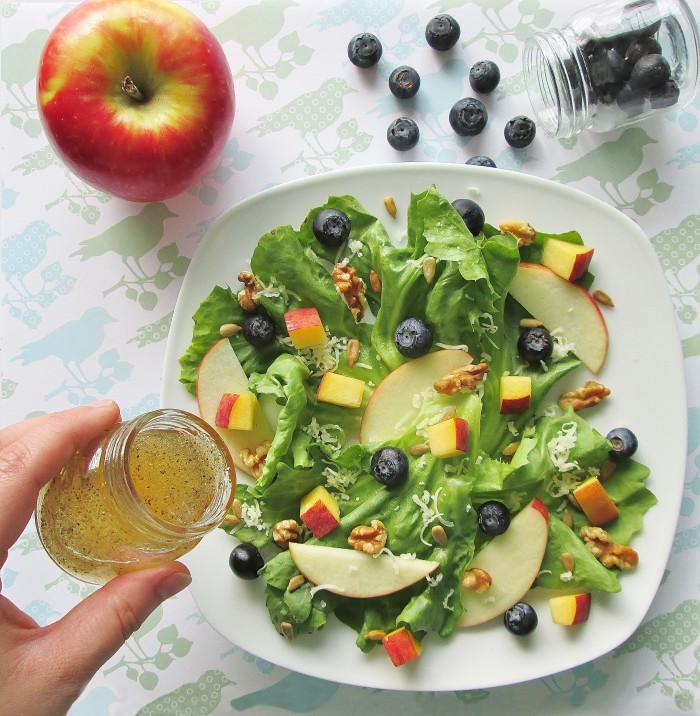 Save