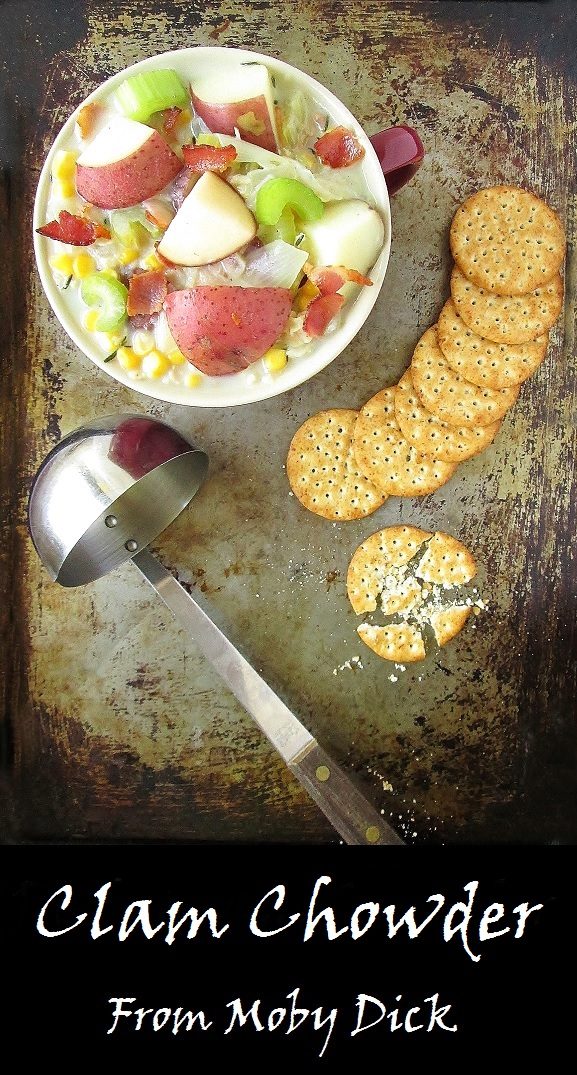 There's no food more synonymous with Moby Dick than chowder. Melville devotes a whole chapter to describing Ishmael and Queequeg's chowder feast at a little establishment called the Try Pots. The owner serves two varieties (clam and cod). I decided to make clam chowder, since this is the variety Ishmael and Queequeg try first (and I'm a bigger fan of clams than fish).
My chowder (adapted from a Taste of Home recipe) is altered just a bit from the one in the book to allow for more modern ingredients. The chowder in the book is described as containing crushed ship's biscuits, which I imagine acted as a thickener, so I used flour to achieve the same effect. It also calls for salted pork, which I swapped for bacon, since they're so similar. I then sauteed some onion and garlic in melted butter and threw in some red potatoes, corn, celery, and—of course—minced clams. The final result was creamy, savory, and salty—just the sort of stick-to-your-ribs meal you need before heading out on a long ocean voyage.
Clam Chowder

"However, a warm savoury steam from the kitchen served to belie the apparently cheerless prospect before us. But when that smoking chowder came in, the mystery was delightfully explained. Oh, sweet friends! hearken to me. It was made of small juicy clams, scarcely bigger than hazel nuts, mixed with pounded ship- biscuit, and salted pork cut up into little flakes; the whole enriched with butter, and plentifully seasoned with pepper and salt. Our appetites being sharpened by the frosty voyage, and in particular, Queequeg seeing his favourite fishing food before him, and the chowder being surpassingly excellent, we dispatched it with great expedition…"
INGREDIENTS: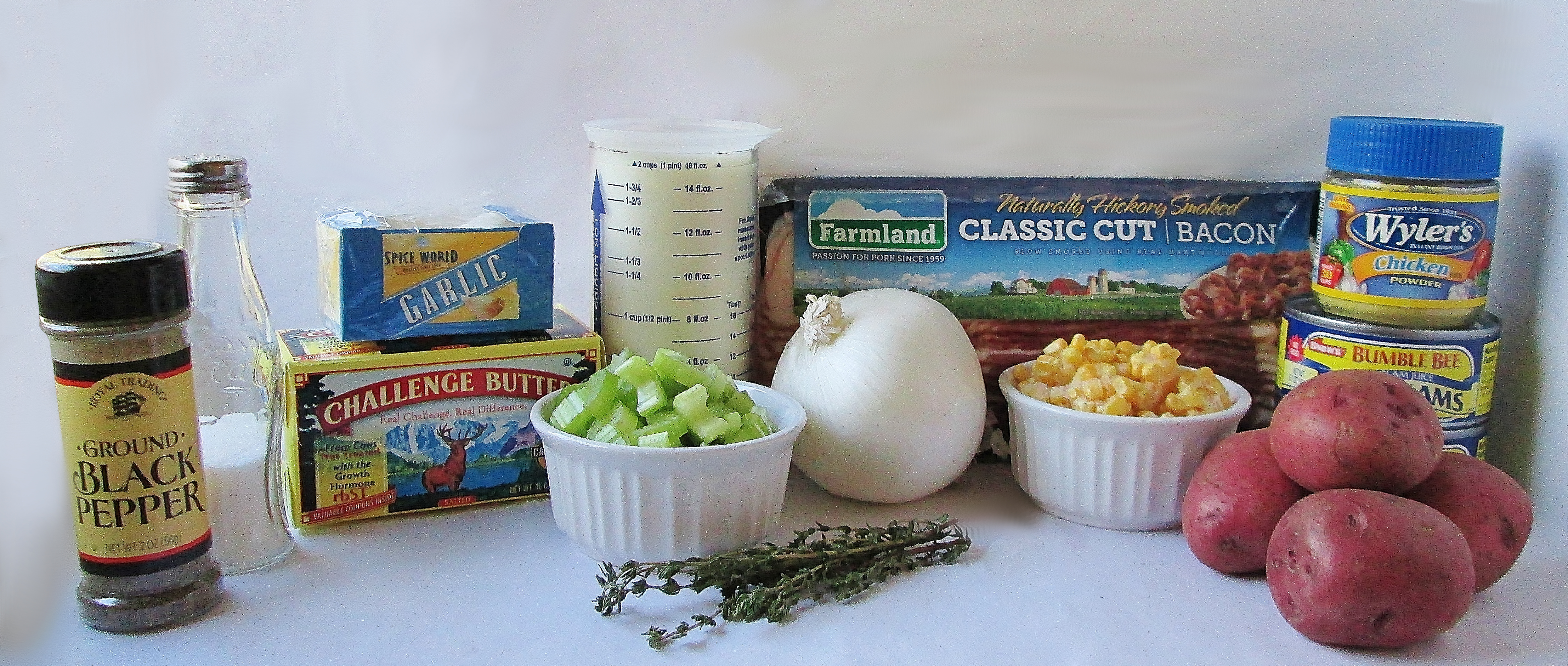 2 tbsp butter
1/2 white onion
3 red potatoes
3 cloves garlic, minced
1 1/2 cups water
3 tsp chicken bouillon powder
3/4 cup chopped celery
1/2 tsp salt
1/2 tsp black pepper
1 1/2 tsp thyme
6 tbsp flour
2 cups milk, separated
2 cans minced clams, undrained
4 slices bacon
1 cup canned or frozen corn (drained if canned, thawed if frozen)
Makes approximately 4 bowls of chowder

.
INSTRUCTIONS:
Melt your butter in a large soup pot. Meanwhile, chop your onion and potatoes.
Saute your onion in the melted butter until tender. Add the garlic and cook 2 minutes more.
Stir in the water and bouillon powder. Add the potatoes, celery, salt, pepper, and thyme. Bring to boiling. Turn the heat down and simmer uncovered for 15 minutes or until the potatoes are tender.

I cut each of my potatoes into 12 cubes about 3/4 inch across. If you cut them bigger, you'll need to simmer a bit longer.

While you wait, chop your bacon into bits, fry it, and drain it on a paper towel. Set aside.

In a small bowl, whisk together your flour and 1/2 cup of the milk until smooth. Gradually stir it into the pot. Stir in the remaining milk. Add the clams, bacon, and corn. Cook until heated through. Do not allow it to come to a boil.

Need more soup to warm your bones? We've got you covered!