All Hallows Eve is here, and with it, the end of our Edgar Allan Poe menu! Even though I don't normally post recipes on Mondays, I thought it would be fun to share one on Halloween…and when I found a "The Raven" cocktail recipe a couple months ago, I knew I'd found the perfect way to bookend our Poe menu.

The recipe below is my interpretation of The Raven cocktail, which was originally developed by Ashley at Smarty Had a Party. The cocktail below is a delicious combo of 3 of my favorite flavors: blackberry, pomegranate, and mint. With a little white rum, it makes for a refreshing, darkly sweet (but not too sweet) drink. Enjoy while reading your favorite Edgar Allan Poe poems!

a
The Raven Cocktail

Then this ebony bird beguiling my sad fancy into smiling,
By the grave and stern decorum of the countenance it wore,
"Though thy crest be shorn and shaven, thou," I said, "art sure no craven,
Ghastly grim and ancient Raven wandering from the Nightly shore—
Tell me what thy lordly name is on the Night's Plutonian shore!"
            Quoth the Raven "Nevermore."
 a
INGREDIENTS: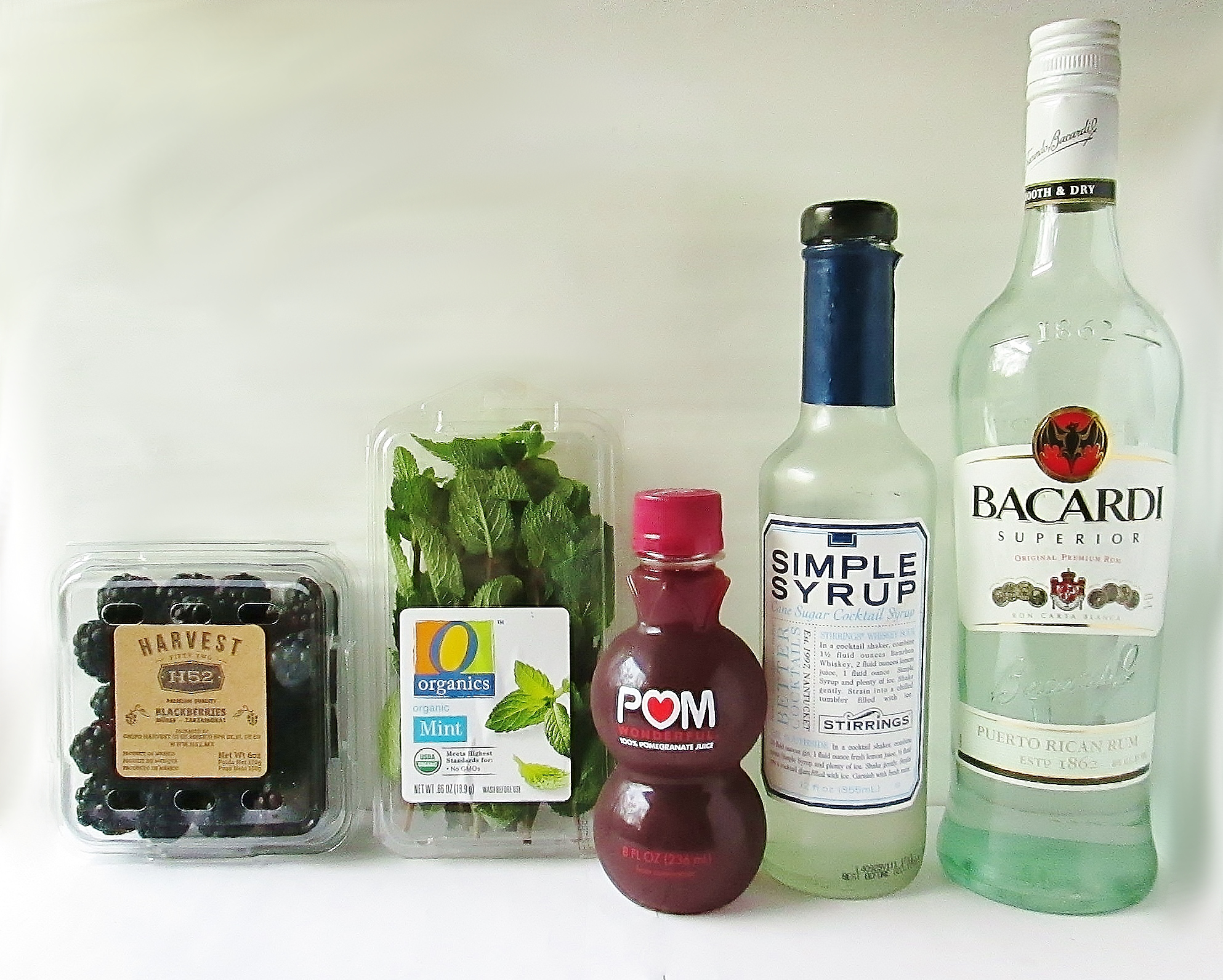 3 blackberries
3-5 mint leaves (plus an extra sprig, for garnish)
1.5 oz white rum
1/2 cup pomegranate juice, chilled
simple syrup, optional (We decided not to add this, but if you prefer your cocktails on the very sweet end, you can add this 1 tsp at a time to taste)
Makes 1 cocktail

.
INSTRUCTIONS:
Use a muddler to crush three blackberries and 3-5 mint leaves in the bottom of a cocktail shaker (I used 3 mint leaves). If you don't have a muddler, you can use the bottom of a large kitchen utensil, like an ice cream scoop.
Pour in your rum and pomegranate juice. Secure the lid onto the shaker and shake to combine.
Pour into a wine glass. You can do this by either removing the cap and leaving on the strainer when you pour (if you don't want the berries and leaves in the final drink) or removing the lid entirely before pouring (if you do want the berries/leaves). I like the visual effect and extra flavor they add, so I left them in.
Top with a sprig of mint and serve to a gloomy feathered friend.

Since I'm 7 months pregnant, the Mister was the primary taste tester for this cocktail. However, I'm relatively familiar with the flavor, since I licked my fingers plenty when adjusting the mint sprig and wiping away dribbles while taking pictures (I also made a sans-rum version with the leftover pomegranate juice just for fun). The Mister and I both agree that the best way to sum up the flavor of this cocktail is "rummified promegranate." The blackberry adds a little complexity, and the hint of mint lightens and freshens it just a little. I can't WAIT to drink this for real after Baby is born!
Still got some sipping left to do? Check out our other cocktails