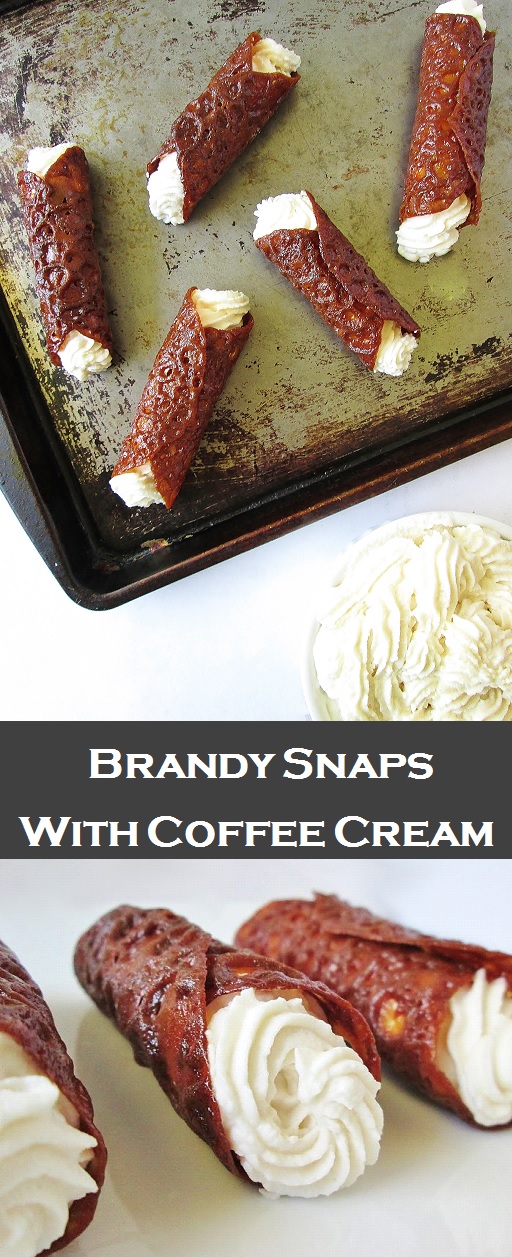 For our Sherlock Holmes dessert, I wanted to make something quintessentially British. I tossed around ideas for all kinds of recipes—jammie dodgers, trifle, Victoria sponge, and various tarts. Then I stumbled across brandy snaps!

At first they looked super intimidating. Lacy, curved cookies filled with cream—surely they HAD to be impossible to make, right? But the more recipes for them I found, the more I realized they're not as hard to make as they would seem. Plus, they sounded super delicious. The cookie is crunchy and thin with a toffee/gingerbread flavor, and the sweetened cream has a hint of brandy.
This caught my attention, since Holmes loves brandy. I thought it would be fun to combine it with his other favorite beverage (coffee), so I blended some coffee into the cream to give it some extra kick!
Below is my variation on a recipe I found from Ree Drummond. It uses molasses instead of golden syrup, which is a little easier to find in the US. The molasses makes the final cookies a little darker than is traditional, but I think it adds a more robust flavor that complements the coffee. So be sure to eat up before Holmes and Watson snag them all! 🙂
 a
Brandy Snaps with Coffee Cream

He was off in one of those hysterical outbursts which come upon a strong nature when some great crisis is over and gone. Presently he came to himself once more, very weary and pale-looking.
"I have been making a fool of myself," he gasped.
"Not at all. Drink this." I dashed some brandy into the water, and the colour began to come back to his bloodless cheeks.
"That's better!" said he.
— Sherlock Holmes: The Adventure of the Engineer's Thumb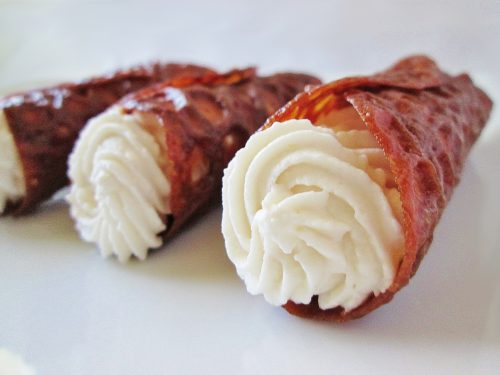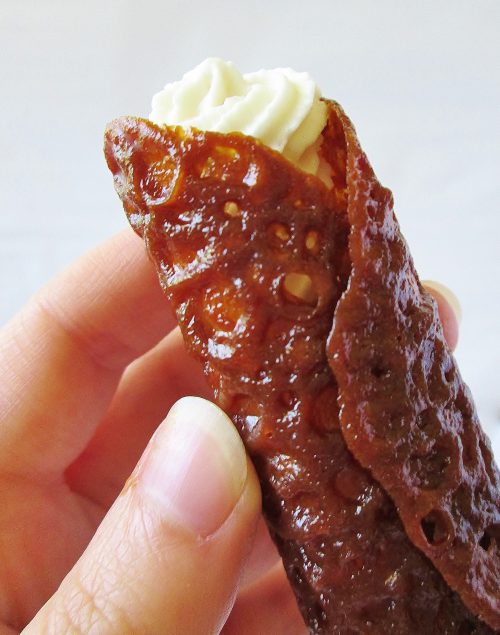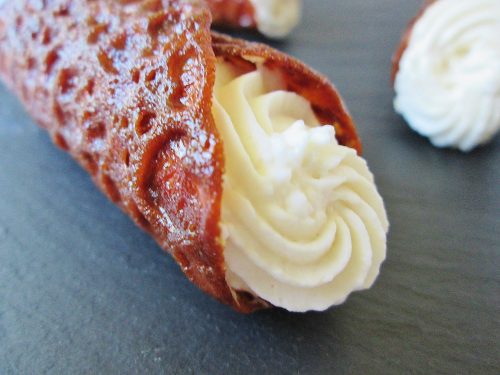 INGREDIENTS: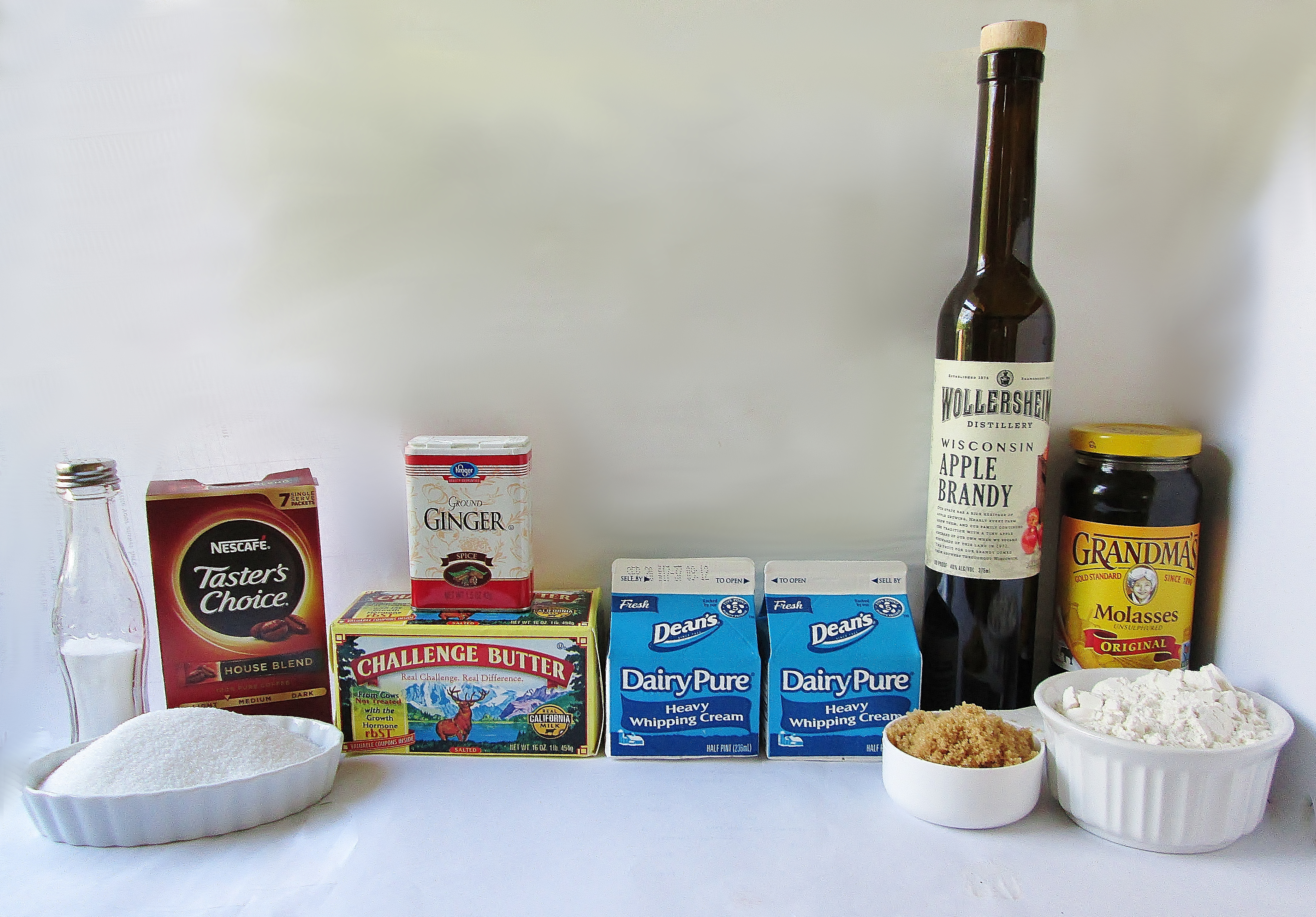 For the Cookies:

1 stick butter, softened
1/2 cup molasses
1/4 cup sugar
1/4 cup brown sugar
1 tbsp brandy (I used an apple brandy the Mister bought at Wollersheim, one of our favorite wineries/distilleries, but you can use any kind you want)
3/4 cup flour
1/8 tsp salt
1/4 tsp ground ginger

For the Cream:

2 cups heavy cream
1/2 tsp instant coffee
1/3 cup sugar
2-3 tbsp brandy
Makes approximately 45 3-inch brandy snaps

.
INSTRUCTIONS:
Preheat your oven to 325°. Place a mixing bowl in the fridge to cool (you'll need it for the filling). Line 2 baking sheets with silicone mats (you can also use parchment paper). Set aside. In a small bowl, combine your flour, salt, and ground ginger. Set this aside as well.
Pour your cream into a measuring cup. Stir in your coffee. Cover and chill until ready to use.
In a large saucepan over medium heat, melt the butter, 1/4 cup sugar, and brown sugar together, stirring continuously with a wooden spoon or rubber spatula. Pay special attention to the center of the pan, which will heat the fastest.

When it comes to a gentle boil, continue to stir and cook for 1 minute. Turn off the heat and stir in the flour mix until just combined. Stir in 1 tbsp of the brandy.


On your first baking sheet, pour little spoonfuls of the mix at least 3 inches apart across the expanse of the mat. You want a scant 1/2 tbsp of mix in each pour. The mix should flattened into a disk about 2 inches wide (this will spread into a 3-4 inch cookie as it cooks).


Place the first baking sheet in the oven to bake for 9 minutes. The cookies will be spread out and look bubbly on top.
While you wait, pour more mix onto your 2nd baking sheet and let it sit (I noticed that they spread a little less if you let them sit first). Chances are your mix will have cooled to the point of becoming thick and sticky before you pour the second batch. If this happens, set the burner under the saucepan to low and stir continuously until the mix is warm and regains most of its original viscosity (turn off the heat when you're done).
When the first batch is finished, let it sit on the stove top for 2 minutes or until you can lift the corner of one of the cookies without it stretching (it should be very warm, but not so hot it burns you).
When the 2 minutes are up, quickly but gently drape each cookie one at a time over the handle of a whisk or potato masher (anything with a cylindrical handle will do). Use your fingers to fold the sides of the cookie around the handle, creating a tube. Slide it off onto a cool plate and repeat with the remaining cookies.

Put your next batch in the oven. You can use the time to keep an eye on your finished batch. If you notice them drooping, you can reshape them gently with your fingers.
Continue pouring, baking, and shaping cookies until you run out of mix. Allow the cookies to cool completely on the plate (this recipe makes a lot of cookies, so you may need to pull out a second plate).
While you wait for the cookies to cool, remove your mixing bowl and cream from the fridge. Give your cream a final stir. Combine your cream, sugar, and 2 tbsp brandy in the chilled bowl (you can add an extra tablespoon of brandy for stronger flavor, but I wanted the coffee flavor to be more evident, since there's already brandy in the cookie). Beat on medium-high speed until stiff peaks form. Scoop the whipped cream into a piping bag fitted with a large star tip (or any tip design you want, really).
No more than 20 minutes before you're ready to serve the cookies, fill the cookies with the cream by fitting the tip into one side of the cookie, filling half with cream, then inserting the tip into the other side and filling the second half. Filling the cookies too early can cause the shells to soften considerably.

If you plan on serving these a long while after making them (like a day or 2 later), you can store your whipped cream in a sealed Tupperware container and just give it a good stir before adding it to the piping bag. To store the cookie shells, line a long, flat Tupperware container with wax paper, place the cookies in a single layer on the bottom, add another sheet of wax paper on top, seal the lid, and chill until ready to add the cream.
Want more cookies? We're on the case. 😉