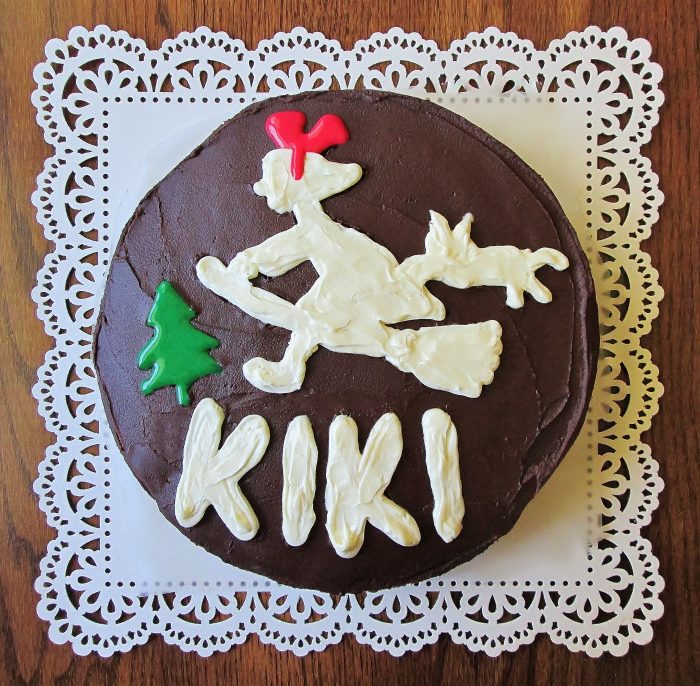 I love Kiki's Delivery Service so much! Granted, I can't exactly relate to the part about being a witch, but I can definitely relate to being a young working girl out on her own for the first time. I remember my heart going out to Kiki as I watched her struggle to find a job and carve out a niche for herself in her new city home. It was great to see her grow and overcome bouts of self-doubt and failure to become a very happy little witch.
I think one of the best thing's about Kiki's Delivery Service is the emphasis it puts on developing relationships. At first, Kiki tries to do everything alone and struggles to make due, but as she makes new friends, their goodwill and helpfulness play a huge role in helping her on the way to success. A great example is the baker lady Osono, who is impressed by Kiki's helpfulness to a stranger and offers her a place to stay and a job. And at the end of the movie, Kiki's friend Madame bakes her a cake as a show of appreciation—and that's the cake we're making today!
This rich double chocolate cake is an exact replica of the one in the movie, and I had so much fun making it! The recipe was originally developed by Katerina at Diethood (and it was aptly named "Black Magic Cake"). The food in every Hayao Miyazaki movie looks delicious, and this cake is one of the Miyazaki dishes I've been dreaming about eating for years! Now I just need to find a plucky young witch to share it with! 🙂

.
Kiki's Chocolate Cake

"Would you bring this to a little delivery girl? She was kind to me and a very big help. It's my way of saying 'thank you.' Oh, and can you find out when her next birthday is? Then I can bake her another one!"
INGREDIENTS: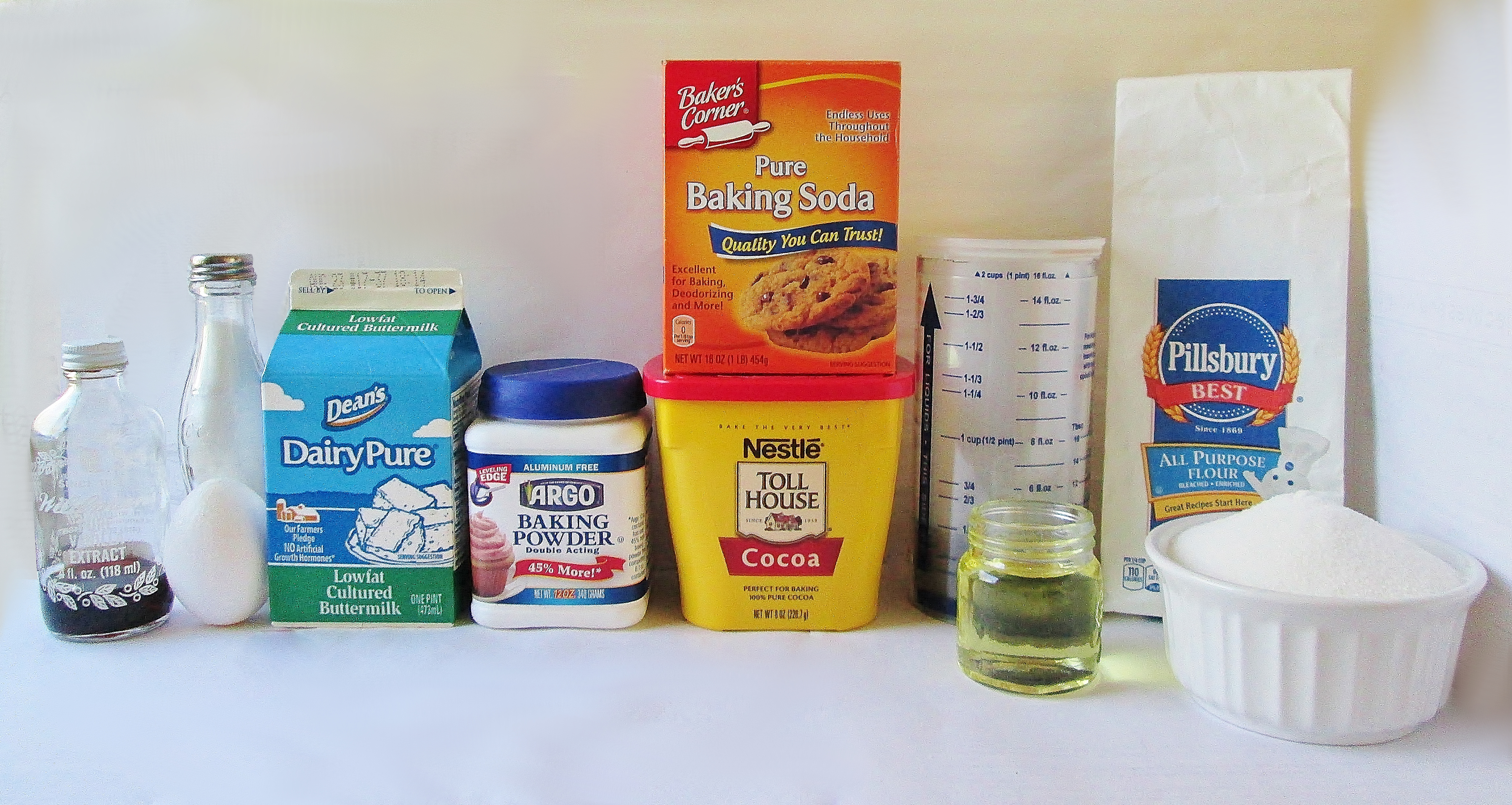 For the Cake:
1 cups sugar
¾ cup flour (plus 2 tbsp)
¼ cup cocoa powder (plus 2 tbsp)
1 teaspoon baking soda
½ teaspoon baking powder
½ teaspoon salt
1 egg
½ cup buttermilk
½ cup cooled coffee (I made a cup of Nescafe instant Colombian)
¼ cup vegetable oil
½ teaspoon vanilla extract
½ bag mini semi-sweet chocolate chips (or regular-sized chips, finely chopped)
¾ cup heavy whipping cream
4 tbsp salted butter
1 cup white frosting
1 green icing pen
1 red icing pen
Makes a 9-inch round, single layer chocolate cake

.
INSTRUCTIONS:
You'll actually want to start with your frosting, since it needs extra time to chill (in fact, you can make the frosting a day ahead of time if you want). First, place your chocolate chips in a large bowl and set aside.
Cook the whipping cream and butter in a saucepan over medium heat until just boiling, stirring frequently. Pour the cream mix over the chocolate and whisk briskly until completely smooth.

Place some plastic wrap over the bowl and put it in the fridge to chill. After 1 hour, stir the mix thoroughly. Replace the cover and put the mix back in the fridge for another hour or until it reaches spreading consistency.

While you're waiting for the frosting to chill, you can bake your cake! Preheat your oven to 350°. Thoroughly spray a 9-inch round cake pan with cooking spray or grease it with butter and flour. This cake likes to stick, so be sure to thoroughly coat every nook and cranny.
 Dump the sugar, flour, cocoa, baking soda, baking powder, and salt into a large bowl. Whisk it all up!

Whisk in the egg, buttermilk, coffee, oil and vanilla. Beat the mix briskly for 2 minutes.
Pour the batter into your pan and bake for 25-30 minutes or until a toothpick inserted in the center comes out clean.

When fully baked, set the cake pan on a wire rack to cool for 1o minutes. Then flip the cake out of the pan and allow it to cool completely on the rack.

When the cake is cool, spread on a layer of chocolate frosting. Let it set for 5-10 minutes.

Use a toothpick to draw out where you'll put the decorative icing. This makes it easier to replicate the look of the cake in the movie. If you make a mistake, just use an icing knife or butter knife to smooth it out.

For an easy reference, you can google "Kiki's chocolate cake" to find lots of pictures of it from the movie.

Pipe your decorative icing over the toothpick drawing and allow it to set for another 5-10 minutes.

I LOVE the flavor of this cake! The inside is perfectly moist and rich, and the frosting on top has the flavor of intense dark chocolate.
Need more cake? Don't worry! We've got you covered. 😉
Save