Back in July, the Mister and I attended a wedding in Orlando and used a free day to visit Universal Studios. We explored a good chunk of the park, but for me the crown jewel was the Wizarding World of Harry Potter.
It's been on my bucket list for AGES, and now that I've been there, I can confidently say it was well worth the wait! 🙂 Here's a rundown of my experience:
Two Parks: Hogsmeade and Diagon Alley
This slideshow requires JavaScript.
The first thing you should probably know is that Harry Potter World is actually divided into two separate parks: Hogsmeade and Diagon Alley. We entered HP World through Hogsmeade, greeted by the turrets of Hogwarts poking out above the storefronts. Once we did everything we wanted in Hogsmeade, we took the Hogwarts Express to Diagon Alley.
Each park houses 2-3 rides, a line of shops, some eating establishments, and a stage for outdoor entertainment.
It truly is an immersive experience. The walkways are real cobblestone streets, and the storefronts look aged and real. The food carts on the street sell bottled gillywater, and the mirror in the girl's bathroom talks to you with Moaning Myrtle's voice. And there are "British-isms" everywhere, like roped off areas for strollers called "tram parking."
And the dragon atop Gringott's Bank breathes fire. ACTUAL FIRE!!! 😀
Hogwarts Castle

I gotta say, the castle strikes quite the first impression when you first step into Hogsmeade. You can see it towering over the whole street, and it looks so satisfyingly real. My only disappointment is that you can't go inside. The castle actually houses a ride called Harry Potter and the Forbidden Journey, which does include a brief tour of Hogwarts, but you only get the tour if you go on the ride.
The Shops
The complete list of enterable shops is as follows:
The Owl Post
Ollivander's Wand Shop
Honeyduke's
Filch's Emporium of Confiscated Goods
Weasley Wizarding Weezes
Dervish and Bange's
Wiseacre's Wizarding Equipment
Quality Quidditch Supplies
Borgin and Burke's
Madam Malkin's
NOTE: There are also storefronts for places like Madam Pudifoot's Tearoom and The Daily Prophet, but you can't go inside.
I visited the Owl Post, Honeyduke's, Weasley Wizarding Weezes, and Borgin and Burkes (it was WAY too crowded to visit every shop). Each one was unique and looked totally authentic. Owl Post is a functioning post office, so you can actually send letters with an authentic Hogsmeade postmark (and special Harry Potter stamps!). Fred and George's shop sold an array of practical joke equipment, along with multicolored puffskeins. Honeyduke's had every kind of Harry Potter sweet you could imagine (including cauldron cakes and bottles of pumpkin juice!).
Borgin and Burkes is in Knockturn Alley and has all kinds of "bad guy stuff," like skull decor and framed wanted posters of Azkaban escapees.
The Food
This is a food blog, so of course I'm going to obsess over the food. Apart from candy shops, each park had two restaurants: the Three Broomsticks in Hogsmeade and The Leaky Cauldron in Diagon Alley.
We ate lunch at the Leaky Cauldron, which was one of the highlights of the trip for me. Even though it was the middle of the lunch hour, we didn't have to wait more than 10 minutes to order our food at the front of the restaurant. They sat us as soon as we were done ordering, and the food was out in about 10 minutes.
Admittedly, most of the food had obviously been previously frozen, but for what it was, the quality was actually pretty impressive. I had the cottage pie (basically shepherd's pie), which was delicious. The beef and vegetable filling was well seasoned, and the mashed potatoes on top were real—not instant. The side salad had fresh greens and a big chunk of tomato that had been marinated in some kind of delicious vinaigrette dressing. I gotta say, that tomato was really refreshing after the summer heat!
My favorite part of lunch was easily the pumpkin juice. I needed something more thirst-quenching than butterbeer after spending hours in the heat, and HOLY BEANS YOU GUYS IT WAS THE BEST!!! It was basically iced apple cider that had been flavored with pumpkin spice. It was like drinking autumn: sweet, spiced, and ever so slightly tart.
I got to try the butterbeer too (the Mister ordered it), but I was underwhelmed. It was basically butterscotch soda with lots of foam on top. Not bad, but not my favorite flavor.
Outdoor Entertainment
There was a little outdoor stage between the two rides in Hogsmeade, which was great for those of us who were waiting for people to finish on the rides. There were two performances: the Hogwarts Toad Choir and the Beauxbatons Spirit Team. We didn't get to see the spirit team perform, but I LOVED the toad choir. It had four members (one from each Hogwarts House), and two of the members held mechanical toads. They performed a capella versions of Harry Potter songs, with the toads singing the base notes. The songs were fun, but the performers themselves were my favorite part. The Slytherin singer was always trying to upstage everyone else, and the Hufflepuff singer was always fussing over the state of the toads. I thought it was a nice touch for them to go out of their way to give the characters personalities befitting their houses.
My Loot
I had two goals for Harry Potter World: buy candy at Honeyduke's and get something Ravenclaw (#RavenclawPride). Honeyduke's is one of the first stores you see in Hogsmeade, so I snatched up a chocolate frog and some Bertie Bott's Every Flavor Beans. I reeeeally wanted a sugar quill too (you can actually write with them!), but the candy is pretty expensive. The frog and beans cost $10 each.
In the Owl Post store they had stationary sections organized by Hogwarts house, so I made a beeline for the Ravenclaw section and found a pair of magnetic bookmarks for $7. I was in love!
I saved the candy until I got home, so I could take some pictures for this post. The packaging was GORGEOUS and great quality. I intend to save both my boxes to use as Halloween decorations this year.
In terms of flavor, the beans were my favorite. There was a good balance of tasty and gross flavors, and the gross ones were pretty convincing (I actually had to spit out the vomit-flavored bean!).
The frog is HUGE, about 2″ tall and as wide as my palm, and it's made of solid milk chocolate. This had a great visual effect, but it was actually kind of hard to eat. The chocolate crumbles, and you need to really work to bite through such a big piece. On the upside, I GOT A DUMBLEDORE CARD IN MY FROG BOX!!! 😀 I secretly had my fingers crossed to get Rowena Ravenclaw, but Dumbledore is a close second. The quality of the card is good—thick card stock with a hologram on one side and a biography of Dumbledore on the other. And the picture used for the hologram was an actual picture of actor Michael Gambon, not just someone dressed to look like Dumbledore.
Notes and Criticism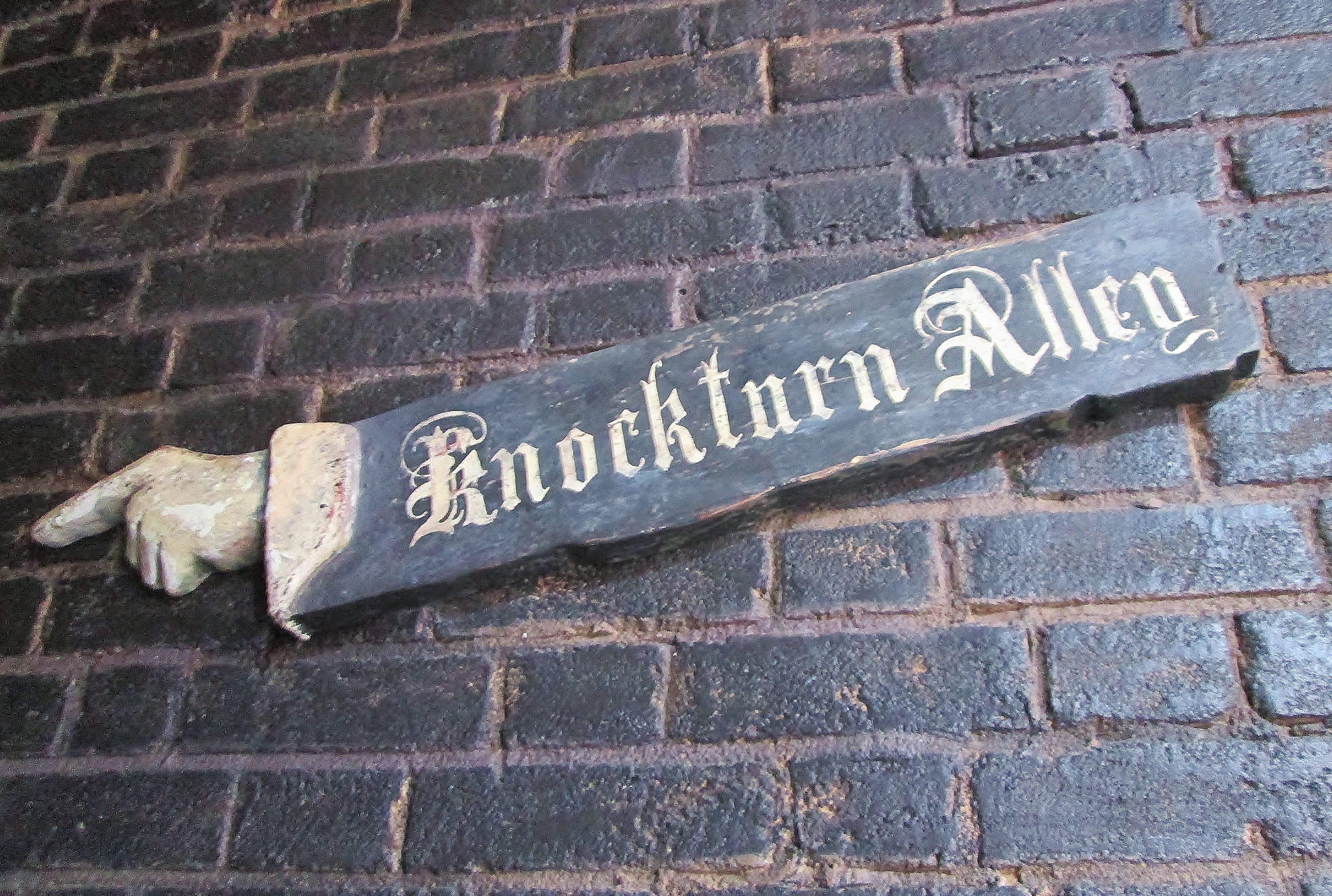 I should note that I wasn't able to go on any of the rides for health purposes, so I can't really comment on them. The Mister rode Harry Potter and the Forbidden Journey, Dragon Challenge, and Escape from Gringott's. The dragon coaster was his favorite, because he wasn't expecting it to be a "real" roller coaster—with loops and spirals and everything. He thought it was going to be a low-key coaster.
As for criticism, the only major negative I noticed was that instead of having benches scattered through out each park, Hogsmeade and Diagon Alley each had a "sitting area." This didn't make a lot of sense to me. Summer days in Orlando easily reach over 90°F, and a lot of people spend time waiting for family members outside of rides. A lot of people were sitting on the ground or on the windowsills of the shops. While the Mister was in line for the Gringott's ride for 45 minutes (no joke), I snuck into a roped off area for stroller parking and sat on a stoop there to get out of the sun.
Final Thoughts
All in all, I LOVED the Wizarding World of Harry Potter. There was so much obvious care put into make the experience as genuine and fulfilling as possible. And unlike some parks, I think it merits multiple visits—it would be awfully stressful to try to do everything in one visit! I'd recommend setting 2-3 personal goals for what you'd like to do and make everything else optional. For example, I avoided Ollivander's because the line to get in wrapped all the way around the side of the building. Instead, I went to Honeyduke's, which was less crowded and on my HP bucket list. If/when I visit the park again (perhaps with my future kiddos), I can make a point to go to Ollivander's…and maybe even get myself a wand! 🙂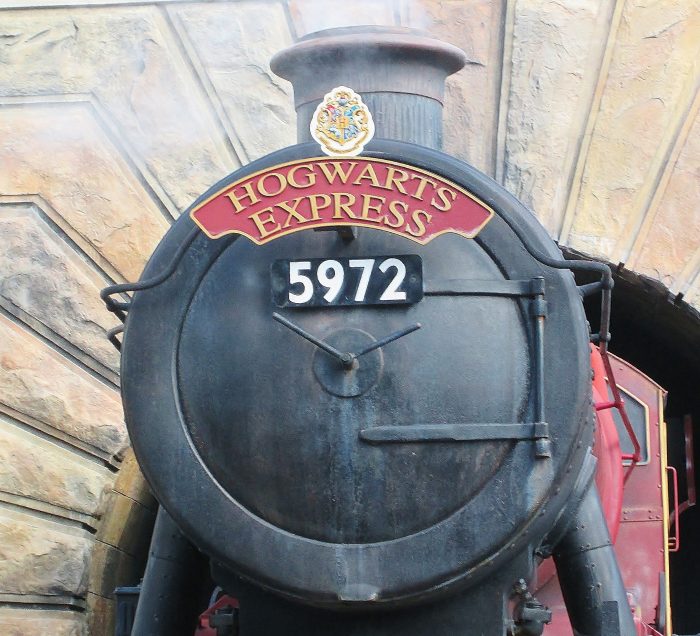 Have you ever been to WWHP?
What was your favorite part?
Save