That's right, folks! Our new Menu of the Month is going to be based on
Star Trek: The Next Generation
. The Mister introduced me to
Star Trek
after we first got married, and now I'm hooked. Plus, now seemed like a good time to throw in another TV/movie menu, since I haven't done one since
February
. I've been looking forward to this menu for MONTHS, so let's get started! 🙂
Of all the foods featured in Star Trek: TNG, hasperat is the one that stands out most in my mind (except for Earl Grey tea, of course). This is partially because it plays a key role in one of the final episodes, but also because hasperat is associated with one my favorite characters: Ensign Ro Laren. Ro is insubordinate and has a tough exterior, but it is later revealed that this may be due to the suffering she endured as a child in a Bajoran refugee camp. One of her only fond memories from her youth is her father teaching her to make her favorite food: hasperat, a burrito-like wrap made with spicy brined filling.
I was intrigued by the description of hasperat—the spicy brined filling sounded a lot like kimchi to me. I'd never cooked with kimchi before, so I was excited to use it in my own recipe. The hasperat made as a prop for the show clearly has a lot of green in it—not just the red from the kimchi—so I threw in a layer of spinach. The prop also included sliced peppers, so I did too. For a little extra fun and flavor, I added rice, avocado, and a little sriracha to kick up the spice. The result is a hasperat recipe I think Ro Laren would love!
Ready to boldly eat what no one has eaten before, Wonderlanders? 😉
Hasperat: A Bajoran Delicacy

"Kalita: We can't let her do something like this. We don't know anything about her.
Macias: I know… that she can make very strong hasperat."
— Star Trek: The Next Generation
INGREDIENTS: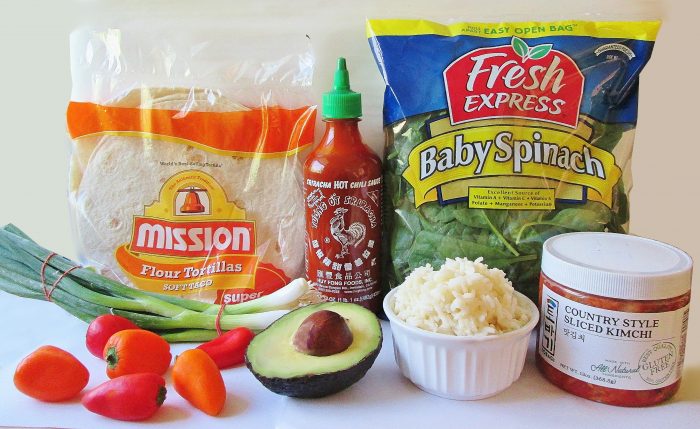 2 flour tortillas
1/3 cup baby spinach
1/2 cup white rice
1/4 cup kimchi (I got my kimchi at H-Mart. You can find kimchi at most Asian supermarkets, but you can also order it online.)
1/2 small avocado
4-6 mini sweet peppers
2 green onions
sriracha to taste
Makes 2 hasperat wraps
INSTRUCTIONS:
Start by cutting up your vegetables. Julienne the peppers, coarsely chop the green onion, and slice your avocado into narrow slivers. Set aside.


Set out your first tortilla on a sheet of plastic wrap twice as big as the tortilla. Layer half your spinach in the middle of your tortilla, leaving about 2-1/2 inches of clearance along the edges (this will make it easy to fold later). Add a thin layer of rice over the spinach, patting it down with a spoon if needed. Layer half your kimchi on top of the rice. Put down a layer of 4 avocado slices. Top with half your mini peppers and green onion, plus a little sriracha.


NOTE: I put 3 dots of sriracha on each avocado slice, which is enough to result in mild spice (the spice level will lower as the wraps chill). For truly spicy hasperat, you can add extra sriracha and/or swap the sweet peppers for a spicier variety, like habañeros.
Fold the tortilla burrito style: fold the bottom over the center, then fold the two sides, then the top. Keeping the folds secure, wrap the burrito tightly in the plastic wrap.


Repeat Steps 2 -4 with your remaining ingredients to make a second burrito.
Place both burritos in the fridge for 10-20 minutes to let the flavors set.
When ready to eat, discard the plastic wrap and cut the hasperat in half.

Want more wraps? Check out our Greek tortilla spirals!