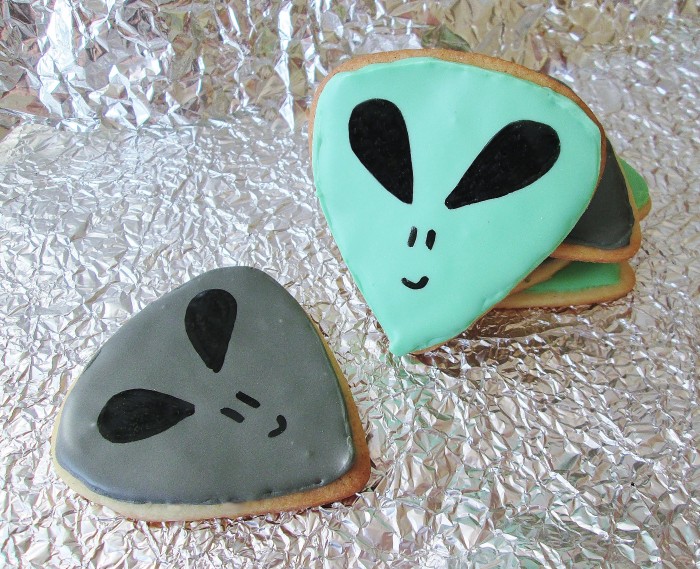 Of course, Mulder and Scully never actually eat alien cookies while on a case, but concluding an X-Files menu without an alien dish felt just plain wrong. These green and gray sugar cookies are a great dessert to celebrate the conclusion of the new season or a wonderful gift for the person in your life who wants to believe. You can use whatever sugar cookie recipe you want (I used the same base recipe as our Fairy Dust Star Cookies from Peter Pan). The royal icing recipe is one I found by Julia M. Usher.
P.S. If it's your first time using royal icing, I recommend Julia Usher's how-to Youtube video. She has a lot of good tips and tricks to make it easier.
P.P.S. Wondering why I'm doing a TV menu and not a book menu this month? All the answers can be found here.
X-Files Alien Cookies

"That's one of the luxuries to hunting down aliens and genetic mutants. You rarely get to press charges."
— The X-Files
INGREDIENTS: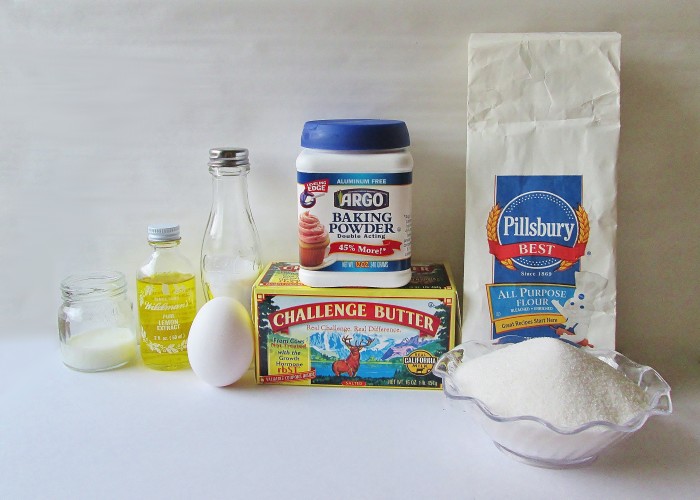 The Cookies

2/3 cup butter, softened
3/4 cup sugar
1 tsp baking powder
1/4 tsp salt
1 egg
1 tbsp milk
1 tsp extract (I used lemon extract, but you can use any flavor you want.)
2 cups flour
You will also need a 3″ triangle-shaped cookie cutter or stencil. I used the candy corn cookie cutter from my Wilton Halloween kit because it has nice rounded corners. A large egg-shaped cookie cutter turned upside down will do in a pinch.

The Icing

1 lb powdered sugar
1/4 teaspoon cream of tartar
5 1/2 tbsp pasteurized egg whites
1 tsp extract (I used vanilla, but you can use any flavor you want.)
Gel food coloring (Avoid liquid food coloring if you can, since it adds additional water that can mess with the consistency of the icing. The amount of coloring you need will be determined by the exact brand and shade you use. I used green, yellow, and black coloring to make minty green and gray icing.)
water
You will also need a black food marker (If you want, you can make a batch of black icing to pipe on the faces, but I found food markers to be much easier and faster.)

Makes approx. 2 dozen cookies

INSTRUCTIONS:
To make the cookies, beat your butter in the bowl of a standing mixer on medium-high speed for 30 seconds. Beat in the sugar, baking powder, and salt until combined, stopping to scrape the sides of the bowl if necessary. Beat in the egg, milk, and lemon extract until combined, stopping to scrape the bowl once or twice. Beat in the flour one cup at a time.
Divide your dough in half. wrap the two halves tightly in plastic wrap and place them in the freezer for 15 minutes or until firm enough to handle. Preheat your oven 375° while you wait.
Remove one ball of dough from the freezer and move the second ball to the fridge. Flour a large cutting board and roll out the first half of your dough until it is ¼" thick. Use your cookie cutter or stencil to cut out as many triangles as you can. Gently lift the triangles away from the cutting board with a floured metal spatula and place them 1″ apart on an ungreased baking sheet. If you have enough scrap dough left to make more triangles, wad your dough into a ball, roll it out, cut out the extra shapes, and place them on the baking sheet with the others. Bake for 5-7 minutes or until the tips are firm and barely beginning to brown. While you wait for those to bake, roll out the remaining half of your dough and cut out more triangles, rerolling and cutting if there's enough dough.

When the first batch of cookies is fully baked, allow them to cool on the pan for 5 minutes. Then gently transfer them to a wire rack to cool using your metal spatula (they shouldn't stick to the pan very much, but they will be very delicate). Place your second batch on the cookie sheet and bake them for about 5-7 minutes. Add the second batch to the cooling wrack when they are fully baked and have had a chance to cool a little. Allow the cookies to sit for 30 minutes or until completely cool. While you wait, you can begin working on your icing (you don't want to make the icing before this point, because it starts to harden quickly).


For the icing, pour your powdered sugar into a standing mixer and stir in the cream of tartar with a spatula. Add your egg whites and give the mix a preliminary stir with a spatula to let the egg whites moisten the sugar a little (if we start beating with the mixer right away, the powdered sugar will fly everywhere). Beat the mix with a whip attachment on low speed until the eggs are evenly distributed through the sugar. Beat on medium-high speed for 1-2 minutes or until the mix is thick, smooth, and pure white. The final product will be VERY thick and sticky.

Resist the urge to over-beat the icing. Once you see the desired texture and color, turn off the mixer right away. The more we beat the icing, the more air gets into it, and that can cause air bubbles later while decorating.

Beat in your extract on medium-high speed. Scoop half your icing into a bowl. Add 1-3 drops black food coloring to this half and stir thoroughly with a spoon or spatula until combined (you should wind up with a dark gray color). Tightly cover it with plastic wrap and set aside. Add 2 drops of green gel food coloring to the remaining icing in the mixer and beat on high speed until combined. Make note of the color and add additional green and/or yellow gel to reach the desired color if necessary, beating until thoroughly combined. If necessary, stop to scrape the sides of the bowl before continuing to beat, so you can ensure the color distributes evenly. Again, be careful not to over beat.

I used a total of 5 drops green and 3 yellow, but I was also going for more of a light, minty green. If you want bright lime green, you'll want more yellow (though you may have better luck buying pre-made lime green coloring).

Now we're going to make two consistencies from each color of icing: outlining consistency and flooding consistency. Outlining is for the border, and flooding is for the center. This is where we have to work fast, since the icing begins to harden right away. Take your green icing and stir in 1/4 tsp water. When you scoop some icing onto your spoon and turn it over, it should fall off in slow glops instead of sticking to the spoon. If your icing isn't falling off, stir in more water a dribble or two at a time until it does.

Fit a piping bag with a small, round tip (I used a #2 tip) and fill it with 1/4 of your green icing. Cover the mixing bowl with plastic wrap to keep the remaining icing from hardening. Pipe an outline around the border of half your cookies, keeping the line about 1/8″ inch from the edge of the cookie.

The example pictures I'm using for the bordering and flooding are actually of gray cookies. Since I did the gray cookies second, I had a chance to get better at taking pictures of bordering/flooding before I photographed them, so all my gray pictures turned out a little better.

When those are finished, go back to your bowl of icing, which should still have 3/4 of the icing left. Stir in 1 tsp water. This should make your icing reach flooding consistency, which will flow off your spoon in thick lines instead of falling off in glops. When the lines fall off your spoon in to the pool of icing below, they will create little tracks (lines of icing still visible on top of the pool). These should disappear in 10 seconds or less. If your icing is still too thick, stir in more water a dribble or two at a time until the desired consistency is reached.
Fill the center of your outlined cookies with this icing. I've found the best way is to use something with a blunted tip (like the back end of a chopstick or a clean, unused craft brush) to lift icing in small mounds from the bowl onto the cookie. Use a tapping or dabbing motion to spread the icing over the cookie, being careful not to go back over any areas you've already finished (the icing will have already started to crust on top). Set them aside to harden.

Repeat Steps 8-10 with your gray icing and the remaining half of your cookies. Allow the cookies to set for 1-2 hours or until the icing is completely firm. Gently draw eyes, noses, and mouths onto the top of each cookie with a black food marker. Be careful not to touch the faces until they've been given 5 minutes to dry. After that, there should be no danger of smearing.


Serve as a peace offering to visitors from another world. 🙂