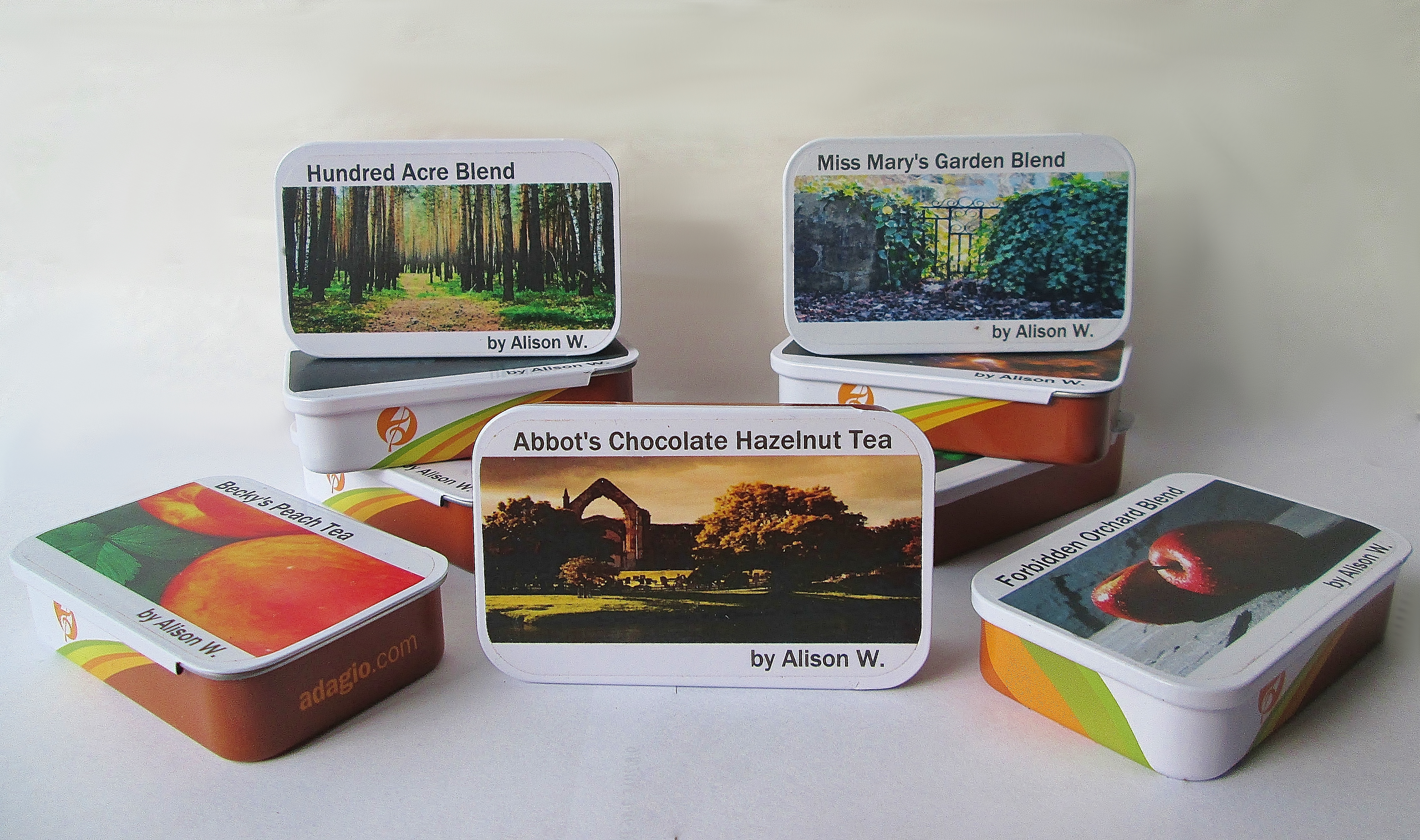 It's December 31st! The year is ending, and with it our Little Women menu. It's been a fun year, folks! I'm excited to start a new one with you tomorrow, so today I decided to post something I've been working on for MONTHS: a full review of all of the teas we've made on AWR!
Back in August, I invited my friends Laura and Mary from The Twins' Guide over to perform a very serious task: review our Alison's Wonderland Teas. The goal was to see how the teas hold up across a range of different palates and get some ideas about which ones could be improved. There are a few teas in this post that weren't reviewed at the party because I hadn't created them yet (like the chocolate mocha tea). For these, I brewed them several ways over the course of weeks to be sure they created a balanced cup each time.
Below you'll find a picture of each tea followed by its name, description, a food pairing, and notes from the review. The pictures and titles link to the page on Adagio.com where you can order each tea. Enjoy!
P.S. These are all loose teas. To brew, you can place them in a tea infuser or paper tea filter…or you can drink your tea like Professor Trelawney and brew the leaves loose in the teapot! 🙂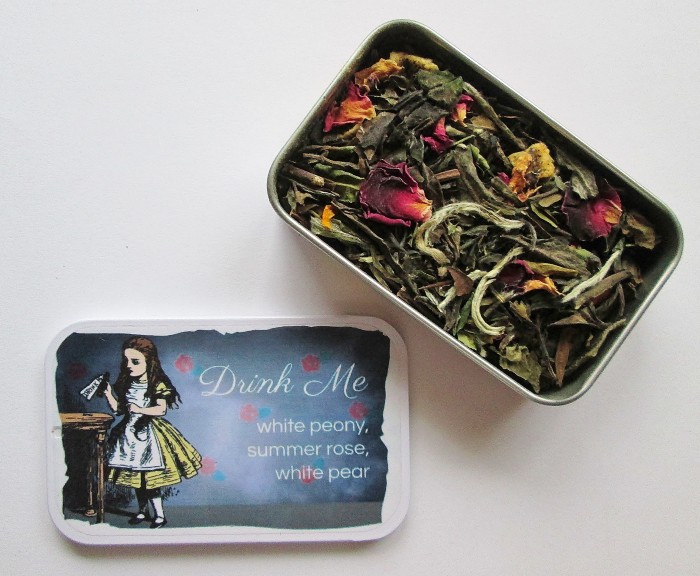 White peony and white pear with rose petal inclusion.
This is a very simple white tea with faint floral hints, like the white roses in the queen's garden. It's a great introduction to white tea if you want to get a feel for that variety, and it makes a great staple to keep on hand if you're a big fan of white tea.
Candy apple and blood orange with hibiscus inclusion.
Alison's Wonderland Food Pairing: Cyclone Cookies
I was a little nervous that this might not be a popular blend at the review party, since it's fruitier and lighter than you might expect from a black tea. This actually turned out to be one of the most popular—and Laura's favorite! She said she loved how it was more complex that "just apple" and mature without being overpowering. I love that you can taste the candy apple and blood orange mingling together—the apple cutting down the bitterness of the orange, the orange preventing the apple from being too sweet. This definitely made me think of Trick-or-Treating. A perfect Halloween flavor!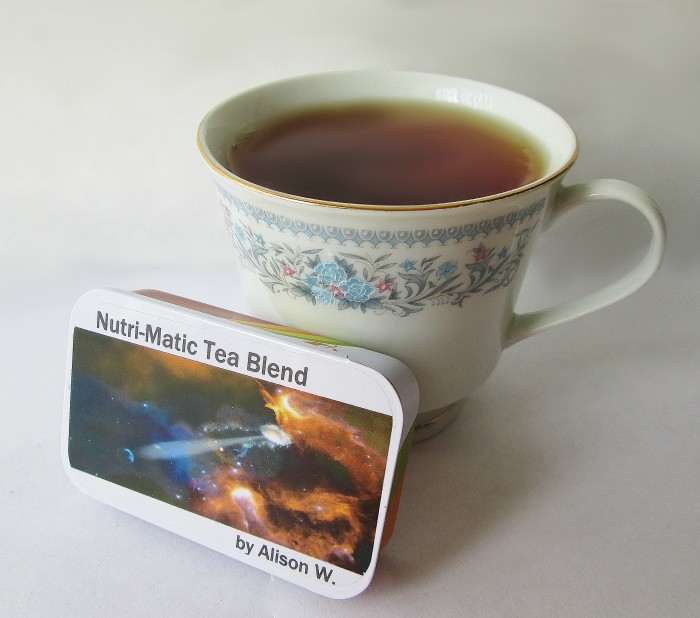 Irish breakfast, vanilla, and almond.
This is a strong Irish breakfast blend with an extra touch of vanilla and cream. I often feel like Irish breakfast teas can be harsh (some even have an acidic aftertaste), but we all agreed that this is much milder than your average Irish breakfast blend. A great companion for doughnuts or cookies!
Honeybush vanilla, hazelnut, and cream with safflower inclusion.
This was a popular blend at the party, and it's likely to rank high with anyone who likes Abbot's Chocolate Hazelnut Blend. It's got a honeybush and hazelnut base like it's chocolaty neighbor, but it's balanced with vanilla instead of chocolate. This results in a blend that isn't quite as distinctive (it's harder to pick out specific flavors), but everything combines together to create a new flavor all its own.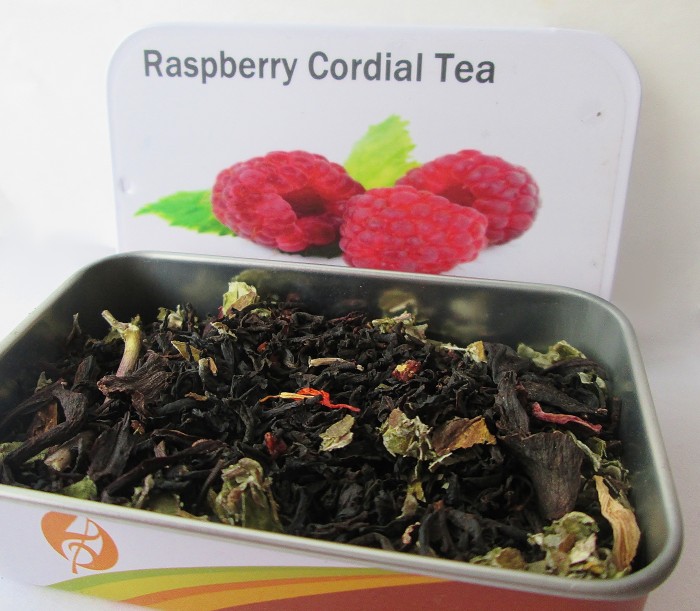 Raspberry and cherry with hibiscus and raspberry leaf inclusions.
The dark color of the leaves can be deceiving: this is a bright, sweet tea. The raspberry scent hits you strong when you sniff the tin, but the flavor of the tea itself is more even (making it balanced enough to be delicious either hot or iced). The hibiscus inclusion gives the tea a fun red color, and all of us at the review agreed sugar is practically unnecessary!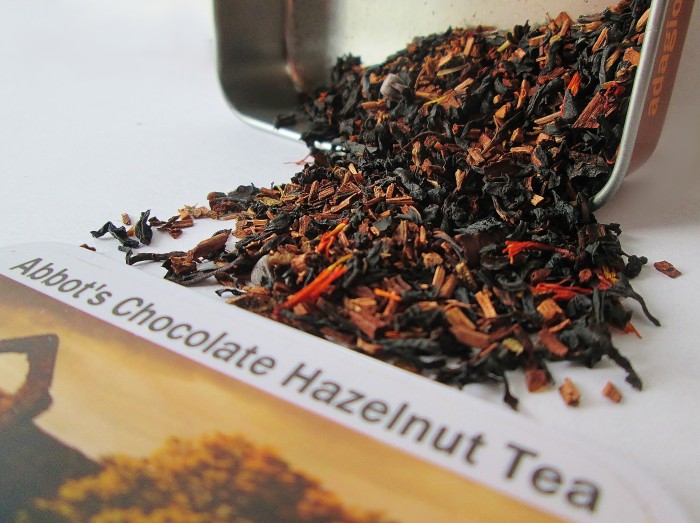 Honeybush hazelnut, chocolate, and cream with cocoa nib and safflower inclusions.
Hands down, this is our most popular blend. I like to call it Nutella Tea! I've sold more than twice as much of this blend than any other, and it got rave reviews at the party. It's got some of the same flavors as Hundred Acre (cream and hazelnut), but the base flavor is chocolate rather than vanilla. Cozy, nutty, chocolaty, and sweet—it's got everything I've ever wanted in a tea. Laura even said that it's rich enough to convert coffee drinkers!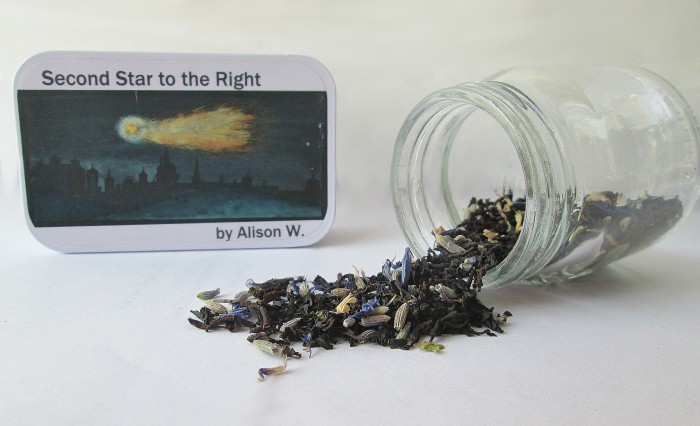 Earl Grey moonlight, cream, and vanilla with lavender inclusion.
Mary is a HUGE Earl Grey and cream tea fan, so this was one of her favorites. I love how evident the lavender is at every stage: you can see it in the tea, smell it in leaves, and taste it mingling with all the other flavors in the prepared cup. We all agreed that a little sugar and milk open up the flavors even more!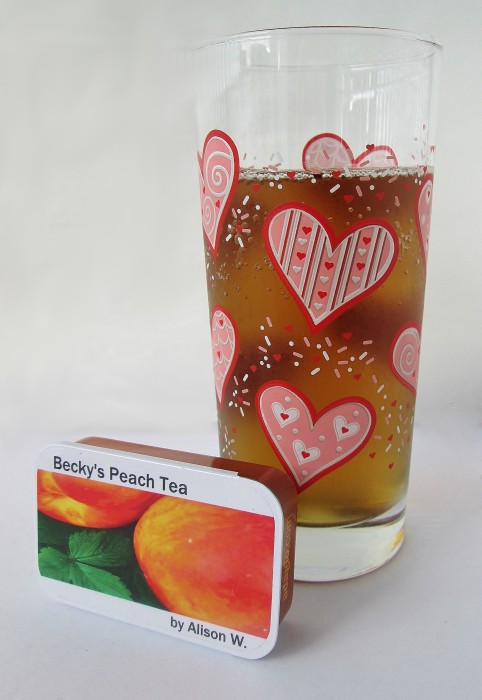 White peach and white strawberry.
I prepared this one as iced tea for the review party, and in Mary's words, it was "refreshing…just a perfect brew!" Even though it's a white tea, the peach flavor is distinct, yet light (not too sugary). In fact, none of us felt any need to add sugar at all!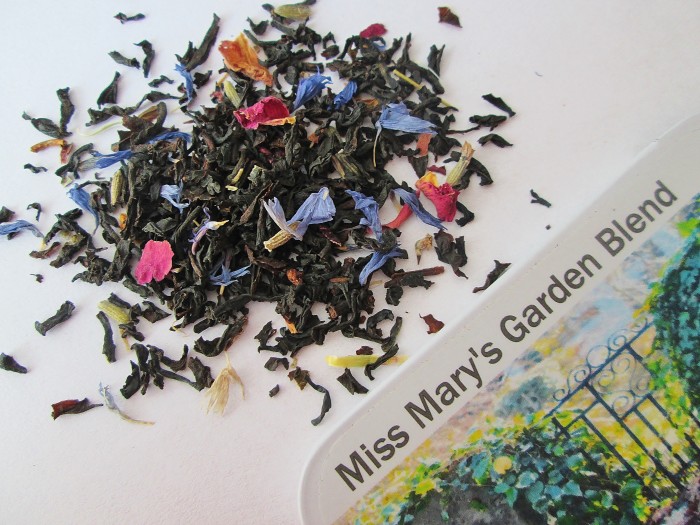 Earl Grey lavender, summer rose, and strawberry with rose petal and cornflower inclusions.
My lovely sister did a review of this one. She said the rose and strawberry flavors really stood out to her, making it a great afternoon tea. As for me, I love that it's floral and fragrant without being too overpowering, and a little milk and sugar give it just the right English tea time feel.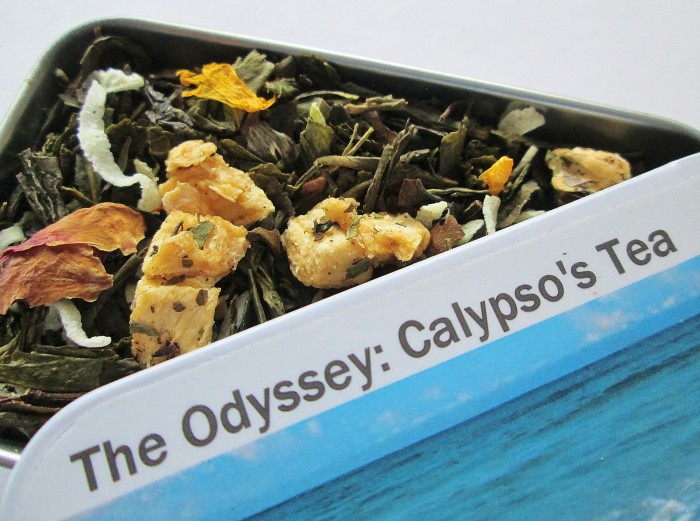 Calypso green and white tropics tea with coconut and hibiscus inclusion.
Alison's Wonderland Food Pairing: Lotus Root Chips
This particular blend wasn't served at the review party, but it's one of my favorite green teas (I just didn't want to go overboard on iced teas at the party, and this one's just a little better iced than hot). It's fresh and natural and only needs a tiny bit of sugar. The tropical flavors take center stage without being overpowering—a great healthy tea!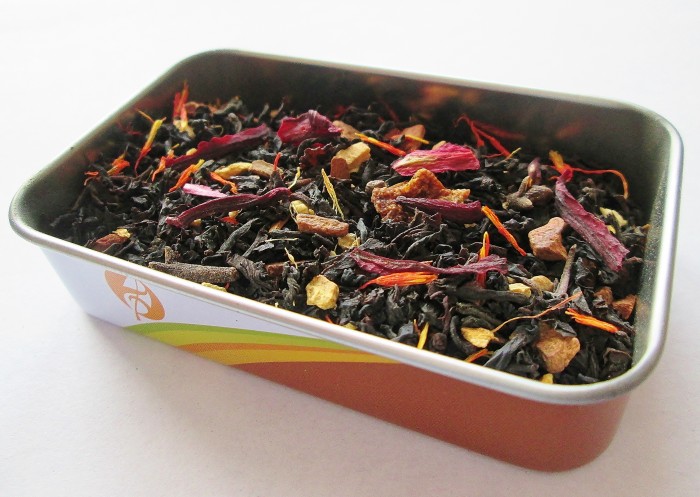 Spiced apple chai and cinnamon with hibiscus and safflower inclusion.
This was originally the recipe for my Girl on Fire blend. Though it was absolutely delicious, it just didn't have the spicy kick I wanted for a Hunger Games tea. Still, I couldn't face throwing this blend out. It tastes like fall—cinnamon, apples, and spices all blended up in a bright but cozy tea! So I wrote down the recipe and saved it until just the right menu came along. Lo and behold, Agatha Christie's book Hallowe'en Party was the perfect match for this autumnal tea!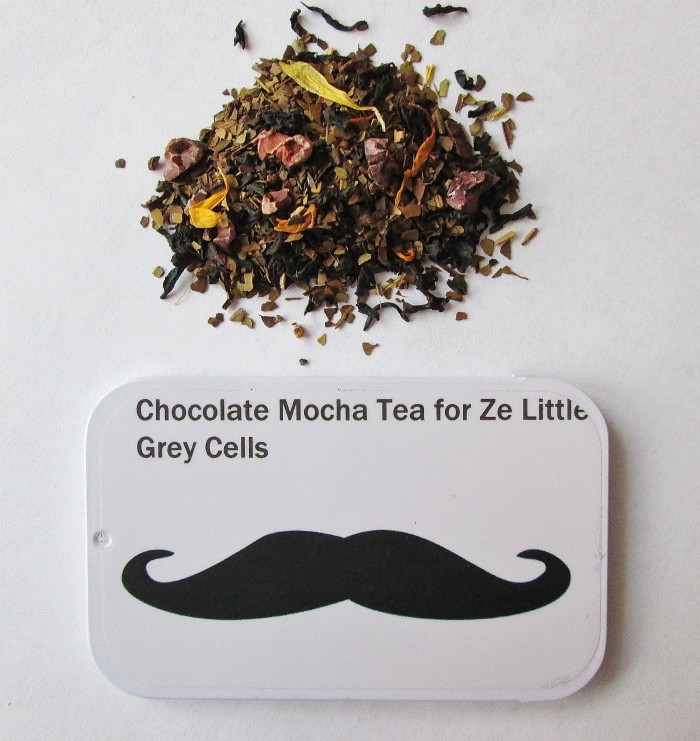 Mocha nut mate, chocolate, and hazelnut with cocoa nib inclusion.
This one wasn't created until after I had my tea party with Laura and Mary, but I'm convinced they'd love it (especially Laura). The chocolate and mocha flavors are perfectly balanced, giving it a delicious coffee flavor. I'm not normally a fan of coffee, but this is one of my favorite blends. It has a mocha flavor that matches its fragrance, but the chocolate allows it to trade the customary bitterness and acidity of coffee for a mild, slightly sweet finish. Sugar and milk make it even better!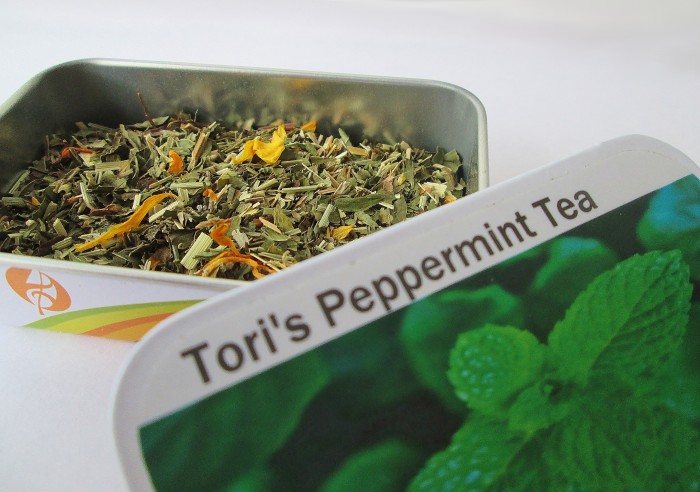 Peppermint, spearmint, and lemon grass with lemon balm and marigold inclusion.
This is my new favorite peppermint tea. I've never been a fan of how some mint teas have a menthol "cold burn" aftertaste, but this gives you strong mint flavor, while stopping just short of being too strong. Besides being delicious, it's perfect for when you're sick. The lemon balm soothes your throat and peppermint/spearmint combo opens your sinuses and helps relieve a bloated tummy. Just add honey, and you've got everything you need on your journey to wellness.
AND INTRODUCING OUR DECEMBER TEA FOR 2015…
 
Gingerbread, ginger, and cream with cinnamon, marigold, and ginger inclusion.

I played with this blend for months before coming up with just the right combo of flavors to replicate a real gingerbread cookie. It's wonderfully cozy—perfect for Christmas or any time you need some cold weather comfort! I recommend sugar and milk with this one, since the gingerbread flavor is stronger the longer you steep it. The addition of the creamy and sweet flavors help undercut any extra bitterness that might result from a long steep.
One of the best things about the tea party is that it gave me ideas for how to improve some of my other teas. We all liked the opening flavor of Long John's Island blend, but there was a dry aftertaste. I think the blood orange caused it, so I swapped it out for mango. Now the
Long John blend
makes a cup of tea that brews blood red with rich, juicy tropical flavors (it's one of my favorites now!). The
Coconut Camelot tea
needed just a little more coconut flavor, so I tweaked the recipe and now it's perfect! Tea for the Girl on Fire was equally delicious, but it just didn't have the strong spice kick you'd expect from a tea named after everyone's favorite Hunger Games champion. I've tried a few variations, but it's still not as spicy as I'd like. I want it to be perfect for you guys, so I've taken it own while I continue experimenting. Soon, my Wonderlings, we'll be able to enjoy the taste of fire in a teacup! 🙂
Which tea do you most want to try?