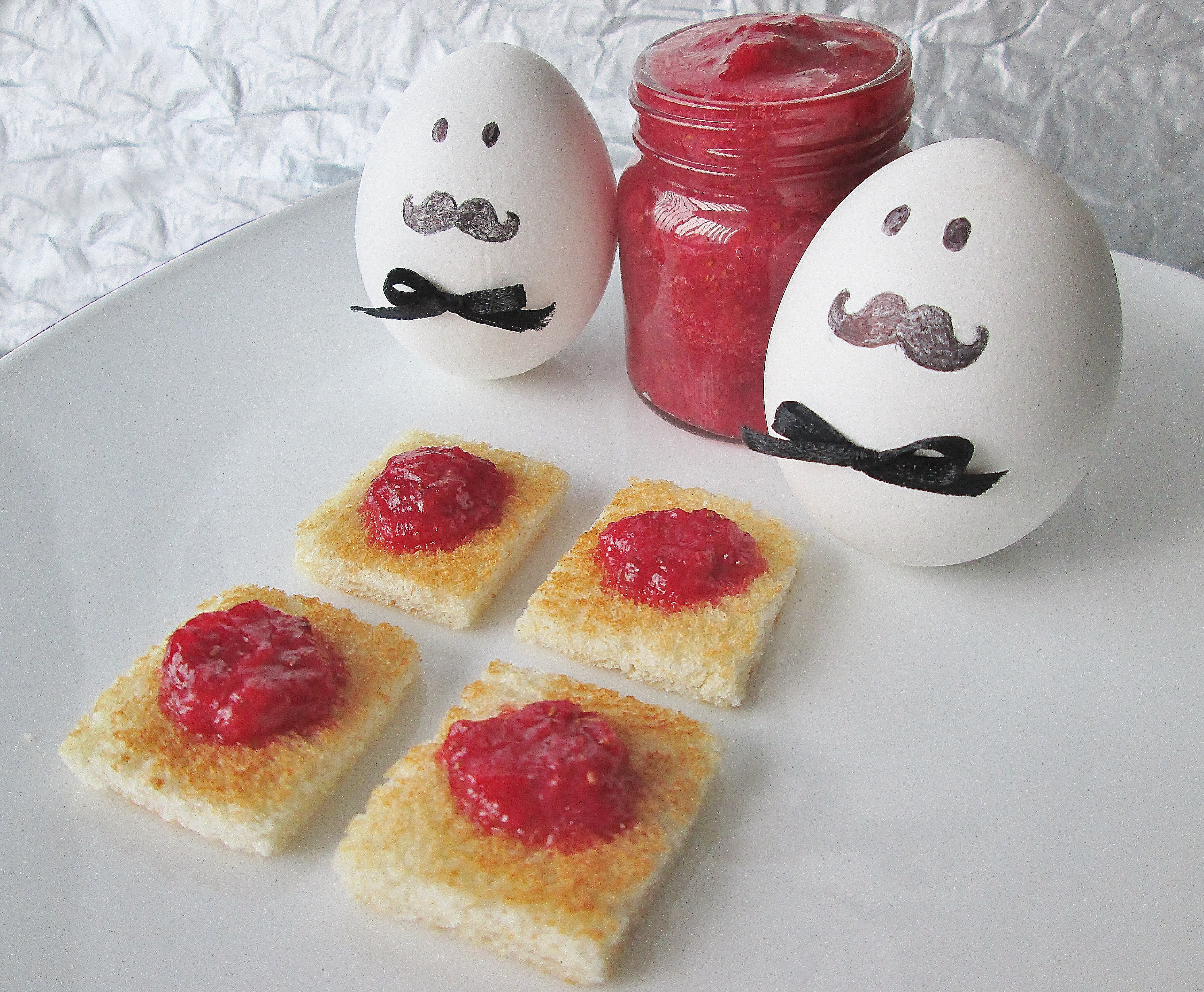 Happy October, everybody! Welcome to our new menu. Last year we spent the month of Halloween making spooky Dracula recipes, but this year we're taking a murder mystery approach: an Agatha Christie menu! As many of you know by now, I'm a die hard Christie groupie…so I didn't need much of an excuse to dedicate a menu to her.

Our first dish will delight Hercule Poirot fans. We're making Poirot's breakfast! Every single morning the detail-oriented detective eats the same thing: two symmetrical boiled eggs and a piece of toast cut into perfect squares, trimmed of crust. And in the TV show, the toast squares are topped with perfect circles of jam. We made our own jam using this recipe and decorated the eggs to look like the famous detective himself (after all, he's said to have a head shaped just like an egg). I'm sure Poirot would find this breakfast to be tres magnifique!
Poirot's Breakfast

"Order and method are my gods. For my breakfast, I have only toast which is cut into neat little squares. The eggs – there must be two – they must be identical in size …"
— A letter from "Hercule Poirot" to Agatha Christie's American publishers in 1936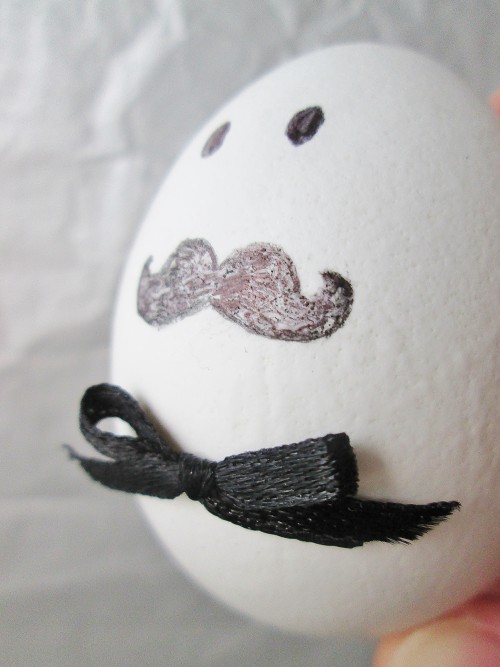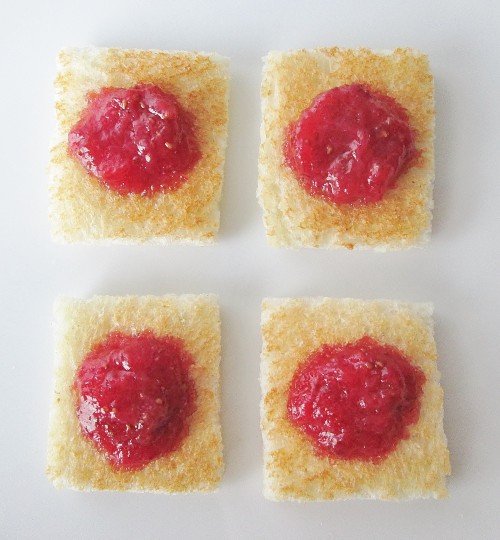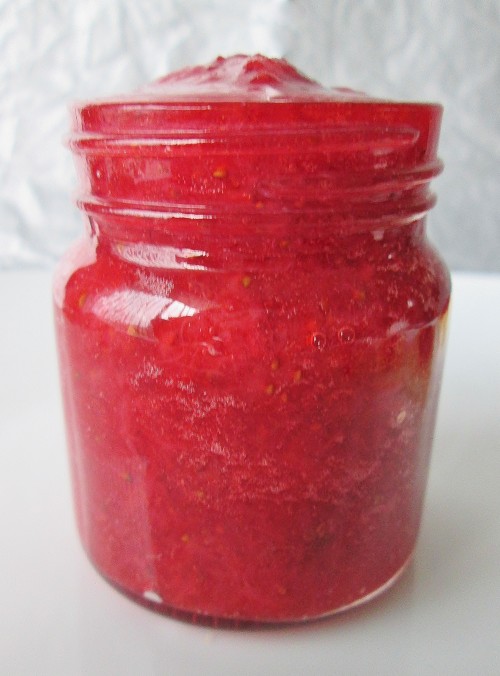 INGREDIENTS: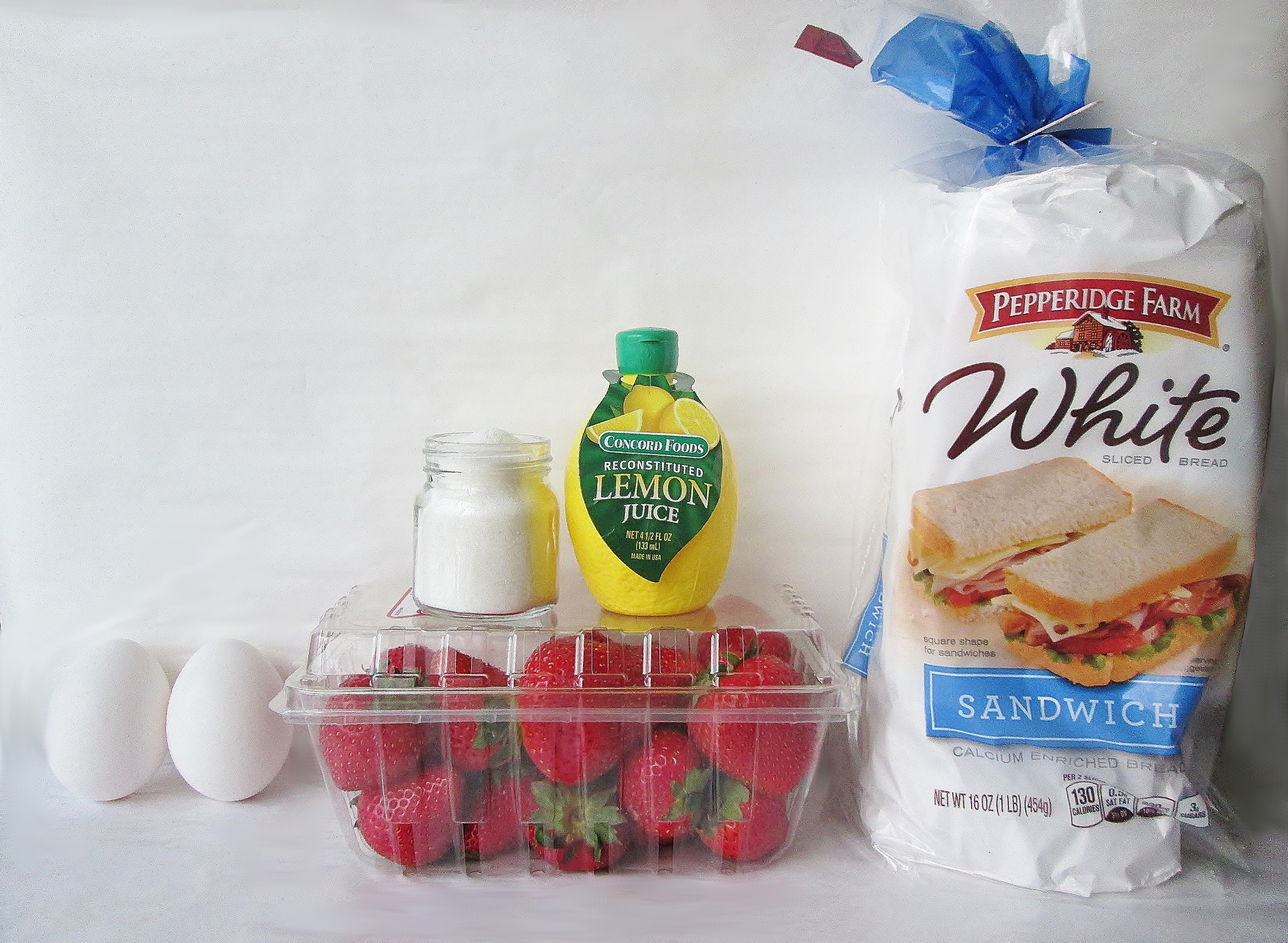 For the Jam: 8 oz fresh strawberries, 3/8 cup sugar, 1 tbsp lemon juice
2 hard or soft boiled eggs (the books don't specify, though in the show it looks like they may be soft)
1 slice of bread
For the egg decorations you'll need a fine-tipped permanent marker, thin black ribbon, and super glue.

Makes breakfast for 1

INSTRUCTIONS:
First, wash and coarsely chop your strawberries.

Place them in a saucepan with the sugar and lemon juice. Heat on medium-low and stir until the sugar dissolves.
Turn the heat up to medium-high and bring to a rolling boil. Turn the heat down to medium and heat for about 10 minutes, stirring and mashing the strawberries frequently until the jam has thickened and bubbles cover the surface of the jam. I used a potato masher to help crush the berries, but you can also use the back of a spoon.

OH MY GOSH. I don't even normally like strawberry jam, but THIS is awesome. The strawberry flavor is so fresh and bright, and it's lightly sweet without being cloying.

Pour the thickened jam into a jar, seal it, and let it cool to room temperature (refrigerate once cooled if you don't plan to serve it right away). For a faster cooling time, leave the lid off the jam jar and place the jar in an ice bath.
While you wait, decorate your eggs. I used a fine-tipped black Sharpie to draw the mustaches and eyes, but make sure the egg is room temp before you start (otherwise the egg will sweat, and the marker won't draw properly). Tie little bows out of thin black ribbon and use a dot of super glue to fix them onto the eggs.


Lightly toast your bread. With a tape measure and small, sharp knife trim away the crust in perfectly straight lines and cut the toast into 4 identical squares. It doesn't really matter how big they are as long as they're the same size.

The books don't say exactly how many toast squares Poirot eats, but we do know all the squares come from one piece of toast. In the show, he has 9 squares, but my bread slices weren't nearly big enough for that.

When your jam is cool, spoon it into a sandwich bag. Seal the bag and cut off one of the corners. Pipe 4 identical circles of jam into the exact center of your toast squares.

Jam isn't actually part of Poirot's breakfast in the books, but it is in the TV show (you can see Poirot having breakfast in Season 6 here). I decided to include the jam because 1) eggs and toast on their own just seemed too easy, 2) I love seeing the identical little dots of color, 3) Poirot LOVES sweet things, so I could totally see him putting jam on his toast in this way.

Serve in order to stimulate your little grey cells before going out to solve a murder!


You have no idea how long I've wanted to make an Agatha Christie menu! I spent ages planning this one, since finding the right combination of foods was a bit difficult. I think I've finally settled on a well-composed set of recipes, but if there are any specific Christie recipes you really want to see, let me know and I'll try to fit them in! 🙂