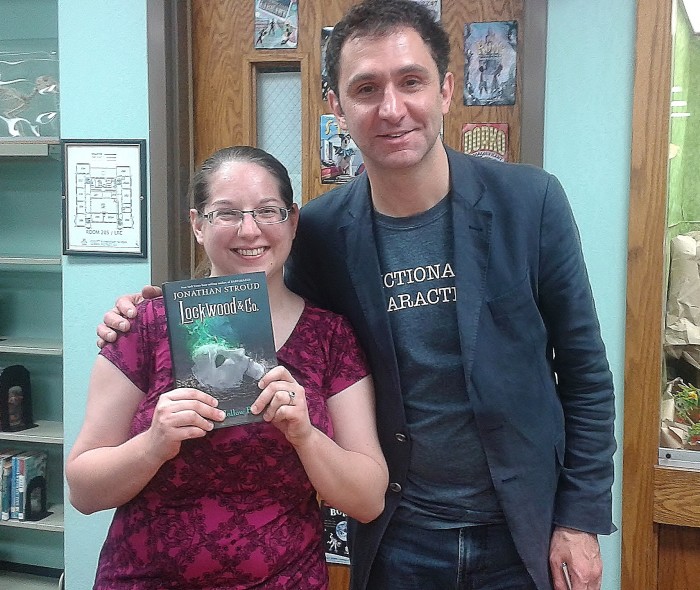 Last night, I interviewed Jonathan Stroud (famous for his bestselling Bartimaeus series) at a tour event for his new book, The Hollow Boy! And strangely enough, I owe it all to Goodreads. 🙂
I devoured the Bartimaeus books when they first came out, so I was thrilled when Goodreads notified me about Stroud's new series: Lockwood & Co. It's the story of three teens who run their own ghost-hunting agency in London, which is plagued by a sudden and mysterious ghost epidemic. An avid ghost story reader, I decided to read and review the first two Lockwood books (you can read my reviews here and here). Goodreads also informed me that Stroud was planning a promotional tour for the newest Lockwood book, The Hollow Boy. One of the tour events was scheduled to take place in La Grange, IL…not far from where I live! I tracked down the contact info for Stroud's publicist and asked if I could pretty please have an interview with Mr. Stroud at the La Grange event. The publicist was gracious enough to forward the info to him, and he said YES!  * cue shameless fangirl squeals *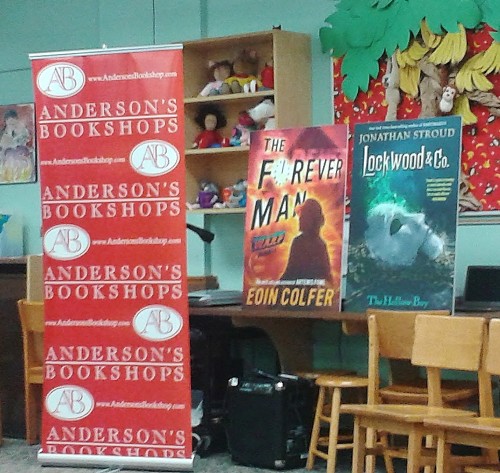 The event itself was a blast, especially since Stroud is co-touring with fellow famous author Eoin Colfer. They were hilarious together, sharing stories of their first childhood attempts at book writing and where they got the inspiration for characters like Bartimaeus and Artemis Fowl. The event was followed by a Q&A session and a book signing. I love that they took the time to chat with every person in the signing line, even the little kids!
Before the event, I got a chance to ask Mr. Stroud some questions about the tour:
This is the second to last stop on the tour, with the last being Austin, TX. How has the tour been going so far?


Lovely! I've been able to meet lots of fans of Lockwood and some who are new to the series. It's been great doing it with Eoin [Colfer]. It's my first time doing a tour with another author, and it's great to see how other authors approach their work.
What's it like to meet your readers?

Always a delight. As an author, you spend lots of time in darkened rooms with only your imagination for company, so it's great to meet the kids. It gives you the strength to go back into the study again!
What's your favorite moment from the tour so far?

Rick Riordan was the master of ceremonies at the tour event in Boston, and we had a great chat about writing. We also had a lovely event in St. Louis with Ridley Pearson…and an especially buzzy crowd! It was wonderful to be able to talk to other authors. We had some lovely chats about writing!
Ok, this last part may sound like the makings of a ghost story, but it's absolutely no joke. Here's what happened: After the event, I was determined to start reading The Hollow Boy as soon as I got home. However, the event finished pretty late (after 9 pm), and I found myself driving home in the dark through a fierce storm. When I got back to my apartment, the main light in the lobby was flickering ominously, and I heard a strange, low, HOLLOW sound coming from the apartment across the hall. Sooo…I decided it wouldn't hurt to start the book in the morning. 😉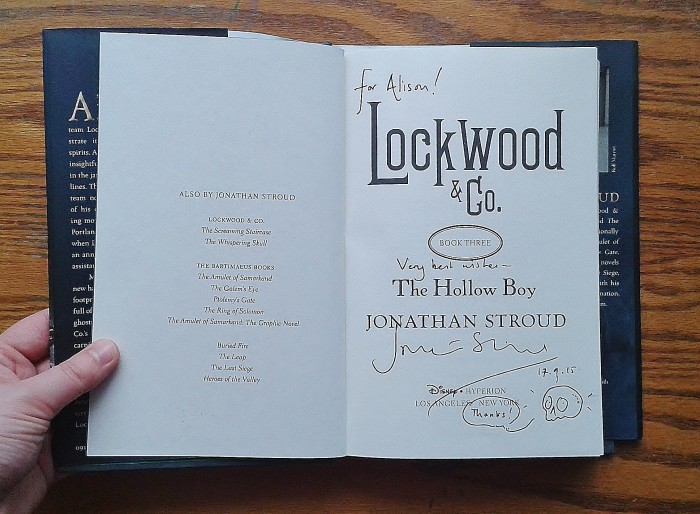 Want to know how Stroud approaches the challenge of writing a scary series for young readers? Curious about his plans for the future of Lockwood & Co.? I'll be including a more in-depth interview with Stroud in my review of The Hollow Boy, which should be ready to post by the start of October! Keep an eye on my Facebook, Twitter, and Google+ accounts for updates!