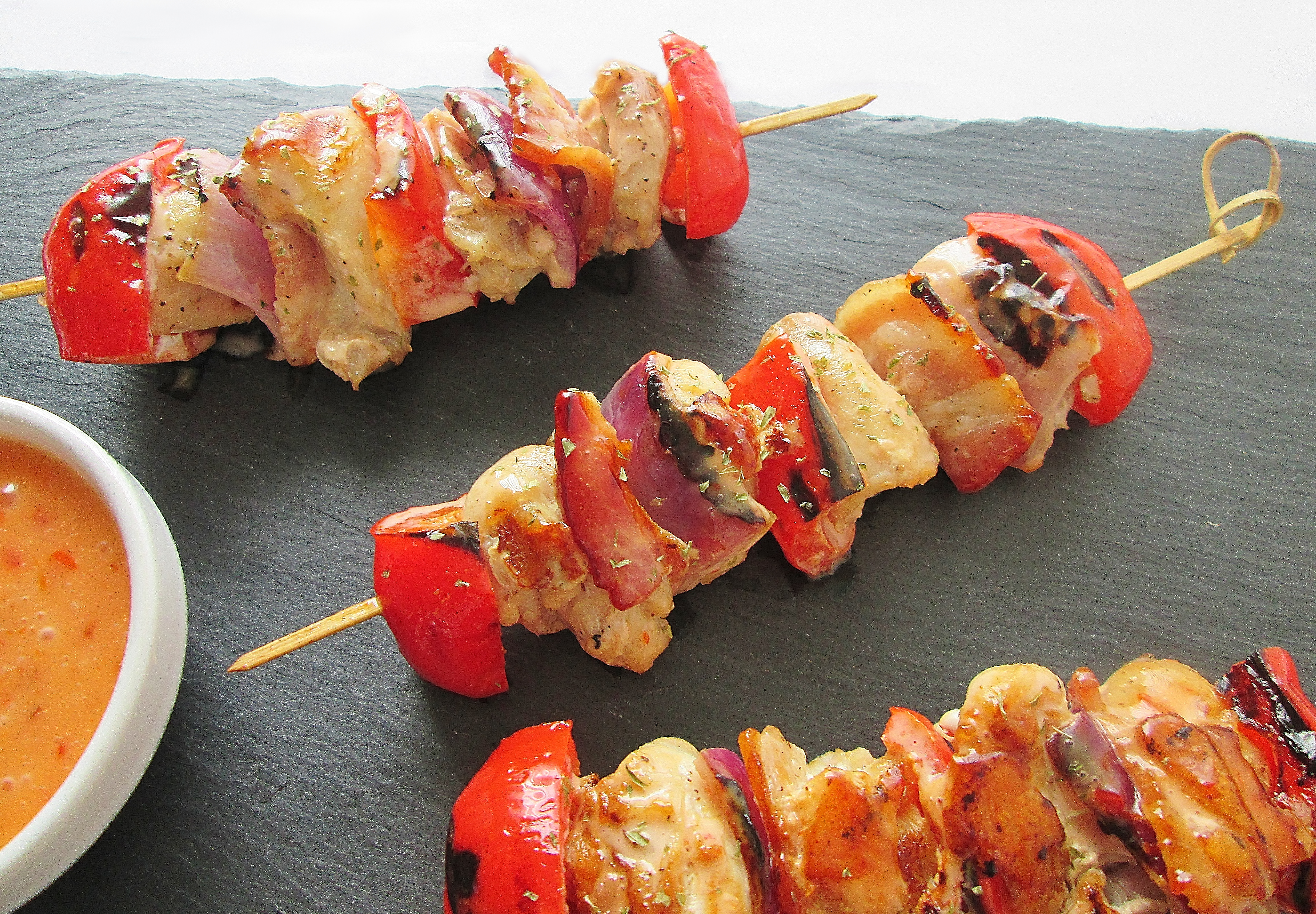 Watch out—this rabbit's dynamite! For our Monty Python entree, we glazed chunks of red pepper, bacon, purple onion, and rabbit meat with Center Cut Cook's spicy bang bang sauce to create kebabs with some kick. It's our tribute to the Killer Rabbit!
What I love best about this recipe is the level of control you have over the spiciness factor. It's capable of being a mildly spicy recipe, but it's also easy to dial it up. Just add more sriracha and swap the bell peppers for a spicy variety!

Killer Bunny Bites

"That's no ordinary rabbit! That's the most foul, cruel, and bad-tempered rodent you ever set eyes on. That rabbit's got a vicious streak a mile wide—it's a killer! Look at the BONES!"
— Monty Python and the Holy Grail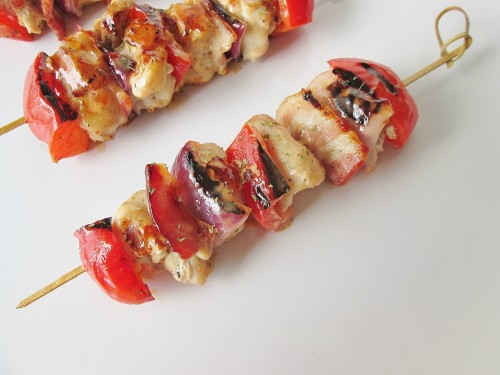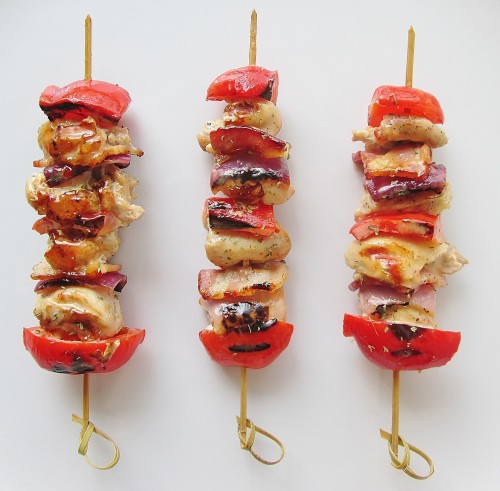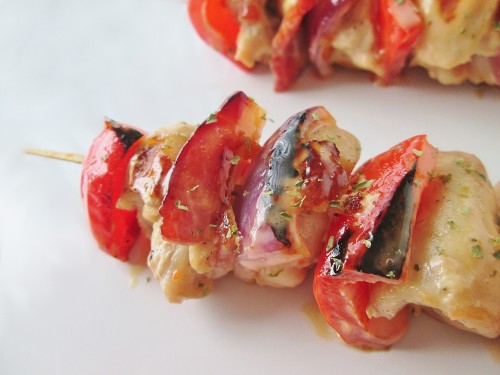 INGREDIENTS: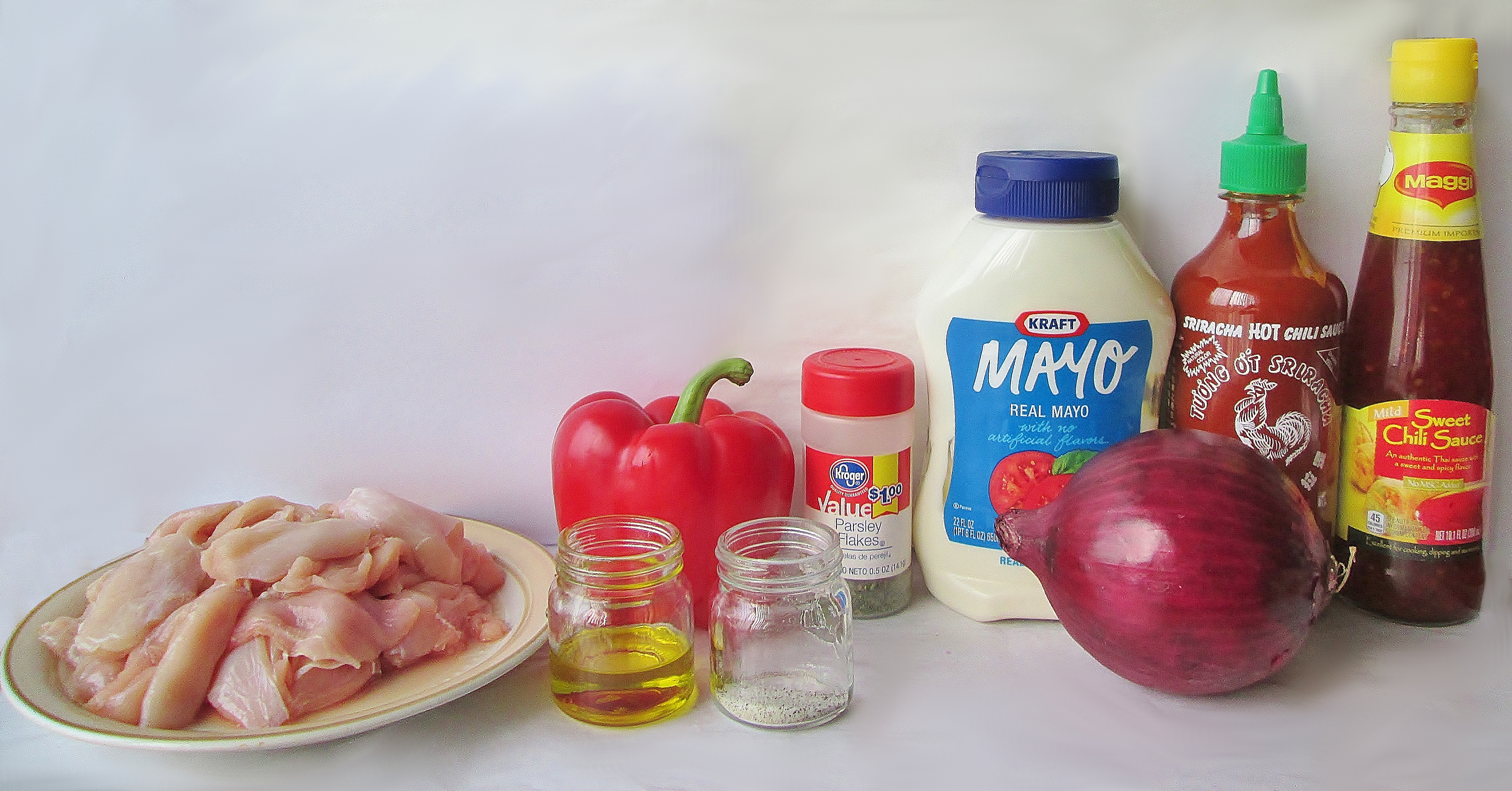 The Kebabs

meat from 1 rabbit, cut into chunks
1-2 red bell peppers or 15 red habañeros, serranos, or anaheims cut in half
5 strips bacon (I got all the way through my ingredient pictures before I realized the bacon was missing. I blame it on Labor Day craziness. But don't worry, it's right here!)
1/2 purple onion
2 tbsp olive oil
salt and pepper

The Sauce

1/4 cup mayonnaise
1/4 cup sweet Thai chili sauce (make sure it's Thai—other varieties won't taste the same)
5+ drops sriracha (I just began to notice the heat after 5 drops. If you want almost no heat but just a little flavor, add 3 drops, then taste. If you want a lot more heat, add the full 5 drops, then taste after each drop after that. Do NOT substitute other hot sauces—it will change the taste of the final product.)
1/4 tsp dried parsley
NOTE: If you'd like to have enough sauce left over for dipping, I recommend doubling the ingredients.

Makes 10 kebabs

INSTRUCTIONS:
If using non-metal skewers, allow them to soak in water while you prepare the ingredients.
Chop your vegetables and bacon into 1-inch squares.
Skewer your ingredients in this order: pepper, rabbit, onion, bacon, rabbit, repeat. I topped mine with an extra piece of bell pepper, since the curved pieces are good at keeping things in place. Brush on the olive oil and sprinkle on the salt and pepper.

Grill the kebabs for 2-3 minutes on a George Foreman grill or 10-12 minutes on a gas/charcoal grill set to medium heat. If using gas or charcoal, rotate the the kebabs once every minute or two. They're finished when the meat is cooked through but still tender.

Be careful not to overcook the kebabs. Otherwise, you can wind up with tough meat.

While the kebabs are cooking, stir your mayonnaise, chili sauce, and sriracha together in a small bowl.

Let's talk about sriracha: A little goes a long way, so if you haven't worked with sriracha before, add and taste one drop at a time. It also has a delayed kick, so wait several seconds after tasting before adding more.

When the kebabs are done, brush them with sauce on both sides and let them cook for another minute (just long enough to warm the sauce).

If the bees are anything to judge by, this stuff is fantastic. One kept trying to land on my kebabs while I was taking pictures. Then he left and brought back a few friends! I let them eat some of the sauce dribbles before I cleaned the grill.