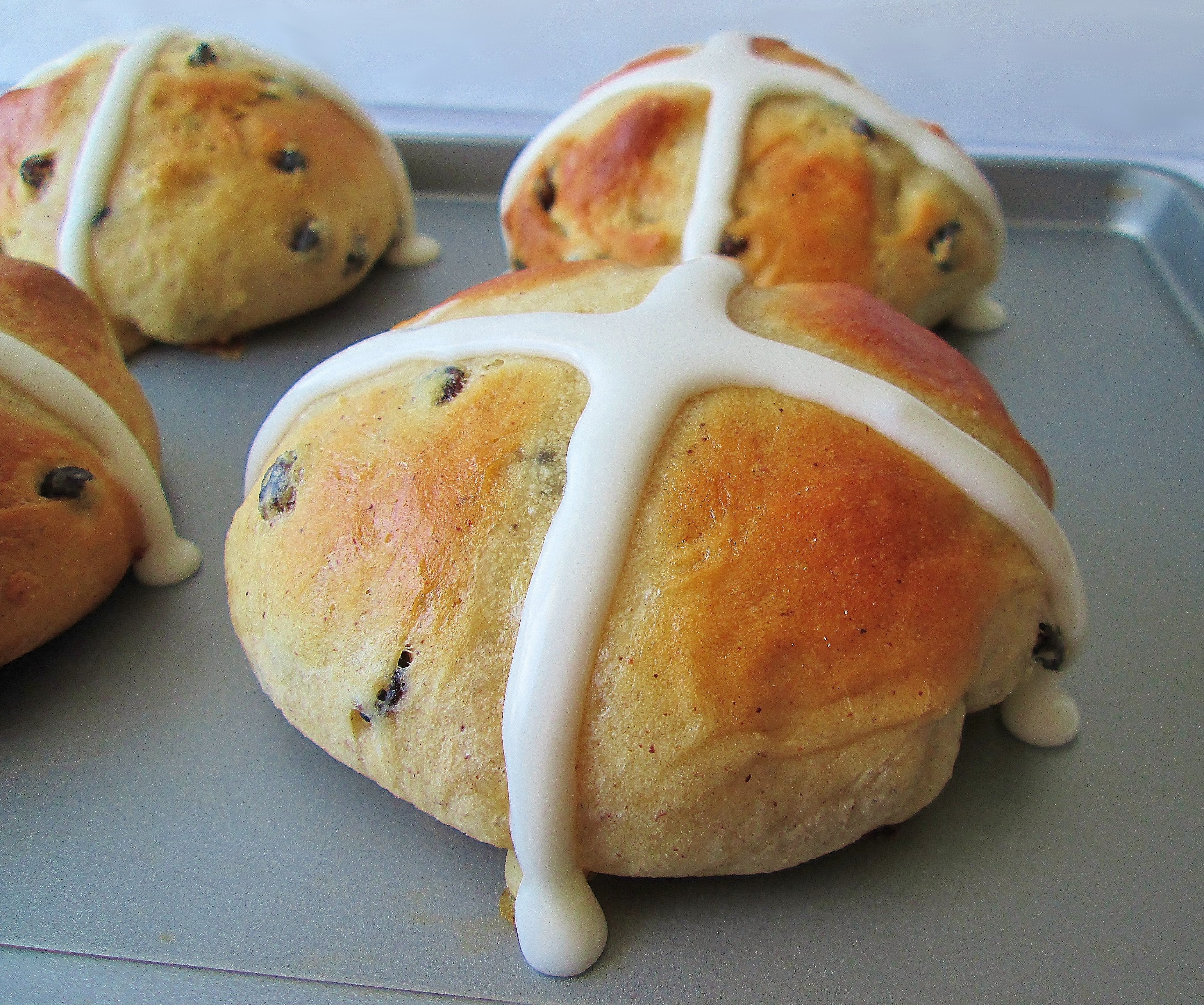 Have you ever had one of those days: a day when you're convinced that every power on earth has conspired to make everything go wrong? I had one of those days on Monday when I made these buns for our Secret Garden menu. My plan was to get up early to allow for the dough's two long rising periods, so I started the day off right…by sleeping through my alarm. I also planned to make authentic British hot cross buns with golden syrup and flour paste crosses. Instead, the sugar for my syrup absolutely refused to caramelize (I tried 3 different ways), and the flour paste crosses spread into nothingness when baked. Long story short, I used an Americanized recipe instead. Add in the fact that I managed to lock myself out of my apartment halfway through taking pictures, and it's really no surprise that 3 pm found me drinking a giant glass of wine.

Still, I have to admit, these guys are pretty darn delicious. 😉

Before making this recipe, I'd never tried currants before. For those who've never had them either: think raisins, except sweeter and fruitier. The spice combo in the bread itself is similar to spice cake, which I love. And though the icing crosses aren't authentically British, they add just enough extra sweetness without turning the bun into a dessert.
So if you're having a bad day, whip up a batch of these little beauties. They might just turn your day around! 🙂

Mrs. Sowerby's Currant Buns

"The morning that Dickon—after they had been enjoying themselves in the garden for about two hours—went behind a big rosebush and brought forth two tin pails and revealed that one was full of rich new milk with cream on the top of it, and that the other held cottage-made currant buns folded in a clean blue and white napkin, buns so carefully tucked in that they were still hot, there was a riot of surprised joyfulness. What a wonderful thing for Mrs. Sowerby to think of! What a kind, clever woman she must be! How good the buns were! And what delicious fresh milk!
— The Secret Garden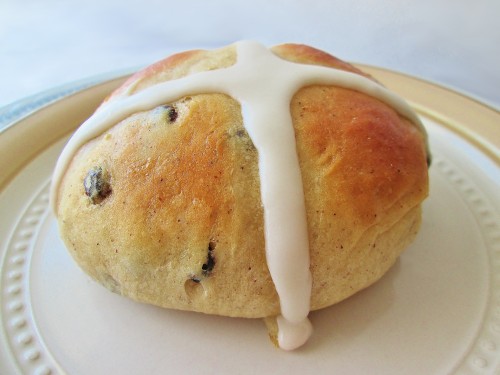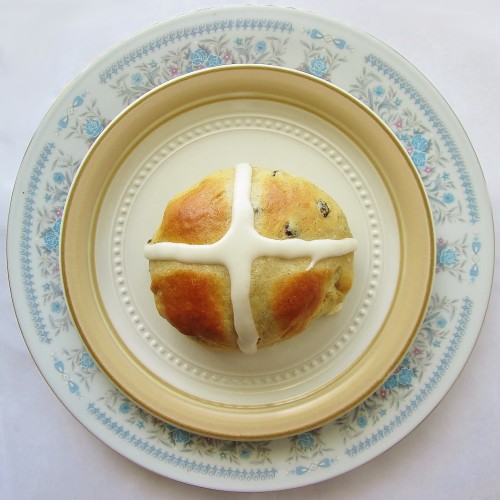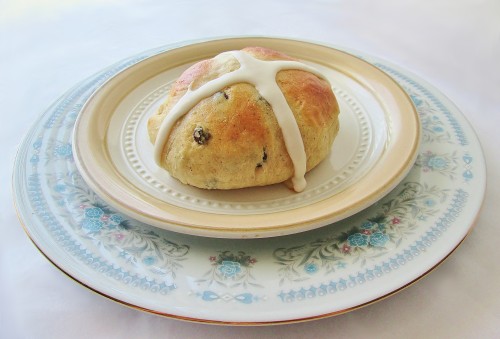 INGREDIENTS: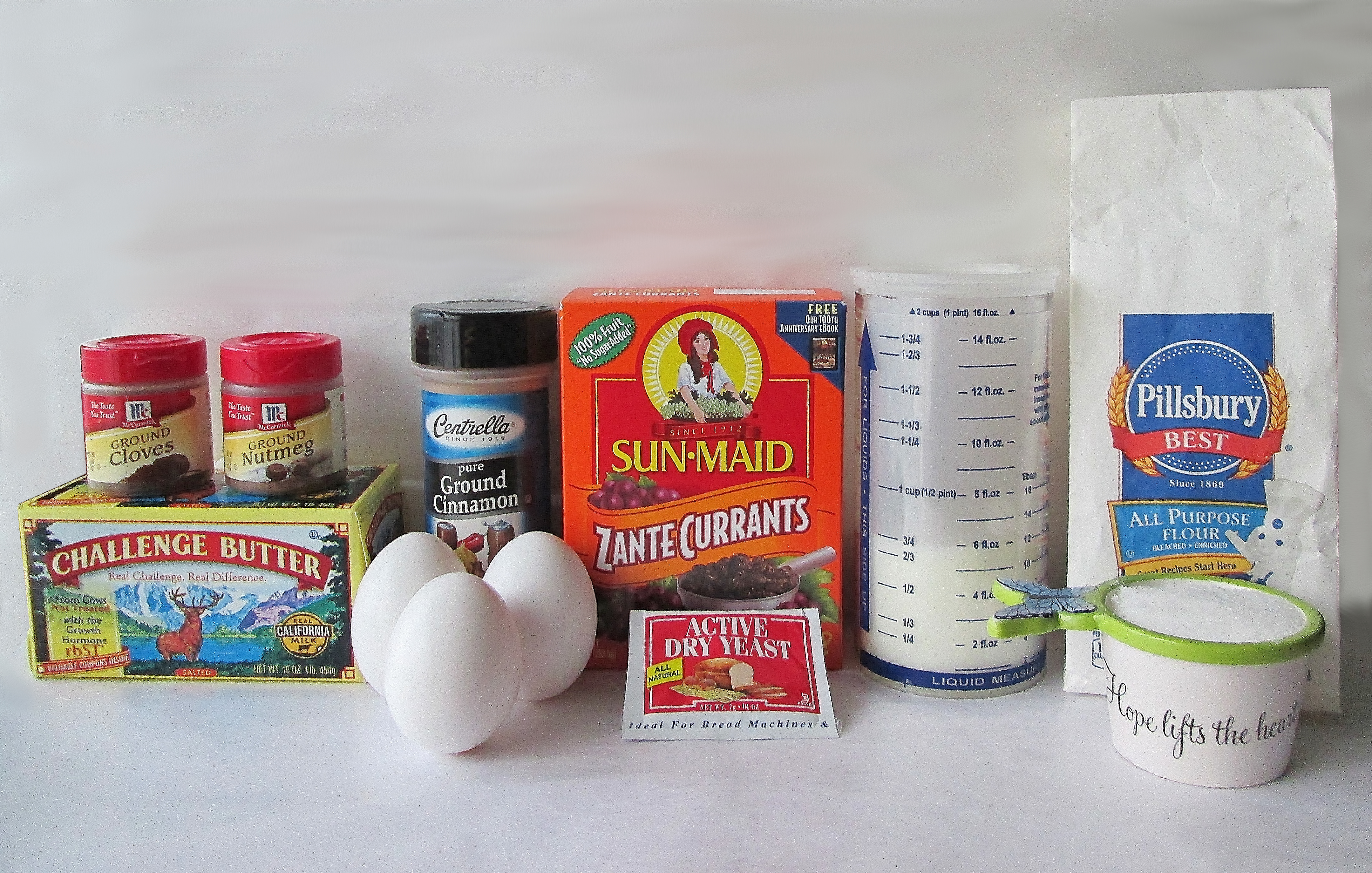 For the Buns:

4 cups flour
1 packet active dry yeast
3/4 tsp cinnamon
1/4 tsp nutmeg
a dash of ground cloves
3/4 cup milk
1/2 cup butter
1/2 tsp salt (Not pictured, because I forgot. Ever forget? It happened to me.)
1/3 cup sugar
3 eggs, plus 1 egg white beaten together with 1 tbsp water
2/3 cup currants

For the Icing:

1 cup powdered sugar, sifted
1/4 tsp vanilla
1 tbsp milk, plus a little extra if necessary
Makes 10 large or 20 small buns

INSTRUCTIONS:
Heat the milk, butter, and salt in a pan until it reaches 120° or the butter is almost melted. While you wait, combine 2 cups flour, yeast, cinnamon, nutmeg, and cloves in a large mixing bowl. Stir together with a fork.


Add the milk mixture to the flour mixture and stir with your fork until just combined. Add the eggs and beat with an electric mixer on low-medium speed for 30 seconds. Stop to scrape the sides of the bowl, then beat for 3 minutes.


Stir in your currants and 1 cup of the remaining flour.

The 30 second beat combines the ingredients, while the 3 minute beat makes the mix super smooth.

Turn the dough onto a lightly floured surface. Knead in the last remaining cup of flour, and shape the dough into a ball. Place the dough into a greased bowl and turn it once. Cover and let rise for 1 1/2 hours or until nearly double in size.


Punch the dough down and turn it onto the floured surface again. Cover and let rest for 10 minutes. Divide the dough into balls.

I made 10 balls about 3 1/2 inches across, but you can make as many as 20 if you make them smaller.

Place the balls 2 inches apart on a greased baking sheet. Cover and allow them to rise for another 45 minutes or until about double in size. While you wait, preheat your oven to 375°.

They shouldn't get that much bigger while they bake, so it's ok if there's only about an inch left between them at this point.

Brush the tops of the balls with egg white. Bake the balls until the tops are golden brown (approx. 10 minutes for small, 15 minutes for large). Allow to cool slightly, about 7 minutes.
While you wait for the buns to cool, stir together your powdered sugar, vanilla, and milk in a medium-sized bowl until smooth. Add a tiny bit more milk (no more than 1/4 tsp at a time) until you reach spreading consistency.
Fill a piping bag with icing and pipe large crosses onto the buns.

Traditionally, the shape is closer to a plus sign (+) than a true cross.