Oh, doughnuts. How do I love thee? Let me count the ways:
You give me that awesome sugar fix, reminding me that sweet things are of paramount importance.

You're so fluffy you make clouds jealous.

You couldn't be a better dessert for Tom Sawyer if you tried.
The first time we meet the title character of The Adventures of Tom Sawyer, he's caught stealing jelly from his aunt's pantry. And when we meet most of his friends, he's conning them into white-washing his fence for him (little devil). The combo of these incidents got me thinking about powdered sugar jelly doughnuts. And when I found this awesome recipe from Jo Cooks, I knew there was no going back. After all, why would I want to? When it comes to doughnuts, any excuse is a good excuse.

So grab your sugar sifters and let's get baking—we're ending our Tom Sawyer menu on a sweet note!
Tom's Whitewashed Jelly Donuts

"Tom wheeled suddenly and said:
'Why, it's you, Ben! I warn't noticing.'
'Say—I'm going in a-swimming, I am. Don't you wish you could? But of course you'd druther work—wouldn't you? Course you would!'
Tom contemplated the boy a bit, and said:
'What do you call work?'
'Why, ain't that work?'
Tom resumed his whitewashing, and answered carelessly:
'Well, maybe it is, and maybe it ain't. All I know, is, it suits Tom Sawyer.'"
— The Adventures of Tom Sawyer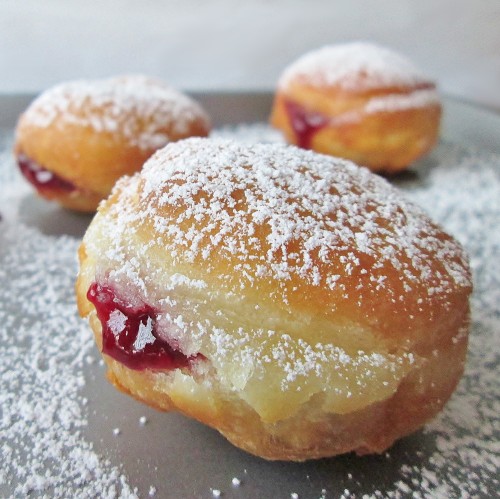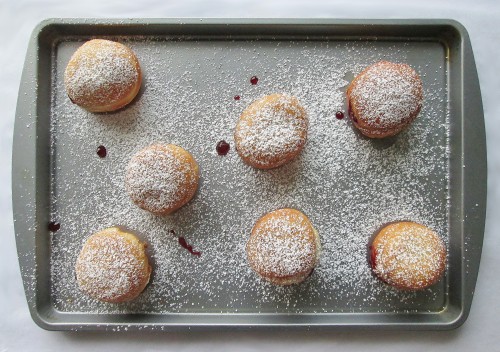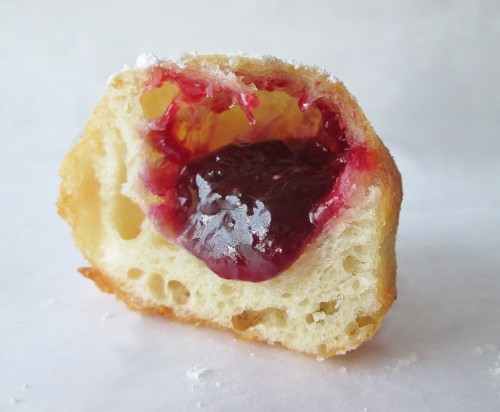 INGREDIENTS: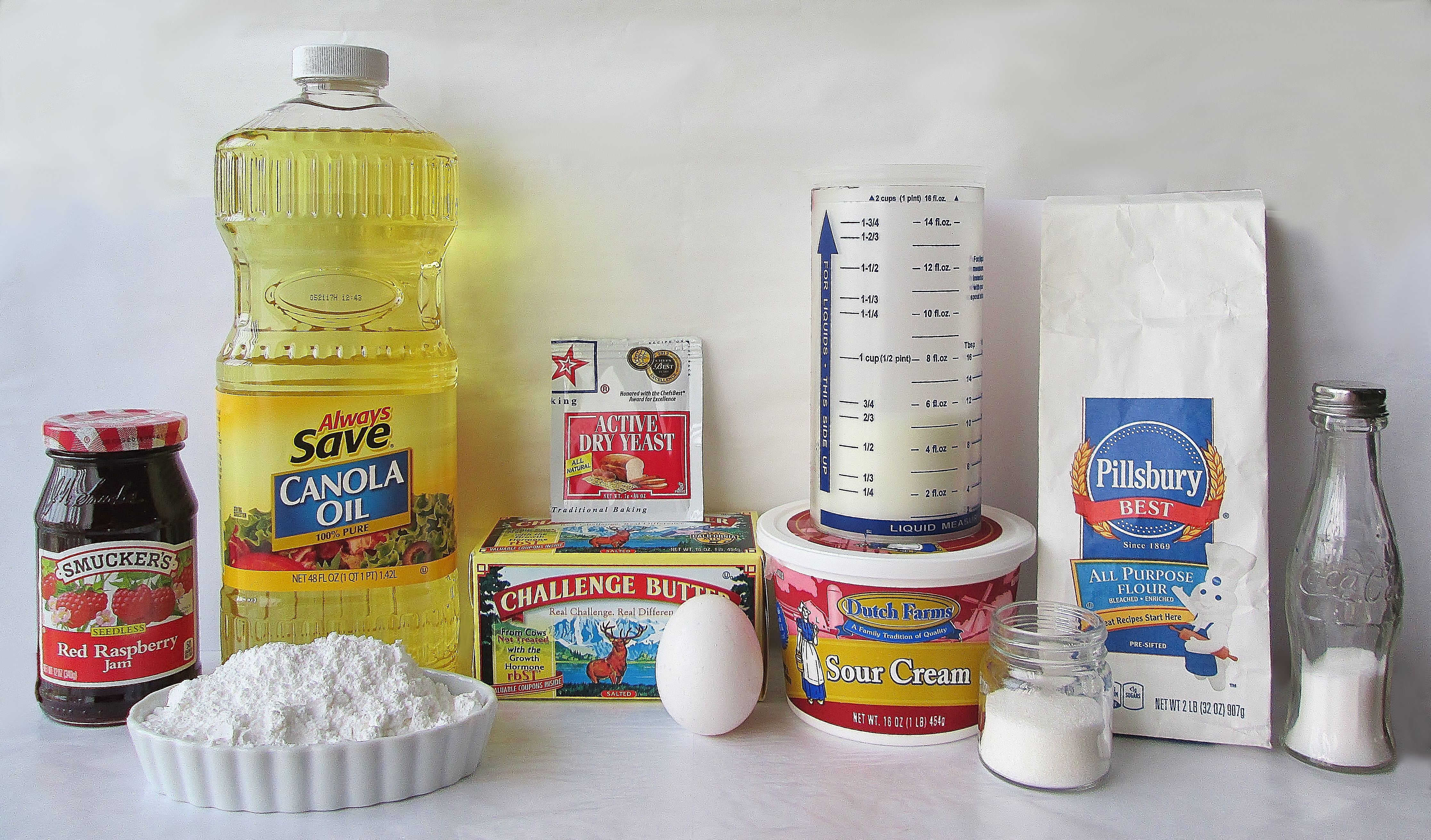 3 1/2 cups flour
1 packet (7 grams) active dry yeast
2 tbsp sugar
2/3 cup lukewarm milk
5 tbsp butter
1 cup sour cream
1 egg
a pinch of salt
oil for frying (enough to fill a large soup pot 2-3 inches)
1/2 jar seedless raspberry jam (I also made some with apple jelly!)
powdered sugar for dusting
Makes 45-50 small doughnuts (3 inches across)

INSTRUCTIONS:
Set out your milk to reach room temperature. Place your butter in a microwave safe bowl and nuke it for about 1 minute. Stir it until smooth and set it aside to cool.
When your milk is ready, pour it in a small bowl with the sugar and stir the sugar with a fork until mostly dissolved. Add your yeast and stir it just a little with your fork. Let it sit for 15 minutes.


In the bowl of a standing mixer, combine your flour and salt, stirring with your fingers just enough to incorporate the salt into the flour. Add your yeast mix, butter, sour cream, and egg to the flour-salt mix. Beat it with the paddle attachment of your mixer on medium-high speed for 1 minute (it should be mostly incorporated). Poke the dough out of the holes in your attachment and scrape the sides of the bowl with a spatula. Mix for 1 minute more or until thoroughly combined.

You'd think combining so much stuff would be agony, but I was surprised by how quickly this makes an evenly incorporated dough.

Lightly spray a large bowl with cooking oil. Scrape together your dough and place it in the bowl. Cover it with a clean dish towel (not terry cloth—bits of the material can get stuck in the dough if it touches it). Let the bowl rest in a warm place for 1-2 hours.

The original recipe says it should double in size. Mine only increased its size by half in 1 1/2 hours, but my apartment was also pretty chilly the day I made this. I used the dough anyway, and it turned out just fine. Moral of the story: if your dough hasn't risen much after an hour, give it a little more time but don't worry about it too much.

Pour your oil into a large pot and set it on medium heat (my burner was set to 7, but yours may be different). While you wait for the oil, divide your dough in half and roll out the first half on a floured surface until its 1/2-3/4 inch thick. With a 2 inch wide cookie cutter (I actually used a lid from a spice jar), cut circles from your dough until there's no more room. Wad up your scraps, re-flour your surface, roll out the dough again, and cut more circles. Keep doing this until you only have a little bit of scraps left. Stick the scraps onto the remaining half of dough and repeat the flour/roll/cut process until you run out of dough entirely.


You can make them bigger if you want, but keep in mind that you'll need to cook them a little hotter and longer, and you'll need the oil in your pan to be deeper. I like that these are tiny, though. You get more jelly in every bite and get to enjoy the benefits of a jelly doughnut without a feeling of overindulgence.

When the oil reaches 135° or a bit of dough flicked into the oil sizzles vigorously on impact, you're ready to start adding your circles. Gently drop several of your dough circles into the pot (how many you can fit depends on your pot—I did 8 at a time). Cook each batch for about 2 minutes on each side, or until golden brown.

Some will flip over on their own, but you'll need to flip most of them manually. If you've got one, use a slotted metal spoon instead of tongs to avoid crushing the doughnuts.

When your first batch is just about ready to come out, place a wire rack over a baking sheet and set aside a spare baking sheet (you'll move them to the second sheet later). Remove the doughnuts from the oil and place them on the wire rack to cool. Continue frying circles until the wire rack is full, then move the cooled ones to the spare baking sheet, to free up more space on the rack.

They're not picky, so feel free to crowd the rack. Just make sure to keep them in a single layer.

Allow your doughnuts to cool for 5-10 minutes. While you wait, fit a piping bag with a large, round tip and fill it with raspberry jam or apple jelly. Cut a deep, 1 inch wide slit in each doughnut. Insert the piping tip into the slit and fill each doughnut with about 1 tsp of jam. NOTE: Only cut and fill the ones you want to eat right away. Letting jam sit in doughnuts too long can make them soggy and gross. Wrap the ones you want to save in plastic wrap and store them in an airtight container at room temperature (for up to 2 days) or in the refrigerator (for up to a week). When you serve the extras, cut and fill them up to 15-20 minutes ahead of time.


Just before serving, pour the powder sugar into a sifter and dust the tops of the doughnuts.