Happy Wednesday, Wonderlanders!
I have some super exciting news! Alison's Wonderland Recipes has received The Very Inspiring Blogger Award from the lovely Erin of Raised Reading. I've never gotten a blog award before, so I'm really psyched…especially because the honor comes from a fellow blogger!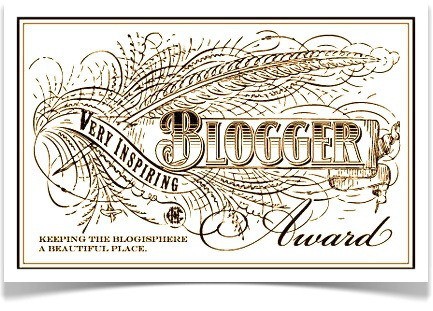 Here are the rules for this blogger award:
Thank and link the amazing person who nominated you.

List the rules and display the award.

Share seven facts about yourself.

Nominate 15 other amazing blogs and comment on their posts to let them know they have been nominated.

Optional: Proudly display the award logo on your blog and follow the blogger who nominated you.
SEVEN THINGS ABOUT ME:
I would sell out for a pack of Oreos.
Having been raised in a tea-drinking household, I'm a veritable tea junky. Blackberry tea is the best, and don't let anybody ever tell you different.
I am allergic to 56 of the 62 most common airborne allergens. Yet, I am only allergic to one food: bananas.
Someday, I want my business cards to say, "Alison W: Classic, Classy, Short, and Sassy Since 1988."
Despite being an avid reader, I actually don't have one favorite book. I do, however, have favorite books from certain periods of my life. My favorite childhood book was Tatterhood, as a preteen it was The Moorchild, in my teen years it was The Wanderer, and now it's any Agatha Christie book!
Just as I love old books, I also love old movies. My favorite actor is Gregory Peck, and my favorite movie of his is The Scarlet and The Black.
Tigers are my favorite animal. This is because they're strong, proud, majestic, and not afraid to wear orange.
AND MY NOMINEES FOR "VERY INSPIRING BLOGGER" ARE…
A Spirited Mind
ALifeMoment
Culinary Spirit
Chef and Steward
Julie's Eats and Treats
Words for Worms
A Lot on Your Plate
Curly Girl Kitchen
Geekritique
O Taste and See
Small Things
The Deliberate Reader
The Geeky Chef
The Twins' Guide
Something Swanky