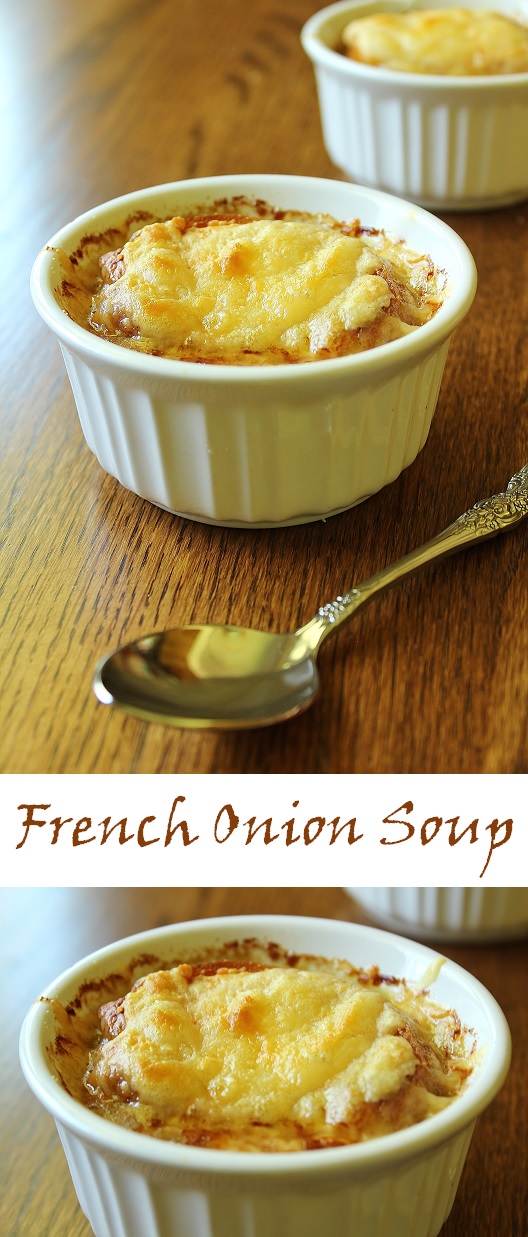 Finding a side dish for my Man in the Iron Mask menu proved to be more difficult than I anticipated. No one dish jumped out as the obvious choice, but I noticed soup was mentioned in the long list of elaborate dishes the governor of the Bastille sups on with Aramis. It's also mentioned in a scene with the king.

I had already decided that all my Man in the Iron Mask dishes would be classic French food (tilapia meunière, French bread, etc.), so I decided to make a well-known French soup: French Onion Soup! And since I wanted to make a truly authentic version, what better recipe to use than Julia Child's French onion soup? I made a few small tweaks to allow for modern conveniences (like using a toaster for the croutes) and ingredients I had on hand, but apart from that I stuck to the original as closely as possible.
The base itself has a robust, beefy (and of course onion-y) flavor with plenty of texture from the grated fresh onion you add just before ladling it out. With the toasted bread and broiled cheese on top, you wind up with quite the hearty side dish.
Full Disclosure: I'd never actually eaten French onion soup before I made this. Not even in a restaurant. I guess I always thought of it as the "beginning" of a soup, the sort of base you add things to but not a soup unto itself. And maybe if the soup were just plain on its own, I'd still feel that way. But with the croutes and toasted cheese, I totally get it! 🙂
You can make my Secret Note French Bread to slice on top or just go with store bought. Bon appetit! 🙂