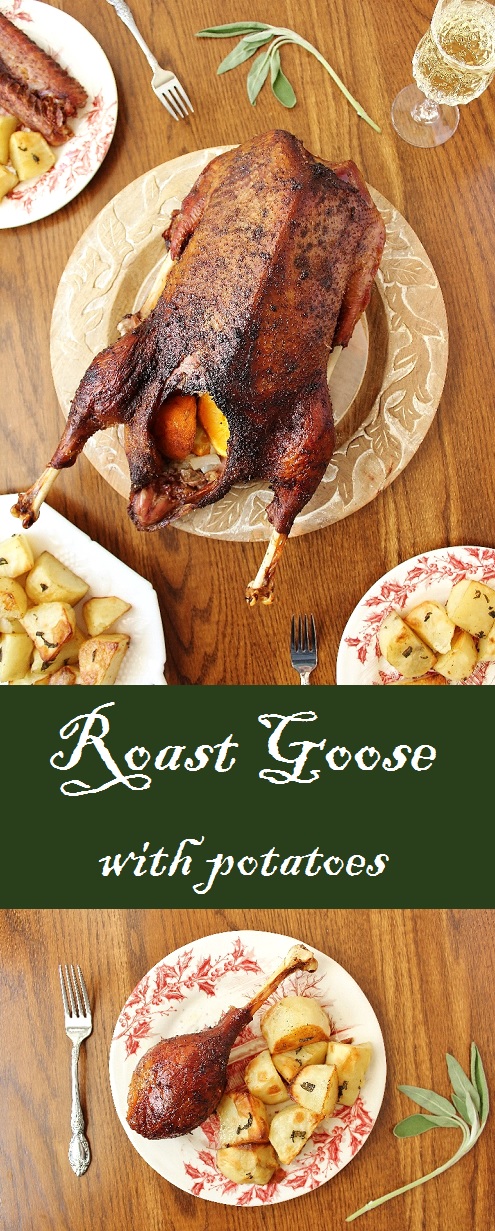 Goose: it's a dish I've put off cooking for years because of the horror stories I've heard about how hard it is to make. It's thrilling to finally step up and tackle something you've always found intimidating, and even more so when your first attempt goes really well.

When I decided to make roast goose as my Wuthering Heights entree, I began the hunt for a recipe that was both manageable and reliably successful. This was surprisingly difficult. I saw recipes that insisted you must sear and flip the goose in a roasting pan to get a brown color without overcooking, others that called for multiple extra recipes like glaze and stuffing, and still more that claimed it was impossible to evenly cook a whole goose (and that the only solution was to carve it before cooking). I felt discouraged and more than a little fearful. Goose can cost upwards of $60, and I did NOT want to screw this up.
Then I found this wonderful recipe from The Woks of Life. It had more steps than some of the recipes I'd seen, but it was easier to follow and didn't require anything weird like searing the bird in a separate pan. It was an orange five-spice goose recipe, which sounded delicious. The seasoning also caused it to roast darker than the average goose, helping to avoid the issue of a finished birth that's too light on top. The only downside was that the flavor profile was a little inaccurate for Victorian England, but given the circumstances, I think we can overlook it. 😉
The bird turned out beautiful on my very first try. It was seasoned perfectly, and the meat was tender and rich. I felt so proud when I pulled it out of the oven, and although it's a little pricey for a regular weeknight meal, I would have no problems making this if my family ever wants to give Christmas goose a try!
 A
Roast Goose with Potatoes
"The little party recovered its equanimity at sight of the fragrant feast. They were hungry after their ride, and easily consoled, since no real harm had befallen them. Mr. Earnshaw carved bountiful platefuls, and the mistress made them merry with lively talk. I waited behind her chair, and was pained to behold Catherine, with dry eyes and an indifferent air, commence cutting up the wing of a goose before her. 'An unfeeling child,' I thought to myself; 'how lightly she dismisses her old playmate's troubles. I could not have imagined her to be so selfish.' She lifted a mouthful to her lips: then she set it down again: her cheeks flushed, and the tears gushed over them. She slipped her fork to the floor, and hastily dived under the cloth to conceal her emotion. I did not call her unfeeling long; for I perceived she was in purgatory throughout the day, and wearying to find an opportunity of getting by herself, or paying a visit to Heathcliff, who had been locked up by the master: as I discovered, on endeavouring to introduce to him a private mess of victuals."

INGREDIENTS: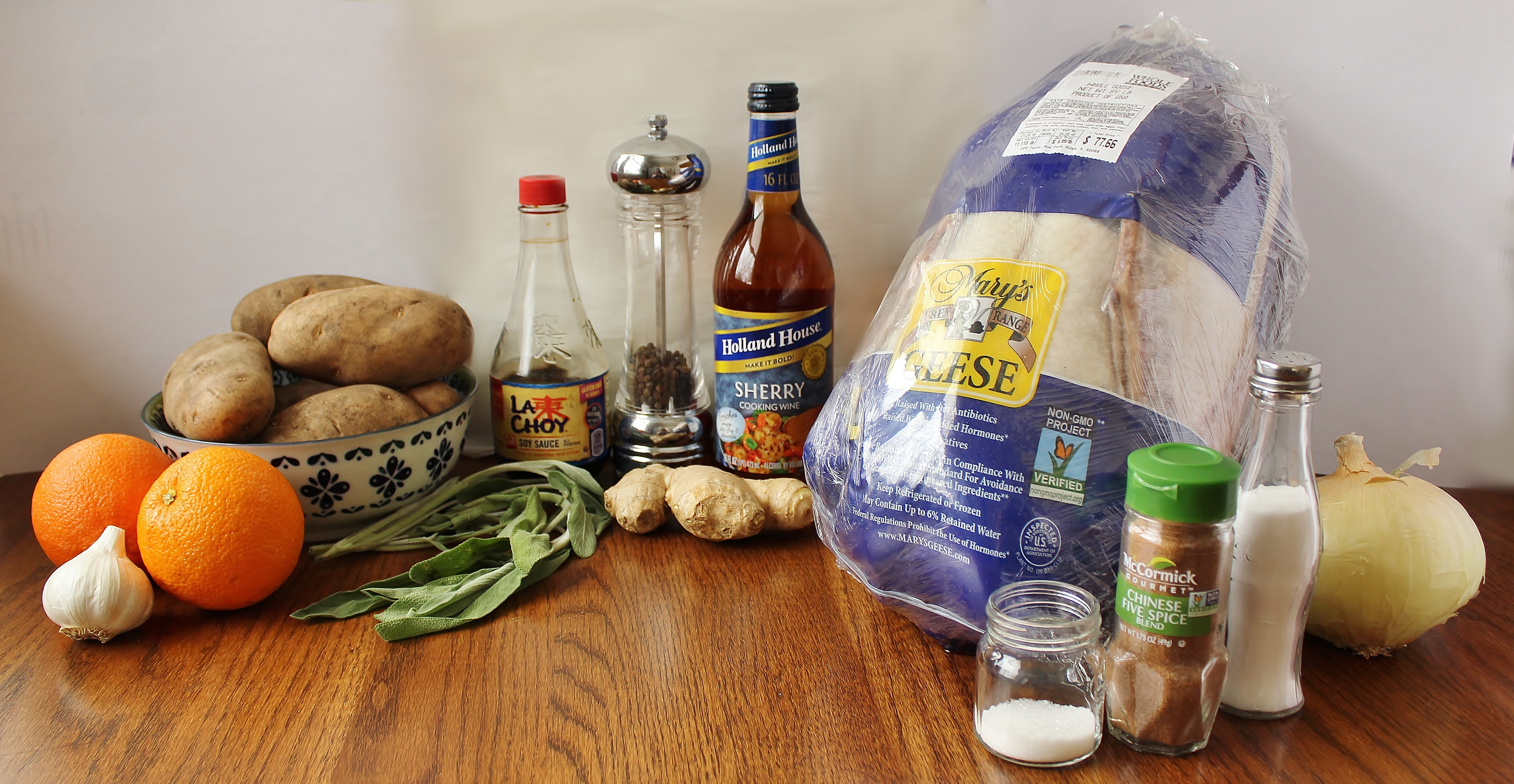 1 10-lb goose
2 navel oranges
1 1/2 tsp salt, plus extra for inside the goose
1/4 tsp pepper
2 tsp sugar
2 tsp five spice powder
1 tbsp cooking sherry
1 tbsp soy sauce
5 cloves garlic, minced
3-5 slices fresh ginger (I used 5 since mine were small)
1/2 Vidalia onion
3 lbs potatoes (for me, this was 5 large potatoes)
2 very large or 3 medium fresh sage leaves
Makes 1 goose and 3 lbs potatoes

INSTRUCTIONS:
Some Notes to Start: If your goose is frozen, allow it to thaw for 2-3 days in the fridge before use. I thawed mine for 2 days. It was barely frozen on the bottom still, but by the time it was rinsed (I used warm water), patted, seasoned, and rested it was completely thawed. If the goose has been trussed, you will need to remove the string and pull the legs outward slightly for more even cooking. The wings of my bird wouldn't stay tucked underneath, so I removed them at the joint (if you do this too, save the wings for stock). You will need a VERY large baking sheet or roasting pan with a raised edge. The pan should be at least 13×18 inches and the edge should be at least 1 inch high. I used this OXO pan. I lined it with foil, but in retrospect I don't think that was really necessary.
Move your oven racks to the top and bottom positions. Remove the giblets and neck from the cavity inside the goose (I didn't use mine in this particular application, but this site lists good uses for them). Thoroughly rinse the inside and outside of the goose and pat dry.
Zest your oranges. In a small bowl, mix the zest with 1 1/2 tsp salt, pepper, sugar, five spice, sherry, and soy sauce. Set aside.
Rub salt all along the inside of the cavity. Cut your oranges into quarters and chop your onion. Stuff the cavity with the oranges, onion, and ginger.
Rub the goose with the spice mix you set aside earlier and allow to rest for 30 minutes. Preheat oven to 450°.
Place the goose on the bottom rack and cook for 10 minutes at 450°. Change the setting to 350° and cook for 1 hr 45 min to 2 hrs (about 10-12 minutes per pound). Baste the goose every 30 minutes. While you wait, peel and coarsely chop your potatoes and place them on a baking sheet.
Halfway through the cook time, tent the breast with aluminum foil and spoon 5 tablespoons of the goose fat from the bottom of the pan over the potatoes. Season the potatoes with salt, pepper, and snipped fresh sage. Toss to combine. Place the potatoes on the top rack for the last 30 minutes of the cook time.
When a meat thermometer in the thigh reads 165°-170°, the goose is finished. Remove from the oven and cover with foil.
Turn the heat up to 400° and cook the potatoes for another 20 minutes.
Serve to placate a restless ghost haunting your manor on the moor.

Goose can be expensive, so make sure to get the most out of your bird. Strain the goose fat from the bottom of the pan into a large jar. Seal and use later the same way you would use bacon fat. You can also use the bones to make stock. Break the stripped carcass into 3-4 pieces and place in a very large soup pot with the other half of your onion (chopped), extra fresh sage, crushed garlic, salt, and pepper. Fill the pot with cold water until the contents are just covered. Bring to a boil and simmer on low for 2-3 hrs until it reaches the desired flavor. Skim the fat and foam off the top and use your new goose stock to make soup!

Check out my other poultry recipes!