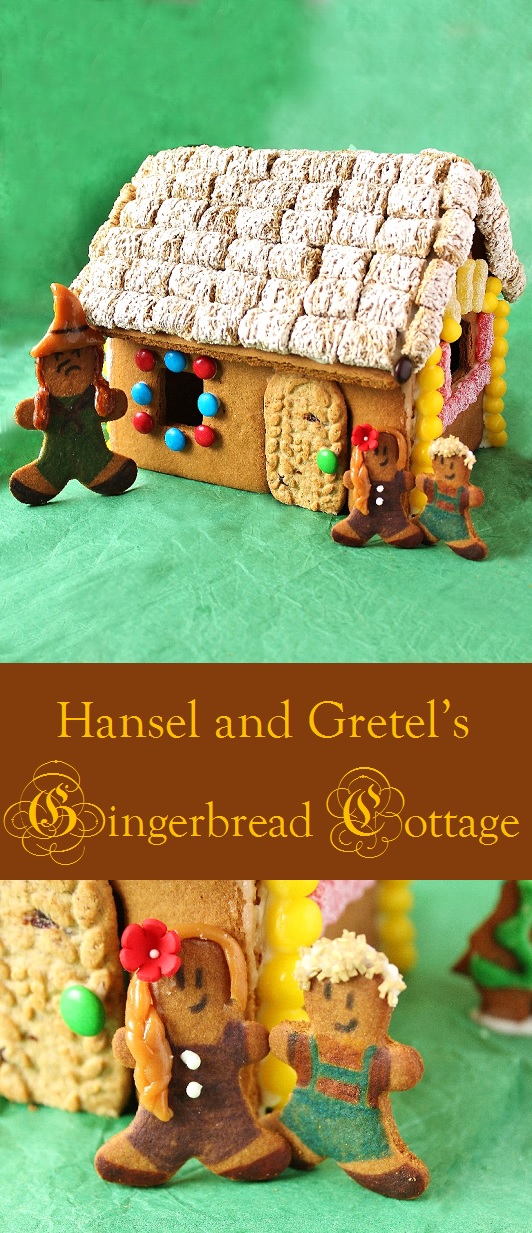 Here it is: the pièce de résistance of our Grimm's Fairy Tales menu! When you all voted in December on which fairy tales you wanted to see in our Grimm menu, Hansel and Gretel easily snagged the most votes. Since I knew this particular recipe would be highly anticipated, I wanted to make sure it was something special. Luckily, gingerbread cottages are about as special as they come. 😉

This was actually my first time making a gingerbread house as an adult, and my very first time ever making one from scratch. Since I'm planning a gingerbread house for another menu coming up as well, I decided to use this gingerbread cottage as a chance to test out cookie and icing recipes, along with tips and tricks from the pros. I wound up using Sprinkle Bake's gingerbread recipe, which I loved. It was flavorful with a pleasant texture, while still sturdy enough to make a structurally stable house. I used Make It and Love It's icing recipe, which came together in a snap. I also relied heavily on the gingerbread expertise of Katharina from Pretty Cake Machine, who shares a lot of her gingerbread tips and tricks here.
 A
Hansel and Gretel's Gingerbread Cottage
"Coming closer, they saw that the house was made of gingerbread, and the roof was made of cake and the windows of sparkling sugar."
— "Hansel and Gretel" from An Illustrated Treasury of Grimm's Fairy Tales by Daniela Drescher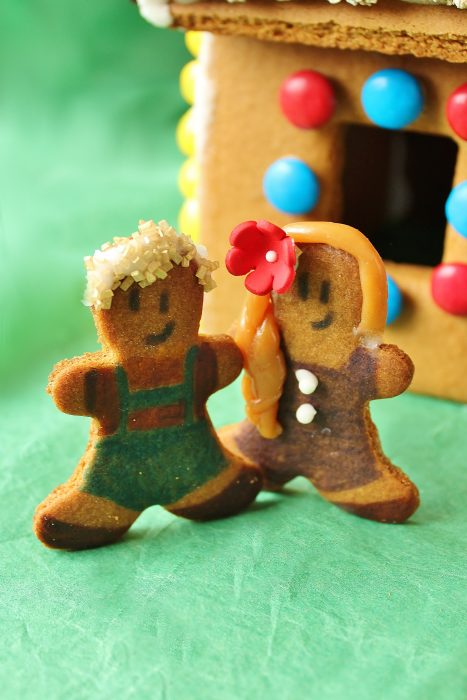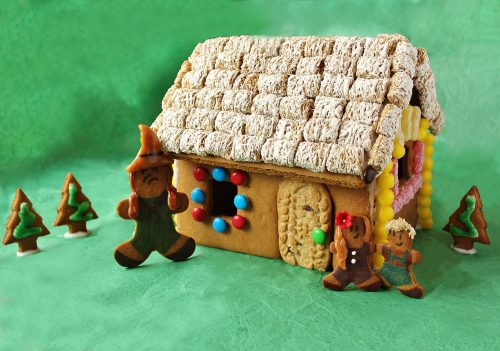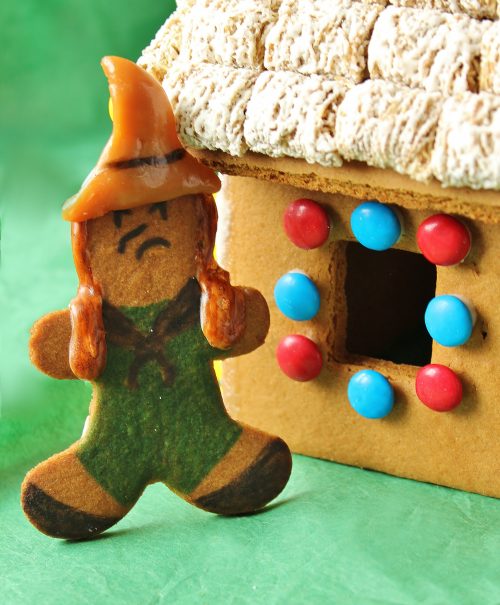 INGREDIENTS: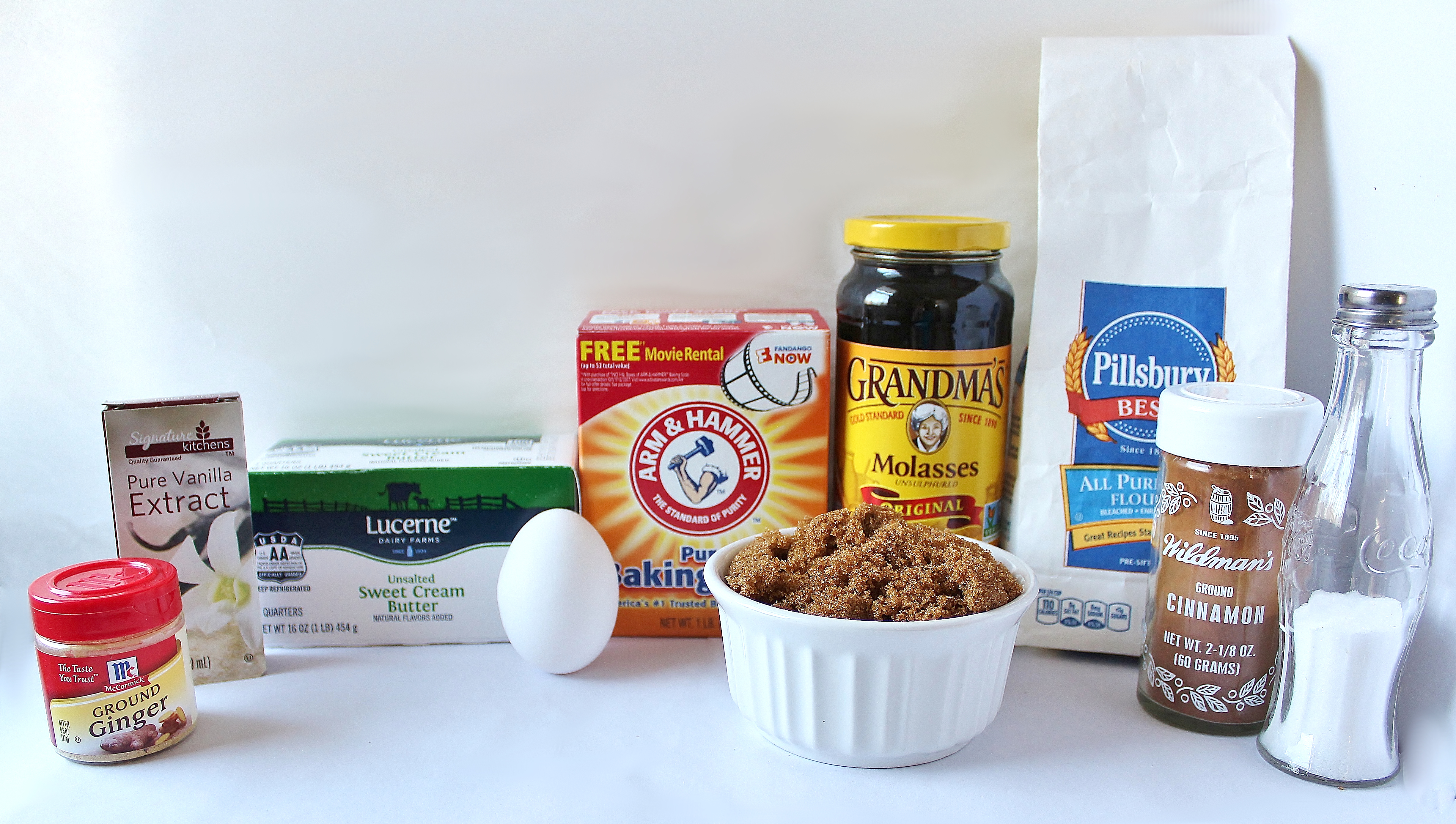 For the Gingerbread

3 1/2 cups flour
2 tsp ground ginger
1 1/2 tsp cinnamon
1 tsp baking soda
1/2 tsp salt
2 sticks unsalted butter, softened
3/4 cup packed dark brown sugar
1/2 cup molasses
1 egg
1/2 tsp vanilla
You'll also want gingerbread house cookie cutters, molds, or stencils. I used this cookie cutter set from Stadter, which I won in a gingerbread contest hosted by Rosa of Gingerbread Sagas. I like it a lot, since it was just the right size for my cookie dough recipe and allowed me to cut the dough straight on my silicone mats without having to worry about damaging the mats with a knife. It also made it easy to avoid burning my fingers as I re-cut the hot cookies for clean edges.

For the Icing

1 lb powdered sugar
1/2 tsp cream of tartar
1 1/2 egg whites
2 tbsp water, plus more if needed

For the Decorations

1 box Frosted Mini Wheats
Belvita breakfast biscuits
lemon heads
M&Ms
Sour Patch Kids
White pearl sprinkles
Gold sprinkles
Green sugar sprinkles (I used these on the tree cookies)
Werther's soft caramels
Makes 1 gingerbread house

INSTRUCTIONS:
In a large bowl, sift the flour, ginger, cinnamon, baking soda, and salt and set aside. In the bowl of a standing mixer, beat the butter on medium speed until smooth. Beat in the brown sugar until combined. Beat in the molasses until fluffy (approximately 2 minutes), stopping to scrape the bowl if necessary. Beat in the egg until well combined. Reduce the speed to low and beat in the vanilla. Gradually beat in the flour mix until just combined.
Gather the dough into 2 balls and flatten them into disks. Wrap the disks tightly in plastic wrap and chill until firm but not hard (approximately 4 hours).

Position your oven rack in the center of the oven and preheat to 350°. Line 2 baking sheets with silicone mats and lightly grease the mats with vegetable shortening.
Unwrap your first disk (leave the other in the fridge) and roll it out to 1/4-inch thickness on one of the mat-lined baking sheets. Use your cookie cutters to cut as many shapes as you can fit on the mat, leaving 1-2 inches between pieces. Try to bake large pieces together and small pieces together, since they will have different bake times. Bake 8-10 minutes for large pieces and 5-8 minutes for small pieces. Halfway through the bake time, trim your pieces by reapplying the cookie cutters and discarding the scraps (this will give you clean, straight edges). Be careful, as the cookies will be hot.


This slideshow requires JavaScript.

Allow the cookies to cool for 5 minutes on the mat. Remove to a wire rack to cool completely.

Since I wanted one of my long walls to not have a door, I used a roof cutter and just cut windows into it. The roof cutters are a little wider than the wall cutter, but this recipe is really easy to trim. Just score the line you want cut with a knife, then cut through with a sawing motion.

Repeat Steps 4 and 5 with your second disk. Gather together the scraps from the 2 disks and repeat with those as well. Regrease your matts before each use. I did about 4 trays total, though you might need to do more depending on the size of your pieces. I had enough to make 4 walls, a roof, a chimney (which I didn't end up using), 4 trees, and 3 gingerbread people.
While you wait for them to cool, mix your icing in a large bowl by combining the powder sugar and cream of tartar. Beat in the egg whites and water with a hand mixer on high speed until completely combined. If necessary, beat in more water 1 tbsp at a time to reach piping consistency. Add the icing to a piping bag fitted with a large round tip.
Construct your house by joining the walls together at the seams with icing, holding each joint together for a few minutes and then letting it set for 5-10 minutes before moving on to the next joint.
Here's an easy way to stabilize the roof: Turn your 2 roof pieces bottom side up. Place them up against each other lengthwise. Apply a dollop of icing to the center of each piece. Take half a sheet of printer paper and press it in place so that it covers both dollops (it should overlap the seam between the pieces, joining them together). Allow to dry. Line the top of the walls with icing and apply the roof. Allow to dry.

The paper on the roof can be peeled off when you're ready to eat. Mine came off without any issues.

Draw a line of icing across one side of the roof and press Mini Wheats down the line, holding them in place for 1-2 minutes if necessary. Repeat until both sides of the roof are covered. If desired, place Mini Wheats along the edges of the roof in a similar fashion. If there is a gap of uncovered roof at the corners, you can use icing to glue a brown M&M in place as an accent.

Line the corners of the walls with lemon heads and the windows with M&Ms and Sour Patch Kids. Glue a Belvita biscuit in place for a door, adding an M&M handle.


Time to decorate your characters! I've included  instructions for each in the captions below:


Serve to two hungry children who come to visit!

All in all, I think it turned out ok for my first big gingerbread project. I'm glad I decided to make the gingerbread people, since having the complete scene made it all the more special. I'm not sure which part is my favorite: the thatched roof, the grouchy witch, or Gretel's flower! Still, I think there's room for improvement, and I intend to carry on what I've learned to my next project.
Check out my other cookie recipes!