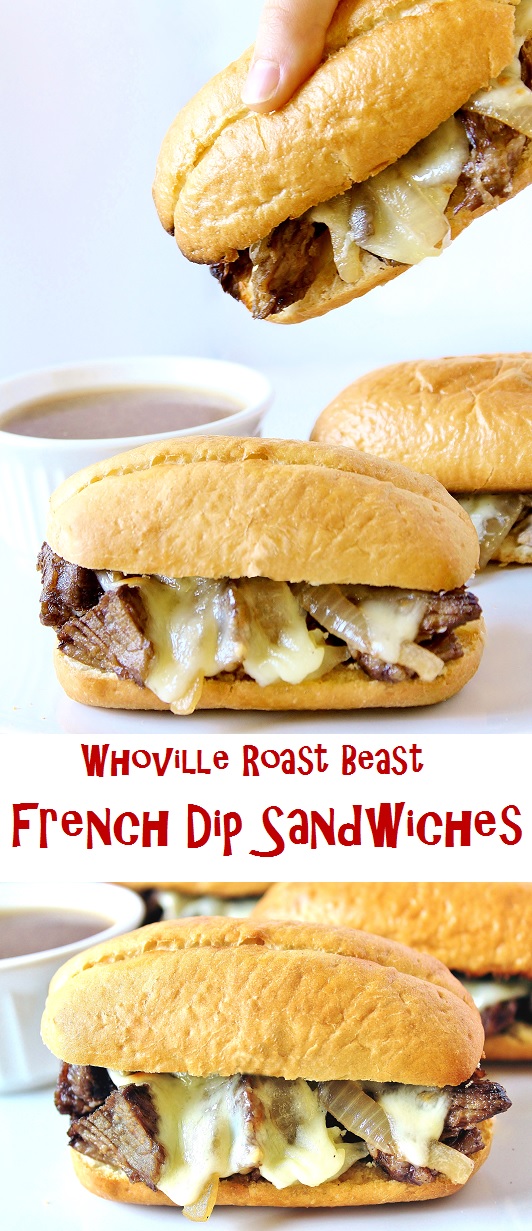 Ah, the roast beast! This wouldn't be a Grinch Who Stole Christmas menu without it, right? When I first started planning this menu, I instantly knew we'd have roast beast for an entree, but I wasn't sure what form it would take.
My first goal was to figure out exactly what kind of beast we're talking about here. In the book, it's drawn with what could be a hoof or a trotter, which had me thinking beef or pork. However, it also has what could be a tuft on its tail (or a chop holder like you see on lamb shank crown roasts). It DOES say the beast is rare, though this could be in reference to it scarcity, rather than its cook time. I'm sure all this vagueness was a deliberate choice on Seuss's part, since the Whos would most likely be eating an imaginary animal, but it wasn't super helpful from a meal-planning perspective. Since the source material left it pretty open-ended, I decided to go with beef, since it's a hooved animal like the picture and can be cooked rare.
Instead of a pot roast recipe (which I've done before), I decided to try something different: roast beef sandwiches! I was intrigued by the idea of making French dip sandwiches in the slow cooker, which I hadn't tried before, so I tracked down a great recipe from Celebrating Sweets and whipped it right up.
It was delicious and super easy! The broiled provolone drapes the juicy beef and tender onions in a blanket of cheesy goodness, and the French rolls soak up the au jus perfectly—making them soft and flavorful without falling apart. I am SO making this again soon! 🙂
 A
Whoville "Roast Beast" Sandwiches
Then he slunk to the icebox. He took the Whos' feast!
He took the Who-pudding! He took the roast beast!

— The Grinch Who Stole Christmas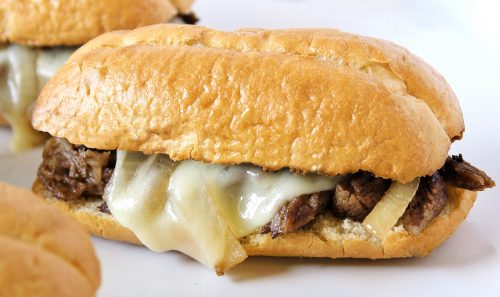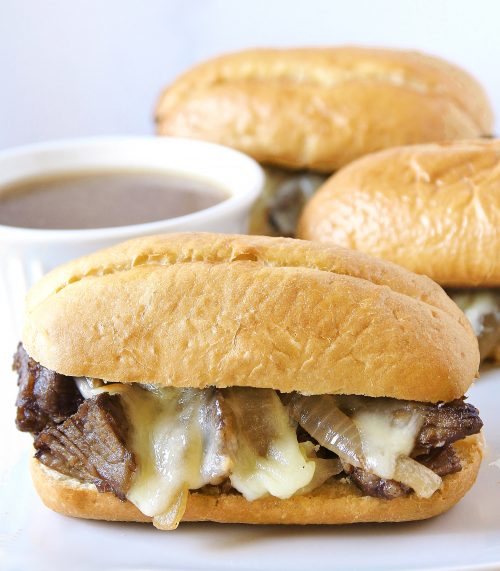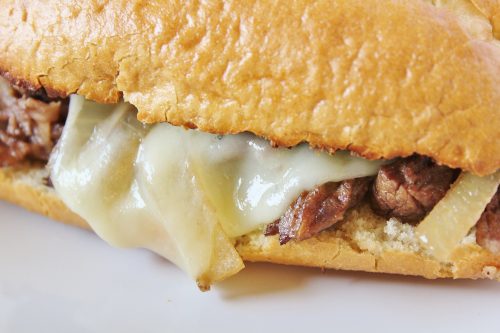 INGREDIENTS: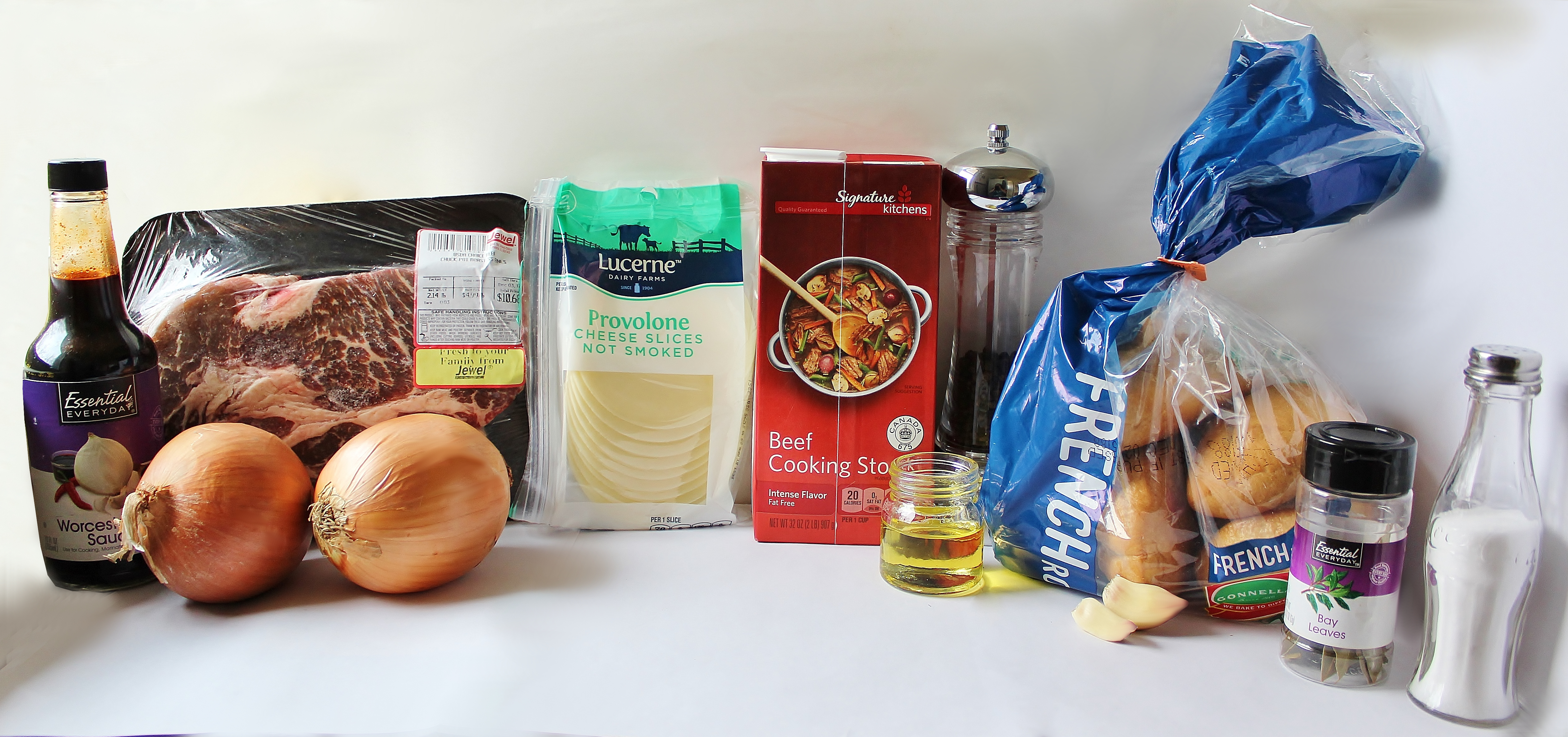 2 yellow onions
2 lb chuck roast
salt and pepper
2-3 tbsp olive oil
3 cups beef stock
1/4 cup Worcestershire sauce
3 cloves minced garlic
1 bay leaf
6-8 slices provolone
6-8 French style rolls
Makes 6-8 sandwiches

INSTRUCTIONS:
Slice your onions into strips. I like to do this by cutting the top and bottom from the onion, cutting the onion in half, peeling away the first layer or two, turning each half on its side, and slicing the halves widthwise into 1/2-inch wide strips.
Liberally sprinkle salt and pepper over your roast. In a cast iron skillet, heat 2 tbsp oil over medium heat. While you wait, whisk together your beef stock and Worcestershire sauce and set aside.
Place the roast in the skillet and sear every side just until a brown crust forms. Place the roast in your Crock Pot.
Transfer the onions to the skillet and stir until well coated with the oil, adding more oil if necessary. Cook for 5 minutes, stirring regularly. Add the garlic and cook and stir for 2 more minutes. Pour in a few tablespoons of the Worcestershire mix and stir with a wooden spoon or stiff silicone spatula, making sure to scrape up any bits that are stuck to the bottom, since those carry a lot of flavor.
Add the contents of the skillet to the Crock Pot, along with the bay leaf and the remainder of the Worcestershire mix. Cover your Crock Pot and cook on high for 3-4 hours or low for 5-6 hours.
Transfer the meat to a cutting board and shred or chop it into bits. Place a strainer over a large bowl and strain out the liquid (this is the au jus). Return the meat and onions to the Crock Pot. Discard the bay leaf. Pour 1/4 cup of the au jus over the meat and onion mix and set the rest of the au jus aside for dipping.

Slice your rolls in half lengthwise and place the bottom halves on a baking sheet. Pile high with the meat and onion mix. Fold your cheese slices in half and place 1 slice of folded cheese on top of each sandwich. Place the sandwiches under a broiler until the cheese is melted and has browned slightly on top. Place the tops on your sandwiches and pour the au jus into individual dipping cups.

Serve to all the Whos in Whoville…and the Grinch, of course!