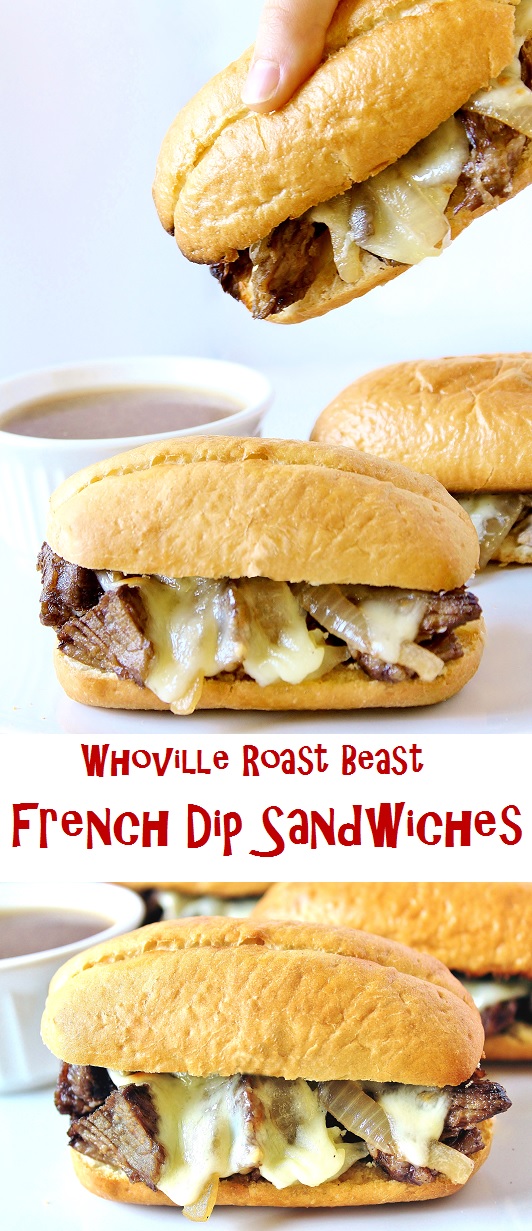 Ah, the roast beast! This wouldn't be a Grinch Who Stole Christmas menu without it, right? When I first started planning this menu, I instantly knew we'd have roast beast for an entree, but I wasn't sure what form it would take.
My first goal was to figure out exactly what kind of beast we're talking about here. In the book, it's drawn with what could be a hoof or a trotter, which had me thinking beef or pork. However, it also has what could be a tuft on its tail (or a chop holder like you see on lamb shank crown roasts). It DOES say the beast is rare, though this could be in reference to it scarcity, rather than its cook time. I'm sure all this vagueness was a deliberate choice on Seuss's part, since the Whos would most likely be eating an imaginary animal, but it wasn't super helpful from a meal-planning perspective. Since the source material left it pretty open-ended, I decided to go with beef, since it's a hooved animal like the picture and can be cooked rare.
Instead of a pot roast recipe (which I've done before), I decided to try something different: roast beef sandwiches! I was intrigued by the idea of making French dip sandwiches in the slow cooker, which I hadn't tried before, so I tracked down a great recipe from Celebrating Sweets and whipped it right up.
It was delicious and super easy! The broiled provolone drapes the juicy beef and tender onions in a blanket of cheesy goodness, and the French rolls soak up the au jus perfectly—making them soft and flavorful without falling apart. I am SO making this again soon! 🙂