Normally, I try to stick to classic books around here, but sometimes I like to shake things up and make a menu for a TV show or movie. Even then, I try to stick to the classics. Still, every once in a while a show comes along that is clearly an instant classic, destined to remain in our minds and hearts for years to come. Stranger Things is one of those shows.

I loved Season 1, so when Season 2 premiered a few days before Halloween, I watched eagerly with a pen and paper in hand, ready to write down anything and everything the characters ate. There was no way I was letting another season go by without making a Stranger Things menu!

To start things off, I wanted to serve a tribute to the food Hopper leaves for Eleven in the woods at the end of Season 1. He places what looks like chicken wings in a Tupperware container along with some plastic-wrapped Eggos on top. Instead of making straight up chicken and waffle, I decided to try a fun new version. I've seen fried chicken in waffle cones popping up on Pinterest, so this is my interpretation of that trend.
I started with the breading from my fried catfish recipe and used it to bread some cubed chicken breast. Then I fried them up, glazed them with a mix of maple syrup and sriracha, and scooped them into some waffle cones. Easy and delicious—perfect for the strangest of season premiere parties! 😉
 A
Eleven's Spicy Maple Fried Chicken Waffle Cones
"I'm not mad. I'm just…sorry about everything. I don't want you to get hurt at all. And I don't wanna lose you. Just make sure you heat up some real food, OK? Not just Eggos. And I want you to eat all the peas even if they're mushy and gross."

— Stranger Things

INGREDIENTS: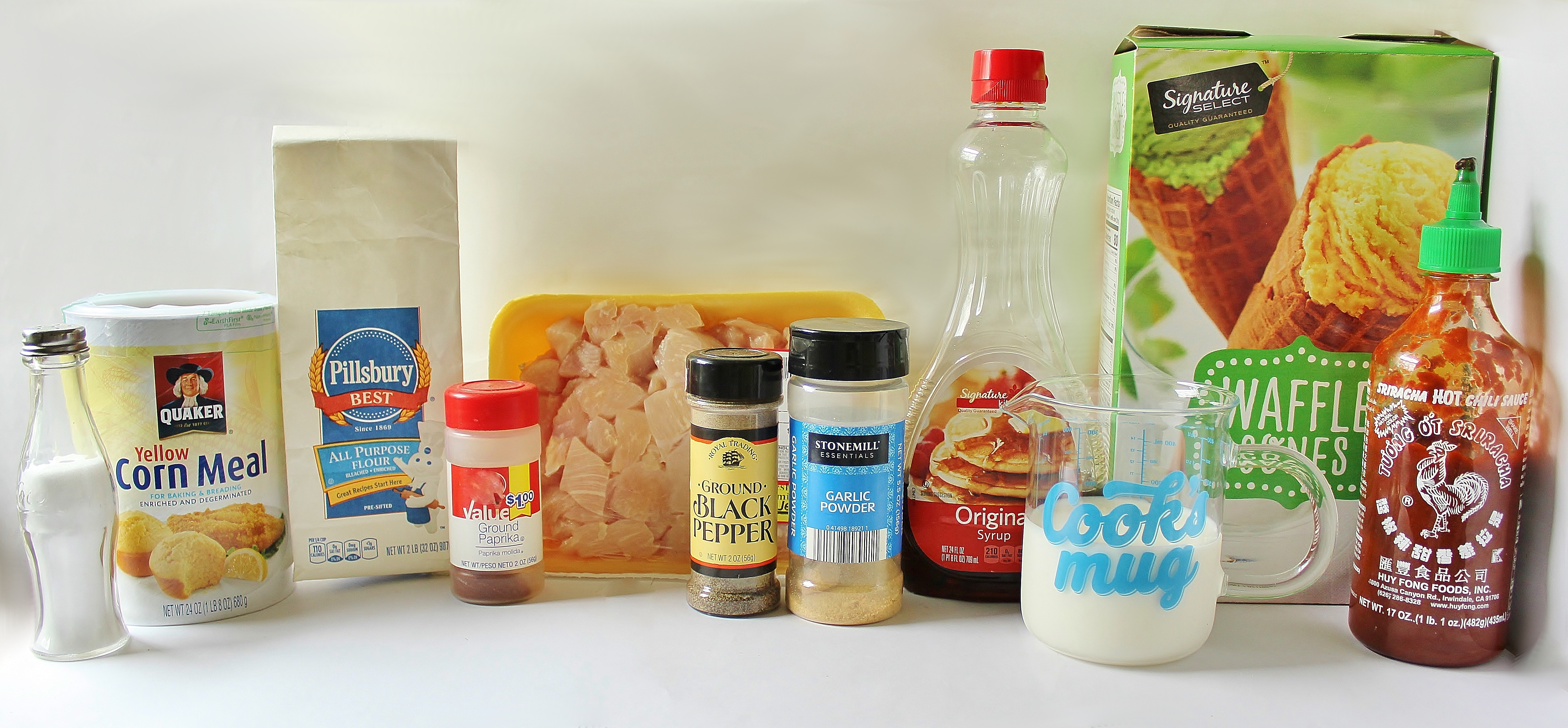 canola oil for frying
1 lb chicken breast meat, cut into 1-inch cubes
1 cup buttermilk
1/4 cup flour
1/4 cup plus 2 tbsp cornmeal
1/2 tsp garlic powder
1/2 tsp paprika
1/4 tsp pepper
salt
1/2 cup maple syrup
1-2 tbsp sriracha (1 tbsp is enough to add just a touch of heat)
3-4 waffle cones
Makes 3-4 cones, depending on how tight you pack the chicken cubes

INSTRUCTIONS:
Fill a cast iron skillet 1/2 inch deep with oil. Turn the burner to medium-high heat.
Preheat your oven to 200°. Place a wire rack on top of a baking sheet and place inside the oven.
Add the chicken cubes and buttermilk to a large bowl and allow them to soak while you wait for the oil to heat. Mix your flour, cornmeal, garlic powder, paprika, and pepper together in a large bowl and set aside.


When the oil sizzles strongly when you flick in a bit of the flour mix, drain the buttermilk from your chicken with a colander or sieve and toss the chicken in a light sprinkling of salt. Toss 10-15 pieces in the flour mix.

This breading is a little bit thinner than traditional fried chicken breading, since the cubes are so small. Because of this, you don't need to worry about overbreading or tapping off excess. As long as they're evenly coated, they should be fine.

Place the breaded chicken pieces in the hot oil for 1 minute, then turn them over with a pair of tongs and cook for another minute. Take out one of the big pieces and cut it in half to check for doneness; cook 1-2 minutes longer if necessary.

Place the finished pieces on the wire rack in the oven. Continue to bread and cook chicken 10-15 pieces at a time and place them on the rack when finished.

Placing them in the oven keeps the breading light and crisp until you're ready to serve.

In a large bowl, stir together your syrup and sriracha. Toss the chicken in the syrup mix and scoop it into the waffle cones.

You can also use the back of a spoon to coat the inside of the waffle cones with a thin layer of the syrup mix if you want.

Leave them in the woods as a snack for wandering kiddos with psychic powers.

These were such a fun snack! And it's so easy to double the recipe if you want a big batch for a season premiere party. You may want to serve these with little cocktail forks (or even chopsticks if you're feeling hipster), since eating them with fingers can get pretty sticky. My favorite part was that, when you got down far enough to start eating the cone, the chicken chunks were small enough that you could fit a bit of waffle and a whole piece of chicken in one bite!




 

Check out our other chicken recipes! 🙂

Sa