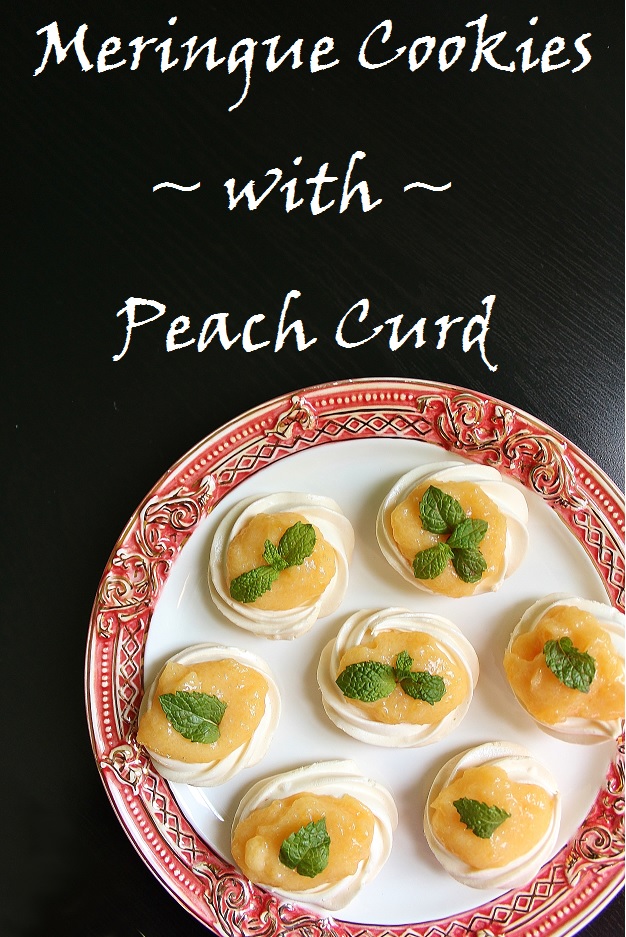 When I first decided to make a Man in the Iron Mask menu, I fell in love with the idea of making a traditional French dessert. And when I read about Monsieur Fouquet's famous peaches, I knew my dessert would have a peach theme. I tossed around the idea of peach madeleines, but I already made madeleines for my Hobbit menu (and adding fruit to the batter can be tricky).
Peach macarons also came to mind, but I'll admit I was a little intimidated. I've never tried to make the infamously difficult macaron before, and I wasn't confident that I'd have enough time to perfect such a temperamental recipe. Then I hit on the idea of meringues.

I've had great luck making meringue in the past, and I liked the idea of trying it as a cookie, something I've tasted but never made for myself. I used a combination of recipes to get my cookies: the proportions and prep instructions come from my baked Alaska recipe and the baking instructions come from a Taste of Home meringue cookie recipe my mom recommended.

But how to add the peaches? Since meringue can be fussy, I didn't want to mess with the flavoring too much, but I've had fruit curd on the brain since I recently finished developing a blueberry curd recipe for my cookbook. So I consulted a peach curd recipe from Chocolate Moosey and made adjustments to my blueberry version to suit the differences in the fruit.
The final cookies had crisp, delicately sweet meringue with clean lines from the piping (no cracks or melting—yay!), and the peach curd was silky and fruity. Top with a sprig of mint to contrast the sweetness, and you're in business! 🙂
 a
Fouquet's Meringue Cookies with Peach Curd

"The sun poured down its burning rays upon the heathen deities of marble and bronze: it raised the temperature of the water in the conch shells, and ripened, on the walls, those magnificent peaches, of which the king, fifty years later, spoke so regretfully, when, at Marly, on an occasion of a scarcity of the finer sorts of peaches being complained of, in the beautiful gardens there—gardens which had cost France double the amount that had been expended on Vaux—the great king observed to some one: "You are far too young to have eaten any of M. Fouquet's peaches."
a
INGREDIENTS:
For the Curd

2 tbsp lemon juice
2 cups peaches, peeled and diced (for me, this was exactly 2 peaches, but you may need a third peach if they're smaller)
1/2 cup sugar
1/2 cup butter
1 tbsp water
1 tbsp cornstarch

For the Cookies

2 room temperature egg whites
1/2 tsp vanilla extract
1/8 tsp cream of tartar
1/4 cup sugar
Makes 24 meringue cookies with peach curd topping

.
INSTRUCTIONS:
To make the curd, add your diced peaches to a blender and blend until smooth.
Add the peaches and lemon juice to a medium saucepan. Heat on low for 5 minutes. Set the heat to medium and bring to a boil. Add the sugar and butter, stirring until dissolved.
Stir water and cornstarch into a slurry and stir in until the mixture is thickened. Cook 2 minutes more.
Transfer to a bowl and cover with plastic wrap, keeping the plastic from touching the hot curd. Allow to set for 15 minutes, then chill 2 hours.

To make the cookies, preheat your oven to 250°. Add your egg whites, vanilla, and cream of tartar to the bowl of a standing mixer. Beat on medium speed until soft peaks form. Set the mixer to high and beat in the sugar 1 tablespoon at a time. Continue to beat until stiff peaks form and the meringue is bright white and glossy.


Scoop your meringue into a piping bag fitted with a large star tip (I used a Wilton 1M tip) and pipe 2-inch swirls onto a parchment lined baking sheet, making sure to pipe the swirls at least an inch apart.

Place your meringue cookies in the oven for 30 minutes or until the edges are set (they may begin to turn ever so slightly golden along the edges). Turn off the oven and allow the meringues to sit inside for at least an hour (2 or 3 is better).

In a perfect world, meringue cookies should come out of the oven perfectly white. Mine were ever so slightly off-white, but as a meringue cookie noob, I was very happy with them. If anybody out there is a meringue expert, let me know how to get those crisp white cookies! 🙂

Transfer to a wire rack to cool, then store immediately (they can get sticky from the moisture in the air). I found the best way to store them was in layers in a large, tightly sealed tupperware container with a sheet of wax paper between each layer.
When ready to serve, spoon a little curd onto each cookie and top with a bit of mint for garnish.

You want to add the curd just before serving so it doesn't make the cookie too soft.
Check out our Three Musketeers menu! 🙂