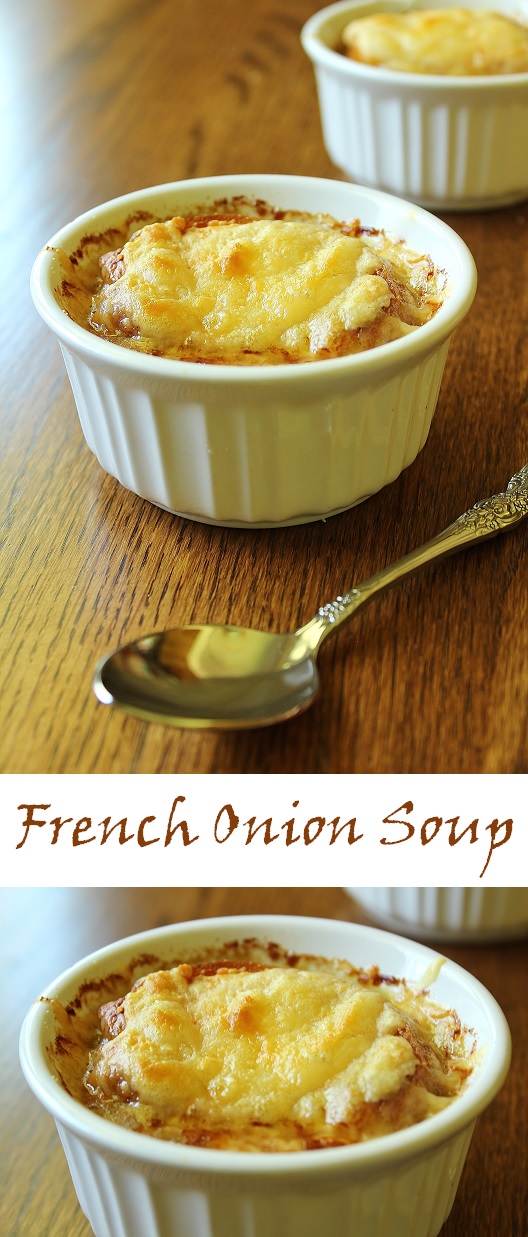 Finding a side dish for my Man in the Iron Mask menu proved to be more difficult than I anticipated. No one dish jumped out as the obvious choice, but I noticed soup was mentioned in the long list of elaborate dishes the governor of the Bastille sups on with Aramis. It's also mentioned in a scene with the king.

I had already decided that all my Man in the Iron Mask dishes would be classic French food (tilapia meunière, French bread, etc.), so I decided to make a well-known French soup: French Onion Soup! And since I wanted to make a truly authentic version, what better recipe to use than Julia Child's French onion soup? I made a few small tweaks to allow for modern conveniences (like using a toaster for the croutes) and ingredients I had on hand, but apart from that I stuck to the original as closely as possible.
The base itself has a robust, beefy (and of course onion-y) flavor with plenty of texture from the grated fresh onion you add just before ladling it out. With the toasted bread and broiled cheese on top, you wind up with quite the hearty side dish.
Full Disclosure: I'd never actually eaten French onion soup before I made this. Not even in a restaurant. I guess I always thought of it as the "beginning" of a soup, the sort of base you add things to but not a soup unto itself. And maybe if the soup were just plain on its own, I'd still feel that way. But with the croutes and toasted cheese, I totally get it! 🙂
You can make my Secret Note French Bread to slice on top or just go with store bought. Bon appetit! 🙂
 a
French Onion Soup
"This same hour was that of M. le gouverneur's supper also. He had a guest to-day, and the spit turned more heavily than usual. Roast partridges, flanked with quails and flanking a larded leveret; boiled fowls; hams, fried and sprinkled with white wine, cardons of Guipuzcoa and la bisque ecrevisses: these, together with soups and hors d'oeuvres, constituted the governor's bill of fare. "
— The Man in the Iron Mask
a
INGREDIENTS: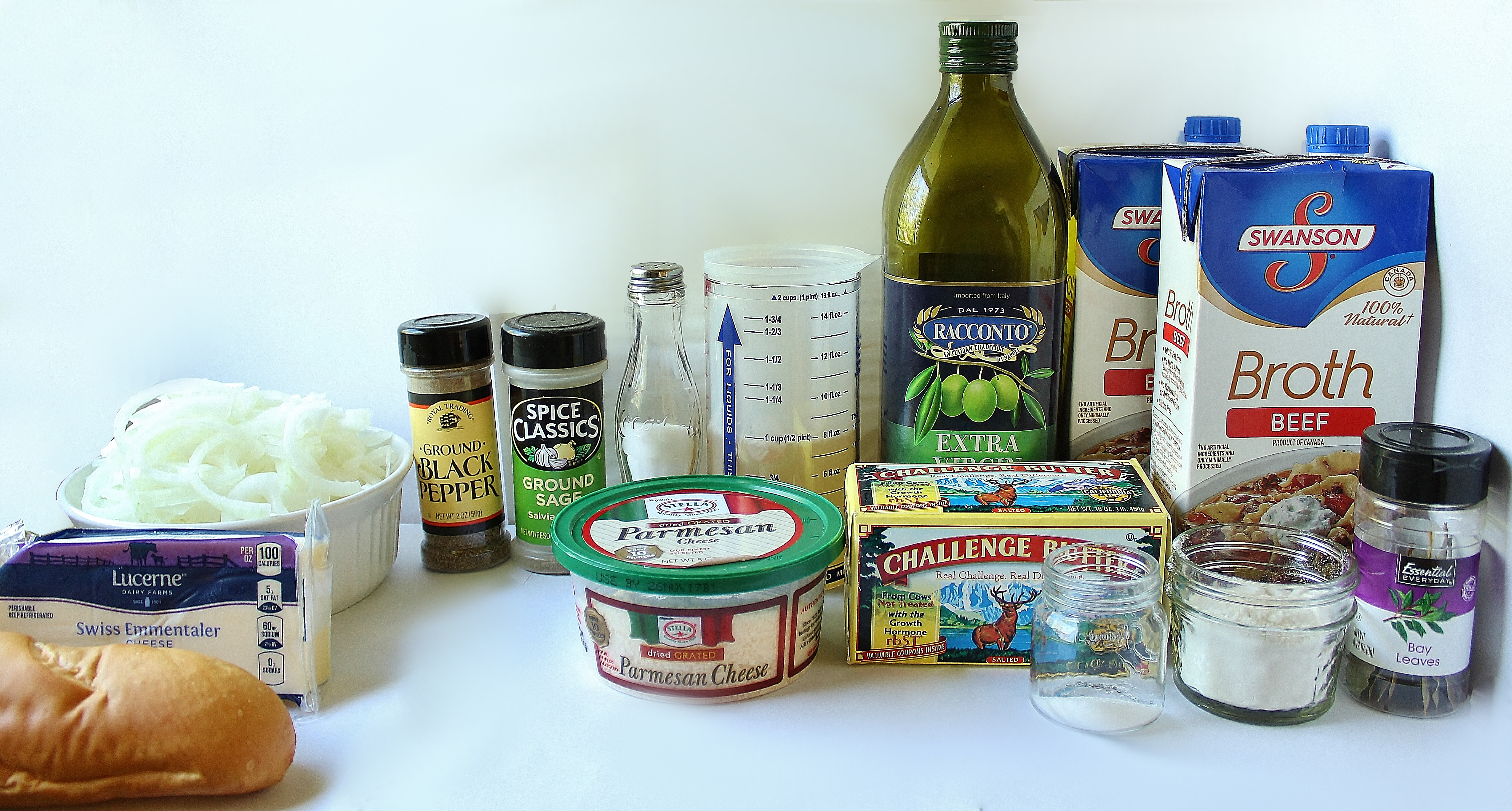 5 cups sliced yellow onion plus half a grated yellow onion, separated
2-3 tbsp olive oil
8 slices French bread
4 tbsp grated Parmesan cheese
8 oz coarsely grated Swiss cheese
1 tsp salt
1/2 tsp pepper
1/2 tsp ground sage
1 bay leaf
1 cup white wine (the original recipe calls for dry white, but I used the Mister's homemade mead, which worked beautifully)
6 cups beef broth or stock (the recipe has a fairly strong salt flavor—not unpleasant, but stronger than I anticipated. If you'd prefer a lower level of salt, go with low sodium broth/stock)
3 tbsp flour
1/2 tsp sugar
2 tbsp butter
Makes 8 small bowls of soup

INSTRUCTIONS:
Heat 1 tbsp olive oil in a large heavy bottom stock pot on medium-low heat. Melt the butter in the hot oil.
Stir in the sliced onions until completely coated. Cover and allow to cook for 20 minutes, stirring occasionally, until the onions are soft and translucent.

Turn up the heat to medium-high, stirring in the sugar and salt. Cook, stirring continuously until the onions are thoroughly browned. NOTE: Don't leave them to sit too long without stirring, even if it seems like it's taking a long time. They can go from finished to burning in a snap!
Turn the heat back down to medium-low and stir in the flour until the onions are evenly coated (if you need to, add an extra tablespoon of olive oil to help spread it around). Cook for 2-3 minutes. Add 1 cup of beef broth and stir until the flour has completely combined. Stir in the pepper, sage, bay leaf, white wine, and remaining stock. Bring to a boil. Turn the heat down to low and simmer for 30 minutes, stirring occasionally.

Not the most beautiful soup at this point, but once we add the croutes and cheese, it'll be super tempting!

Preheat your oven to 350°. Mix your Swiss cheese with the Parmesan. Slice your bread into 1-inch thick slices and toast until golden.

Add 3 generous pinches of cheese mix to the soup (I'm talking pinch with all your fingers) and stir until melted. Stir in the grated onion. Ladle the soup into 7 oz. ramekins and place the slices of toast on top. Liberally sprinkle with the cheese mix.

Place the ramekins on a baking sheet and bake in the oven for 10 minutes until the cheese is melted. Place in the broiler for 5 minutes or until the cheese is browned.
Serve to the governor of the Bastille. He'll be so distracted, he won't know you're planning to free the prince! 🙂

In all honesty, I'm not sure this is an everyday type of soup, since there are so many steps in the process. Still, it's SUUUUPER delicious—a great recipe for when you want to treat yourself or some friends!
Check out our Three Musketeers menu!