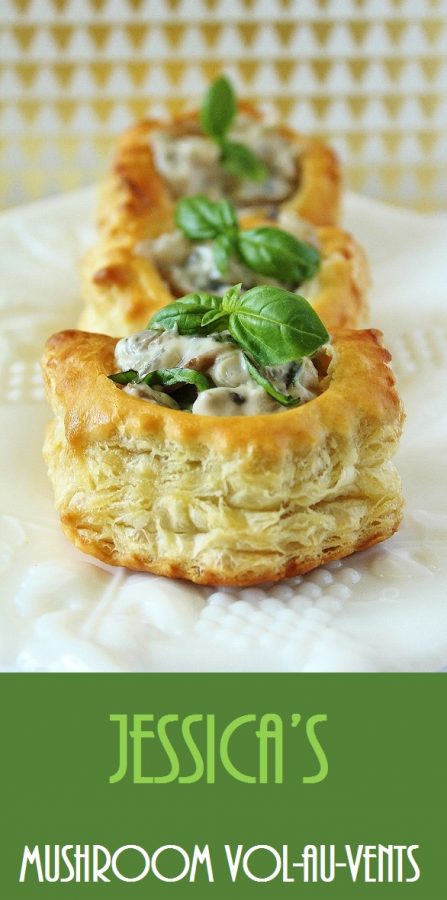 Our brand new Book of the Month is Neil Gaiman's Neverwhere, and I'm super excited to get started! It's hard to find time to read with a new baby, but I MADE time for Neverwhere. It was such a fun read—clever, imaginative, and an Alice in Wonderland retelling to boot! What's not to love? 🙂

Even though most of the book is set in "London Below," I decided to start things out with a fancy little dish from London Above: the mushroom vol-au-vents from Jessica's gala. Vol-au-vents consist of puff pastry stuffed with (in this case) a creamy mushroom filling. They may look complicated, but they're deceptively easy. Just bake some puff pastry shells, cook your mushroom mix  in a pan while they bake, and fill the finished shells!
When I started looking up vol-au-vent recipes, I noticed that parsley was the most common herb people turned to for seasoning. To change things up, I decided to try fresh basil instead, and I loved the way it turned out! The basil flavor rose above the mushroom base without overpowering it, just how I wanted. I also noticed that a lot of people made their base from scratch, but I decided to take a little shortcut: cream of mushroom soup. The results were subtle, perfectly seasoned, and utterly delicious. Perfect for a sophisticated young lady like Jessica!
 a
Jessica's Mushroom Vol-Au-Vents: An AWR Original Recipe

"The string quartet were warming up. They were not quite loud enough to drown the noise coming from the hallway outside. It was the noise of a small but affluent crowd: the grumbling of ladies in mink coats and men, who, where it not for the NO SMOKING signs on the walls—and perhaps the advice of their doctors—would be smoking cigars; the grumbling of journalists and celebrities who could smell the canapes, vol-au-vents, sun-dry nibbles, and free champagne."
a
INGREDIENTS: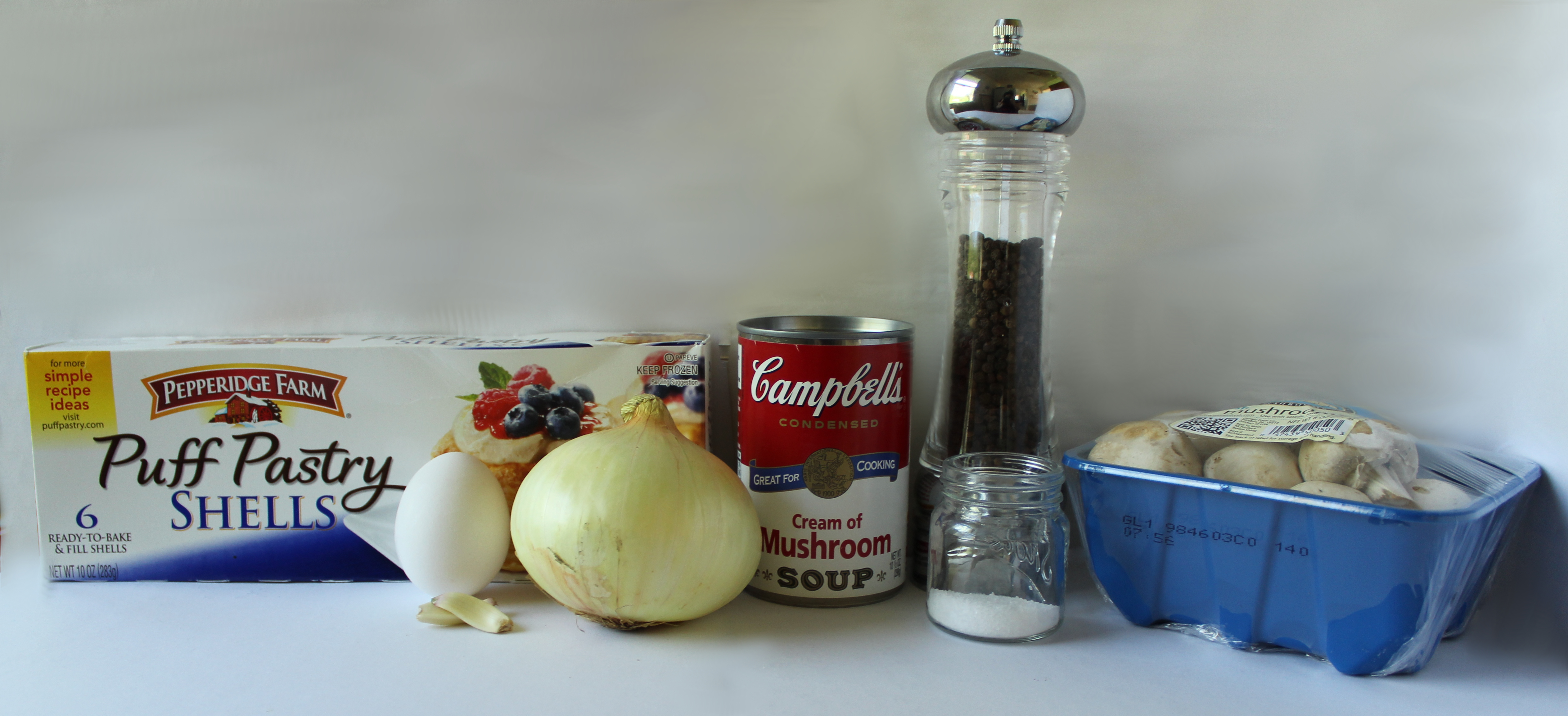 1 box frozen puff pastry shells, thawed (contains 6)
1 egg white, for brushing
7 medium mushroom caps
1/2 vidalia onion
1-2 cloves garlic (I had 2 tiny ones)
1 tsp fresh basil, julienned ("Julienne" is just a fancy word for "cut into short, thin strips." To do this, place your leaves on top of each other, roll into a tight tube, and thinly slice width-wise into strips.)
1/2 tsp kosher salt
1/4 tsp fresh black pepper
5-6 tbsp cream of mushroom soup, unprepared
Makes 6 vol-au-vents

.
INSTRUCTIONS:
Preheat your oven to 425°. Line a baking sheet with parchment paper. Break your shells into individual pieces and space them evenly apart on the parchment.

Whisk your egg white with 1 tbsp water in a small bowl. Brush the tops of your shells with the egg wash. Bake 15-18 minutes or until risen and golden brown on top.
While you wait, thinly slice your mushrooms, dice your onion, and mince your garlic. Heat 1 tbsp olive oil in a small skillet on medium-low heat. Stir in your mushrooms, onion, and garlic and cook until the onion is translucent, stirring regularly. Stir in your soup and basil. Remove from heat.


When the shells are done, allow them to cool for 5 minutes on the pan, then use a sharp knife to cut out the centers. NOTE: Don't cut all the way down to the bottom. The center round should pull out several layers from the center when you remove it without taking the bottom with it.


Scoop 2-3 heaping spoonfuls of filling into each shell. Top with sprigs of basil for a garnish, if desired.
Serve at an exclusive gala premiering priceless pieces of art (and perhaps a door to another world).

I couldn't believe how quick and easy these were. The whole process took me less than 25 minutes. Totally making these the next time I need to whip up a quick, tasty appetizer with a little bit of flair!
Check out our other mushroom recipes! 🙂
Save