I've been wanting to make these cookies ever since I saw on Pinterest that you can use a star cookie cutter to make Star Fleet insignia badges. So when the time came to whip these up, I got out my favorite recipe for royal icing sugar cookies (the same base recipe I used for my X-Files Alien Cookies) and went to work! There are several recipes about there for insignia sugar cookies, so to make mine unique, I did the detailing with food markers—a nice shortcut instead of making multiple colors of icing. And I decorated each insignia with the symbol and color of the three main Star Fleet divisions: Sciences, Command, and Operations!

Royal icing takes a little extra time than regular frosting, but you can't beat those crisp, clean lines. Plus, the flat surface is super easy to decorate! 🙂

 a
Star Fleet Insignia Cookies

Bones: I'm a doctor, not an engineer!
Scotty: NOW you're an engineer.
— Star Trek: The Original Series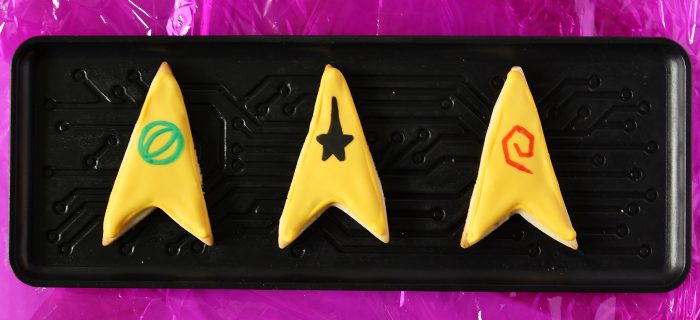 INGREDIENTS: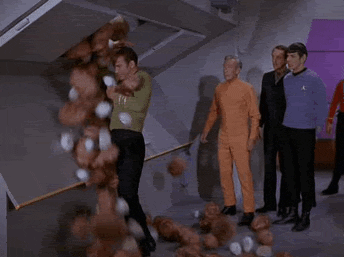 FOR THE COOKIES

2/3 cup butter, softened
3/4 cup sugar
1 tsp baking powder
1/4 tsp salt
1 egg
1 tbsp milk
1 tsp vanilla
2 cups flour
You will also need a 3″ star-shaped cookie cutter

FOR THE ICING

1 lb powdered sugar
1/4 tsp cream of tartar
5 1/2 tbsp pasteurized egg whites
1 tsp vanilla extract
yellow gel food coloring
water
red, blue, and black food markers (You can also do them all in black. They look very sharp and uniform that way, but I liked the uniqueness of making them different colors for each division)
Makes approx. 3 dozen cookies

.
INSTRUCTIONS:
To make the cookies, beat your butter in the bowl of a standing mixer on medium-high speed for 30 seconds. Beat in the sugar, baking powder, and salt until combined. Beat in the egg, milk, and extract until combined, stopping to scrape the bowl once or twice. Beat in the flour one cup at a time.
Divide your dough in half. Wrap the two halves tightly in plastic wrap and place them in the freezer for 15 minutes or until firm enough to handle. Preheat your oven 375° while you wait.
Remove one ball of dough from the freezer and move the second ball to the fridge. Flour a large cutting board and roll out the first half of your dough until it is ¼" thick. Use your cookie cutter to cut out as many stars as you can. Gently lift the stars away from the cutting board with a floured metal spatula and place them 1″ apart on an ungreased baking sheet. If you have enough scrap dough left to make more stars, wad your dough into a ball, roll it out, cut out the extra shapes, and place them on the baking sheet with the others. Trim the two side points away from the stars so you're left with a triangle with an angled bottom:

Bake for 5-7 minutes or until the tips are firm and barely beginning to brown. While you wait for those to bake, roll out the remaining half of your dough and cut out more triangles, rerolling and cutting if there's enough dough.
When the first batch of cookies is fully baked, allow them to cool on the pan for 5 minutes. Then gently transfer them to a wire rack to cool completely using your metal spatula (they shouldn't stick to the pan very much, but they will be very delicate). Bake your remaining batch of cookies and remove to the wire rack.
Allow the cookies to sit for 30 minutes or until completely cool. While you wait, you can begin working on your icing (you don't want to make the icing before this point, because it starts to harden quickly).
For the icing, pour your powdered sugar into a standing mixer and stir in the cream of tartar with a spatula. Add your egg whites and give the mix a preliminary stir to let the egg whites moisten the sugar a little (if we start beating with the mixer right away, the powdered sugar will fly everywhere). Beat the mix with a whip attachment on low speed until the eggs are evenly distributed through the sugar. Beat on medium-high speed for 1-2 minutes or until the mix is thick, smooth, and pure white. The final product will be VERY thick and sticky.

Resist the urge to over-beat the icing. Once you see the desired texture and color, turn off the mixer right away. The more we beat the icing, the more air gets into it, and that can cause air bubbles later while decorating.

Beat in your extract on medium-high speed. Scoop approximately 1 cup of icing into a bowl. Add 3 drops gel food coloring to this half and stir thoroughly with a spoon or spatula until combined. Tightly cover it with plastic wrap and set aside. Scoop another cup of icing into another bowl and add 3 drops of color to that too.


Now we're going to make a different consistency from each bowl of icing: outlining consistency and flooding consistency. Outlining is for the border, and flooding is for the center. This is where we have to work fast, since the icing begins to harden right quickly. Take your uncovered icing and stir in 1/4 tsp water. When you scoop some icing onto your spoon and turn it over, it should fall off in slow glops. If your icing isn't falling off, stir in more water a dribble or two at a time until it does.
Fit a piping bag with a small, round tip (I used a #2 Wilton tip) and fill it with the now-thinned icing. Pipe a border along the edge of each of your cookies.

When piping a border, keep your piping tip lifted from the top of the cookie until you're ready to break the strand (so touch down to start, hold it aloft until you're finished, and touch back down where you started when you've made it all the way around the cookie).

When those are finished, go back to your covered bowl of icing. Stir in 1 tsp water. This should make your icing reach flooding consistency, which will flow off your spoon in thick lines instead of falling off in glops. When the lines fall off your spoon in to the pool of icing below, they will create little tracks (lines of icing still visible on top of the pool). These should disappear in 10 seconds or less. If your icing is still too thick, stir in more water a dribble or two at a time until the desired consistency is reached. If it is  too runny, sift in a little more powdered sugar.
Fill the center of your outlined cookies with this icing. I've found the best way is to use something with a blunted tip (like the back end of a chopstick or a clean, unused craft brush) to lift icing in small mounds from the bowl onto the cookie. Use a tapping or dabbing motion to spread the icing over the cookie, being careful not to go back over any areas you've already finished (the icing will have already started to crust on top). Set them aside to harden.

When the icing has hardened, divide your cookies into 3 equal groups. On one group, draw the Command symbol with your black marker. On the second group, draw the Sciences symbol in blue. On the third group, draw the Operations symbol in red.

Serve these Star Fleet Insignia Cookies to a crew of exceptional starship officers! 🙂

Check out our Star Trek TNG recipes! 🙂
Save