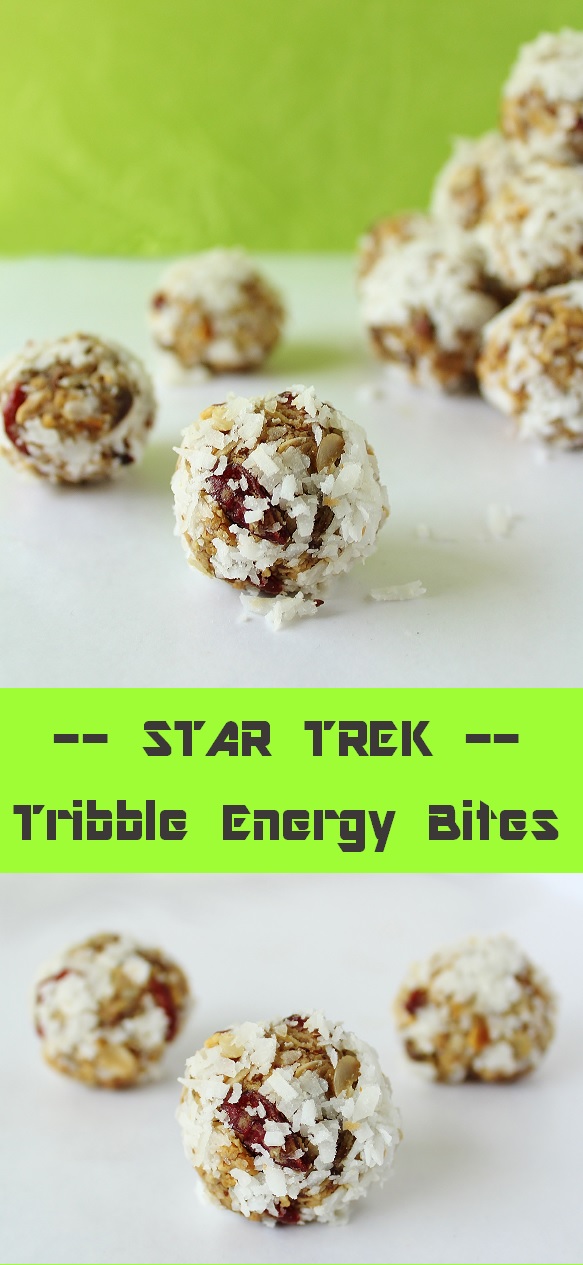 Fandom Foodies announced earlier this year that they would be doing a Star Trek recipe month this June. This was perfect, since I was already planning on doing a Star Trek TOS menu this month anyway! 🙂
[EDIT: Sooo it turns out the Fandom Foodies theme was changed to Game of Thrones? Lol! You should totally still check it out. There's always good stuff on the Fandom Foodies linkups. I'm gonna keep doing Star Trek though, since I've been looking forward to it for so long. :)]
All the recipes I'll be making this month are crowd-friendly finger foods, perfect for any Star Trek party.
We're starting the month off with a Tribble-themed appetizer: cranberry almond energy bites coated in shredded coconut. It's a recipe I came up with while I was pregnant with the Little Mister, when I needed a quick make-ahead recipe for postpartum breakfasts and snacks. It's delicious, quick, and easy to customize based off what you already have in your cabinets. Plus, it looks just like those fuzzy little Tribbles: my favorite characters in all of Star Trek TOS!
 a
Tribble Energy Bites: An AWR Original Recipe

Capt. Kirk: Well, where are they?
Scott: I gave them a very good home, sir.
Capt. Kirk: WHERE?
Scott: I gave 'em to the Klingons, sir.
Capt. Kirk: [whispering] You gave them to the Klingons?
Scott: Aye, sir. Before they went into warp, I transported the whole kit 'n' caboodle into their engine room, where they'll be no tribble at all.
— Star Trek TOS: The Trouble with Tribbles
INGREDIENTS:
½ cup shredded coconut (See how the coconut in the picture is toasted? Just ignore that. I originally wanted to use toasted coconut, but it doesn't stick very well and I didn't have enough left of all of the ingredients to retake the pictures.)
3/4 cup rolled oats
1/4 cup plus 2 tbsp peanut butter (or any other nut butter)
3 tbsp finely crushed almonds (or any other nut)
3 tbsp flax meal, optional (if you leave it out, just double the almonds)
1/3 cup add-in (I used dried cranberries, but you can use anything from dried fruit to mini chocolate chips.)
Makes 15 energy bites

.
INSTRUCTIONS:
Add your coconut to a blender and blend for approximately 30 seconds. It doesn't have to be perfectly blended, we just want to break it up enough two stick to the energy balls. Transfer the coconut to a shallow plate and set aside.
Mix all your remaining ingredients together and shape them into 1.5-inch balls. Roll the balls in the coconut (you may need to press a little to get it to stick). Place them in a sealed container and freeze for 20 minutes or until ready to serve.
Check out our Star Trek TNG recipes! 🙂