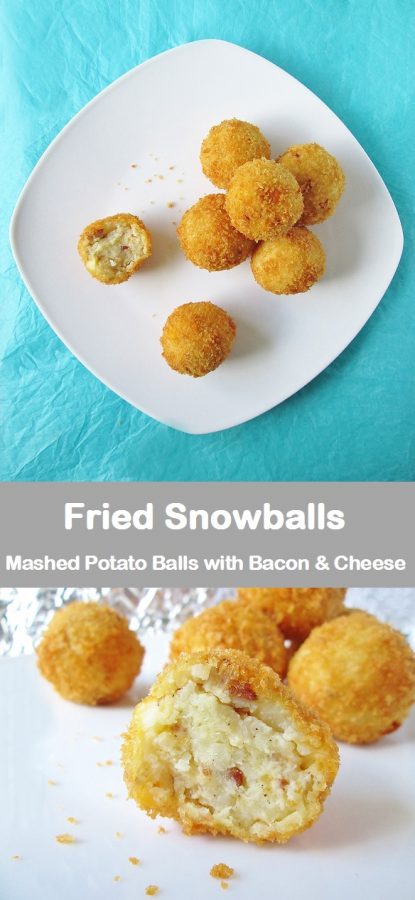 One group of characters often forgotten from James and the Giant Peach is the Cloud Men (perhaps since they were left out of the movie). In the book, the Cloud Men are responsible for creating such atmospheric phenomenon as rainbows, storms, and snow. When James and companions float past a Cloud Man city in their flying peach, they see Cloud families preparing dinners of fried snowballs.
These sounded delicious, so of course I wanted to make them for the blog! And I knew exactly how I wanted to create my own interpretation: mashed potato balls mixed with bacon and cheese, rolled in panko crumbs, and deep fried. Utterly delicious and fun to make!
 a
Fried Snowballs

"…they spotted something that could only have been a Cloud-Men's city. There were caves every where running into the cloud, and at the entrances to the caves the Cloud-Men's wives were crouching over little stoves with frying-pans in their hands, frying snowballs for their husbands' suppers."
INGREDIENTS:
2 large baking potatoes
2 eggs
1/2 cup colby jack cheese
3 tbsp bacon bits
1/2 tsp salt
1/2 tsp black pepper
1 cup panko bread crumbs
3 cups vegetable oil
Makes 20-24 "snowballs"

.
INSTRUCTIONS:
Peel and coarsely chop your potatoes. Add them to a pot of salted boiling water and cook 10 minutes or until fork tender. Mash the potatoes in the pot and transfer them to a large mixing bowl to cool for 20 minutes or until room temperature (you may need to stir them a few times while they cool—potatoes like to trap heat). While you wait, crack 1 egg into a small bowl and whisk it up with a fork; set aside. Pour your panko crumbs into another bowl and set aside as well.

When your potatoes are cool, add your second egg, cheese, bacon bits, salt, and pepper to the mixing bowl. Stir until thoroughly combined.

Roll your potato mix into 2-inch balls. Pour your vegetable oil into a medium-sized saucepan and set the burner to medium heat. The oil is ready when flicking a little water into the oil gives you a strong sizzle.

Roll each ball first in the whisked egg, then in the panko crumbs. Lower 4 balls at a time into the saucepan and let them cook 3-4 minutes or until golden brown. With a slotted spoon or set of tongs, remove the balls from the oil and place them on a plate lined with a paper towel to drain.


This slideshow requires JavaScript.
Want more potatoes? We gotcha covered. 😉