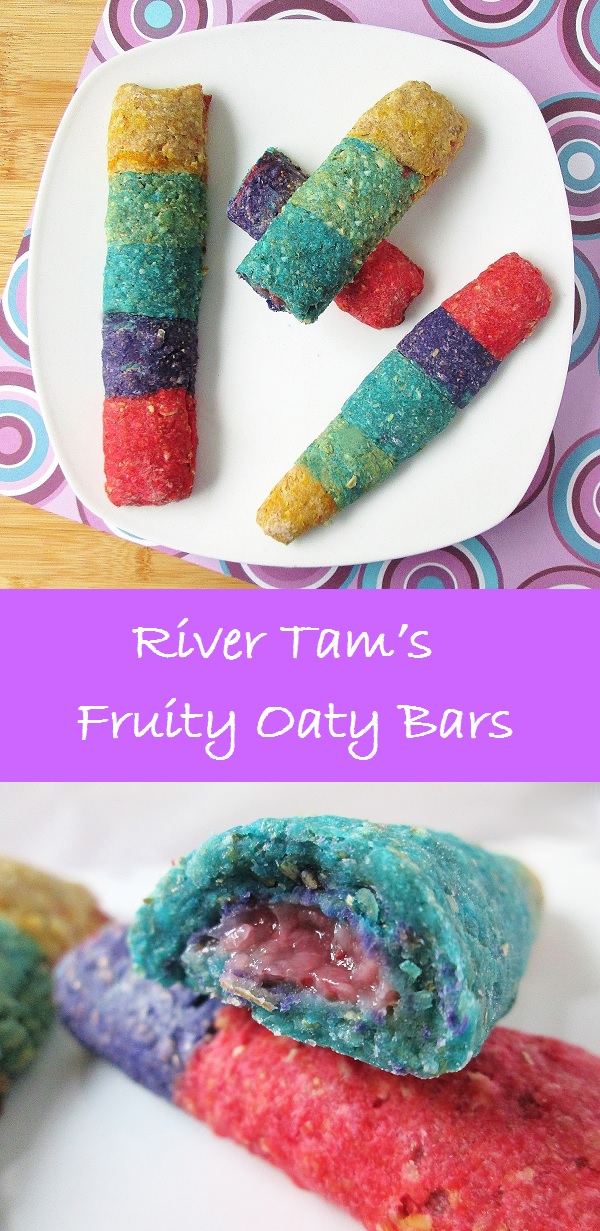 In the movie Serenity, Fruity Oaty Bars are a snack food advertised in a bar the characters visit while on the run from the Alliance. Unfortunately, big bad evil government guys plant a subliminal message in the Oaty Bar ad, causing River Tam—a fugitive from an Alliance research facility—to go completely beserk and attack everyone in the bar.

As such, the Fruity Oaty Bar has become an iconic Serenity/Firefly foodstuff. But what exactly is it?
The characters never actually eat an Oaty Bar on screen, so we're left to speculate as to what they contain. For me, this made developing the recipe a lot more fun, because it meant I got to be creative! Judging by the name, the Fruity Oaty Bar is most likely an oat-based pastry with fruit filling (similar to a Nutri-Grain bar). The strawberries featured in the ad would have us believe the filling is strawberry flavored, and the pastry dough appears to have been dyed rainbow colors.
With this as my guide, I tracked down a delicious copy-cat Nutri-Grain recipe by Half Baked Harvest, dyed the dough into rainbow stripes, and shaped the bars like the ones in the Fruity Oaty ad.
Enjoy…but watch out for any subliminal messages! 😉
 a
Fruity Oaty Bars

Mr. Universe: Oh, Mal, you're very smart. Someone is talking to her.
Wash: The Oaty Bar?
Mal: Subliminal. It's a subliminal message, broadwaved to trigger her.
Mr. Universe: I've been seeing this code pop up all over, the last few weeks. It's Alliance, and it's high military. They have gone to enormous trouble to find your little friend… and found her they have. Do you all know what it is you're carrying?
— Serenity
INGREDIENTS: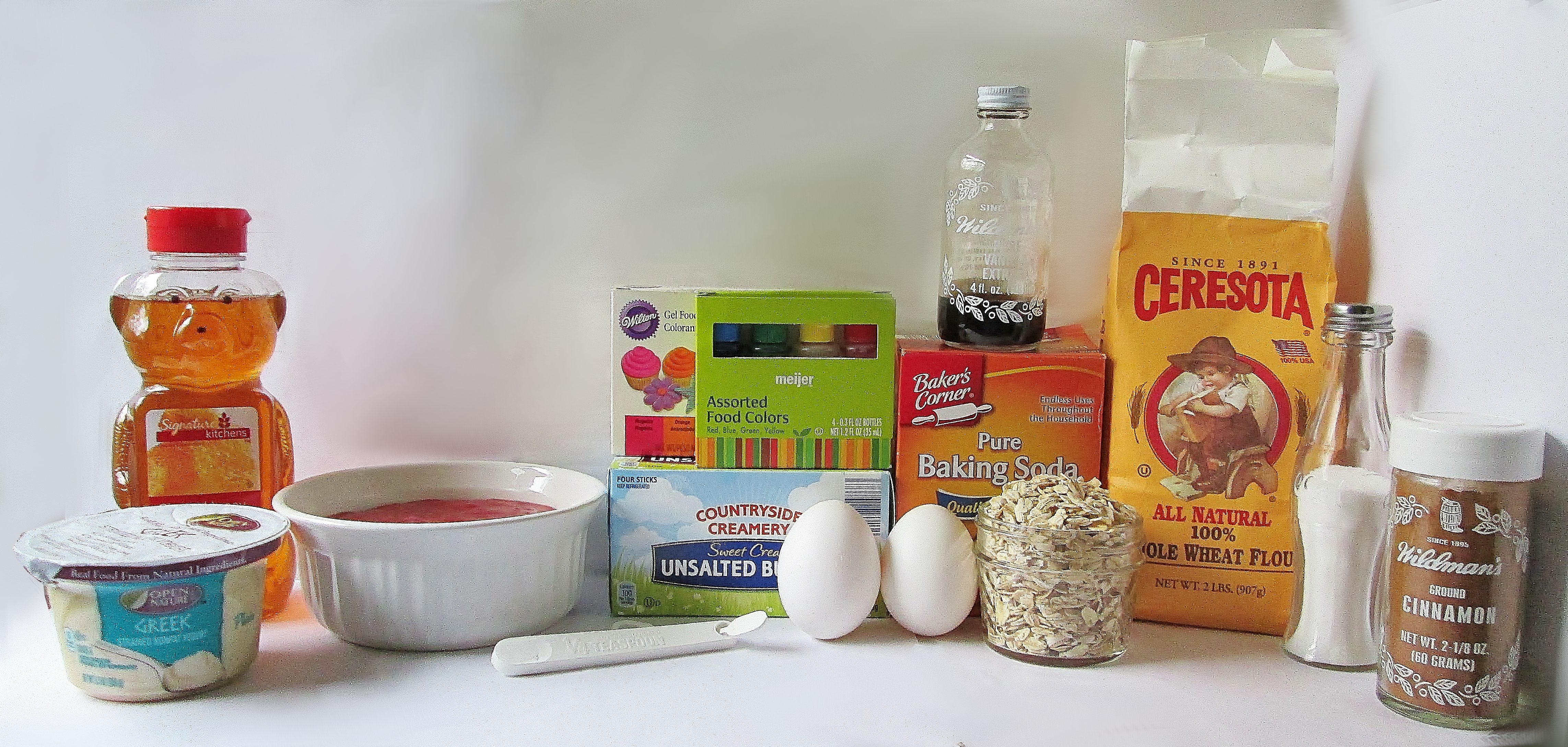 For the Filling (you can also use regular strawberry jam as filling, but it will be a lot sweeter)

1/2 pint fresh strawberries
1/8 cup sugar
1 tsp lemon juice
1/2 tbsp corn starch
1/2 tbsp cold water

For the Dough

1 cup whole wheat flour
3/4 cup oats
1/8 tsp baking soda
1/4 tsp corn starch
1/4 tsp cinnamon
1/8 tsp salt
6 tbsp unsalted butter or coconut oil
2 tbsp Greek yogurt, plain
2 tbsp honey
2 egg yolks
1 tsp vanilla
Makes 6 Fruity Oaty Bars

.
INSTRUCTIONS:
To make the strawberry filling, cut the tops from your strawberries and blend them in a blender until smooth. Add the strawberries, sugar, and lemon juice to a small saucepan. Bring to a boil. Whisk the corn starch into the water and add the corn starch mix to the saucepan. Reduce the heat and simmer 4-5 minutes or until thickened, whisking periodically. Remove from heat and set aside to cool (it will thicken more until it's about the consistency of jam).
To make the dough, mix your dry ingredients together in a small bowl and set aside. Cream the butter, yogurt, and honey in the bowl of a standing mixer. Beat in the egg yolks and vanilla until combined. Gradually beat in the dry ingredient mix until combined, stopping to scrape the sides of the bowl if necessary.

Gather your dough together and divide it into 5 balls of equal size (they should be about 2-inches across). One at a time, place each ball in a small bowl and mix in some food coloring until evenly incorporated. You can use any colors you want, but I decided to go with yellow, light blue, dark blue, purple, and red. I own a mix of liquid food colorings and gel colorings, so I used different amounts for each. For the balls that used liquid coloring, I used 15 drops of color each. For those that used gel, I used 5 drops each.


After the dye has been evenly incorporated, re-form each ball and roll it into a 4-inch long log. Line up your colored logs on a piece of lightly floured wax paper. Sprinkle on just a bit more flour and place another sheet of wax paper on top (we want enough flour to keep the paper from fusing to the dough but not so much that the different colored logs won't stick to each other). Roll the dough flat until it is about 1/8-inch thick. When you roll, try to lengthen the sheet of dough rather than widen it (this will enable you to make more bars).


Cut the dough into 3×6 rectangles. Spoon 1-2 tsp of the strawberry mix along the center of each rectangle. Fold the rectangle over itself lengthwise and smooth the seam closed.


This slideshow requires JavaScript.

Place your bars on a baking sheet lined with parchment paper. Prick each bar twice with a fork to allow them to vent. Lightly cover with plastic wrap and freeze for 15 minutes. While you wait, preheat your oven to 350°.
Discard the plastic wrap and bake for 15 minutes or until the tops are firm.

Want more Firefly recipes? We've got you covered, fellow Browncoat! 🙂