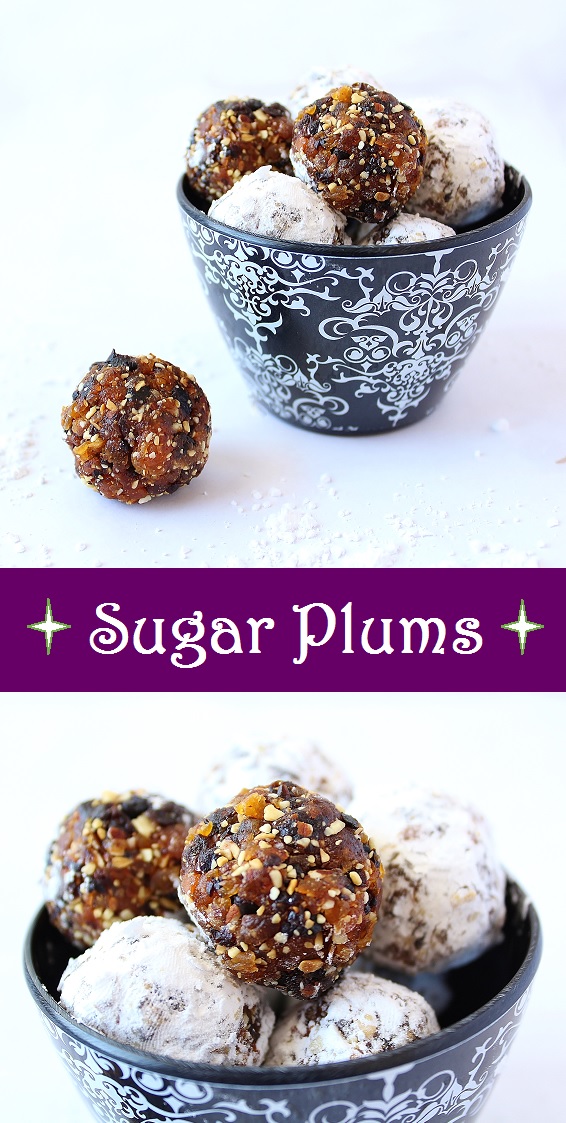 Ok, you probably knew this was coming. We're making a Nutcracker menu, so there's gotta be sugar plums, right? Of course right! 🙂

Full Disclosure: When I first started planning this menu, I actually had no idea what a sugar plum was. I assumed it was dried plum that had been rehydrated in wine and rolled in sugar (which sounds delicious). But as it turns out, "sugar plum" is kind of a misnomer. It CAN involve plums, but it doesn't have to. And they're rarely the main ingredient.
Traditional sugar plums are hard candies that have been colored purple and surround a nut or spice. But there are also "Byzantine sugar plums," which are made of a mix of chopped nuts, dried fruit, various spices, and sweetener (usually sugar or honey). This is the kind we'll be making today.

Though I found lots of good recipes online, I decided to go with a slight variation on one by Bryt from Food in Literature since it had one of the shorter ingredient lists and her dried fruit combo sounded delicious (plums, apricots, and dates—oh my!).

So eat up, sugar plum fairies! We've got some dancing to do! 🙂

 a
Sugar Plums
INGREDIENTS: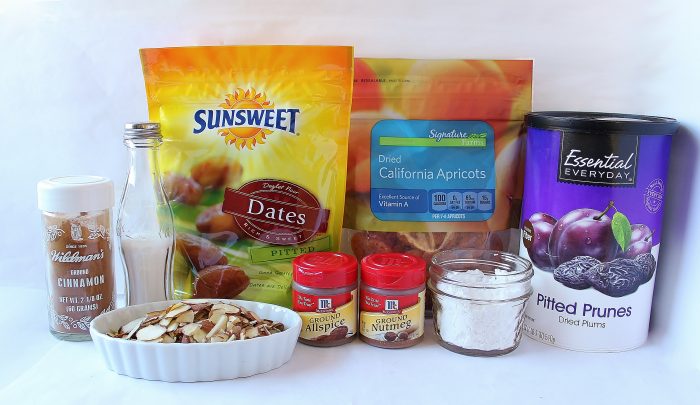 1/2 cup sliced almonds
1/4 tsp salt
1/2 tsp cinnamon
1/4 tsp nutmeg
1/8 tsp allspice
1/2 cup pitted dates
1/4 cup dried apricots
1/4 cup pitted prunes
1/4 cup powdered sugar
Makes approx. 20 sugar plums

.
INSTRUCTIONS:
Preheat your oven to 350°.  Toast your almonds for 3-5 minutes on a baking sheet and allow to cool on the pan.

Add all your ingredients except the powdered sugar into a food processor and process on high for 3 minutes or until the almonds are finely chopped and the fruit pieces are approximately 1/2 cm wide. You may need to stop the processor once or twice to stir some of the fruit up from the bottom.


Shape the fruit mix into tightly packed balls that are 1-2 inches across. Roll in powdered sugar.

Check out our other candy recipes! 🙂