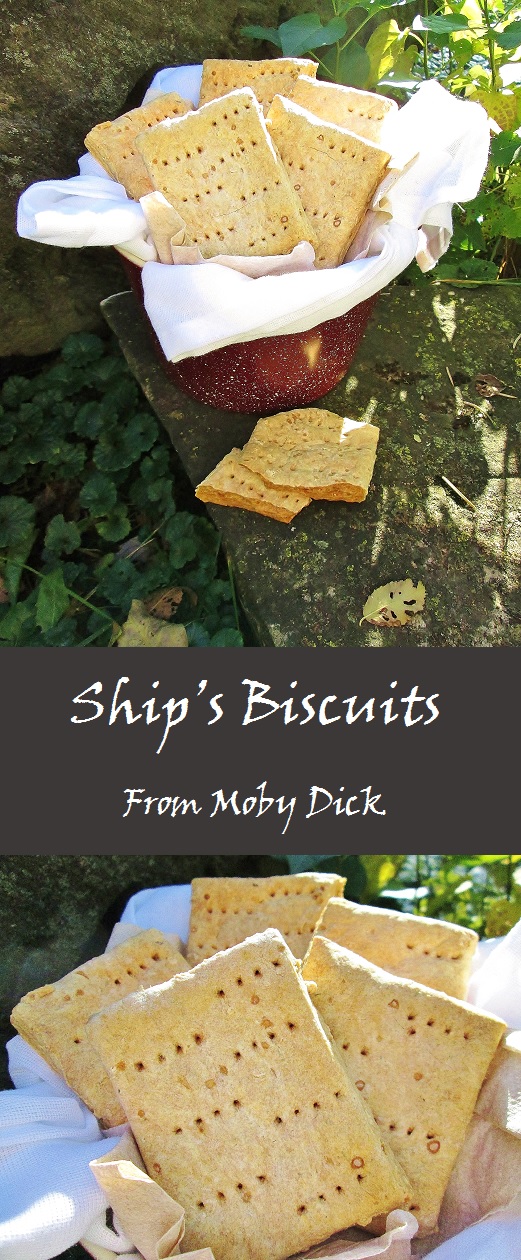 Back in Herman Melville's day, ship's biscuits (which later came to be known as hardtack) were common seaman's food. As such, they're mentioned regularly throughout Moby Dick, so I thought it would be fun to whip up an authentic ship's biscuits recipe. I found one at The American Table based on an old Civil War era recipe.

Of course, designed to last forever and travel well, ship's biscuits are VERY basic fare. They're virtually flavorless in traditional recipes, so I added a little bit of extra seasoning to make them more palatable. You can also brush the tops with egg whites and sprinkle extra salt on top, but keep in mind that introducing eggs to the recipe would compromise the biscuits' ability to be stored for months/years.

Ship's Biscuits

"First he takes about a double handful of shavings…and places them carefully before the idol; then laying a bit of ship -biscuit on top and applying the flame from the lamp, he kindled the shavings into a sacrificial blaze. Presently, after many hasty snatches into the fire, and still hastier with- drawals of his fingers (whereby he seemed to be scorching them badly), he at last succeeded in drawing out the biscuit…"
INGREDIENTS: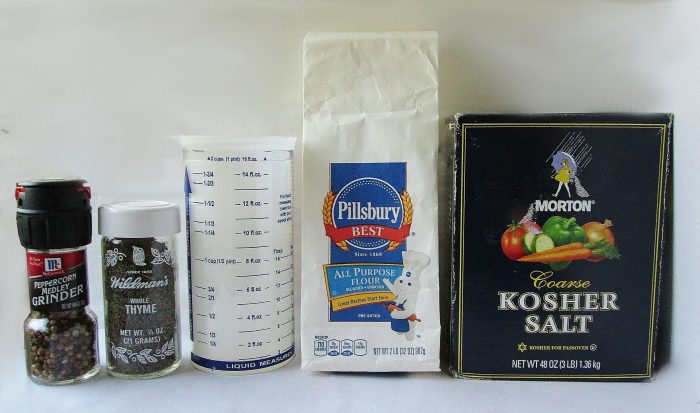 What You'll Need for Traditional Ship's Biscuits:

2 cups flour
1/2 tbsp salt (coarse salt is more authentic, but regular table salt works too)
3/4 cup water

Extra Seasonings You Can Add to Improve the Flavor:

1/2 tsp any dried herb (I used thyme)
1/4 tsp black pepper
Makes 6 biscuits

.
INSTRUCTIONS:
Preheat your oven to 300°.
In a medium-sized bowl, stir together your flour, salt, and (if you're using them) extra seasonings. Gradually pour in the water about 1/4 cup at a time, working the water through the flour with with your fingers after each addition. When all the water is added, thoroughly knead the dough. In the end, it should come together in a slightly sticky ball.


On a floured surface, roll out your dough to 1/2-inch thickness. Square off the dough and cut into equal portions. I cut mine into  2 1/2″ x 3″ rectangles.


Place the biscuits on an ungreased baking sheet and poke them with a fork to allow for more evening cooking and reduce puffing.

Bake the biscuits for 2 hours, flip them over, and bake them for another 30 minutes or until the edges are firm and the tops are slightly brown.
Place on a wire rack until completely cool. The biscuits may make a crackling sound while cooling.
Serve to a ship full of whalers to get them through their tough ocean voyage!

Ship's biscuits can be hard to eat on their own, so people used to break them up into pieces and put them in soup or coffee to re-hydrate them. You can even put some in our Moby Dick Clam Chowder!