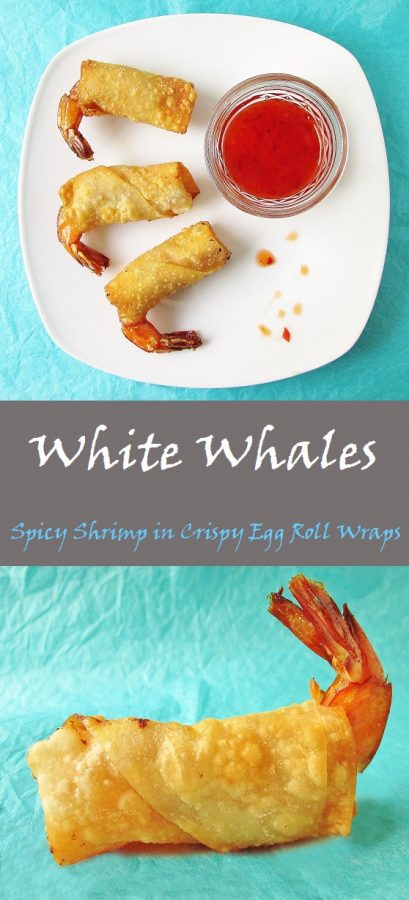 I'll admit, firecracker shrimp wasn't the first thing that came to mind when I started planning my Moby Dick menu. But while I was hunting for good ocean-themed appetizers, I saw a firecracker shrimp recipe from Picture the Recipe and was immediately smitten. With Moby Dick on the brain, I couldn't help but look at the little shrimp wrapped in egg roll wraps and think they looked like little white whales! 🙂

So I cooked some up, and I'm SO glad I did. They might look hard to make, but each step is pretty easy (even the wrapping!). And they're even easier to eat! The shell is crispy on the outside, tender on the inside, and the perfectly cooked shrimp is gently spiced. Saving some to share with the Mister was one of the hardest things I've ever had to do.

So eat up! We've got an ocean voyage to start! 🙂

a
White Whales

"Whosoever of ye raises me a white-headed whale with a wrinkled brow and a crooked jaw;
whosoever of ye raises me that white-headed whale, with three holes punctured in his starboard fluke look ye,
whosoever of ye raises me that same white whale, he shall have this gold ounce, my boys!"
 a
INGREDIENTS: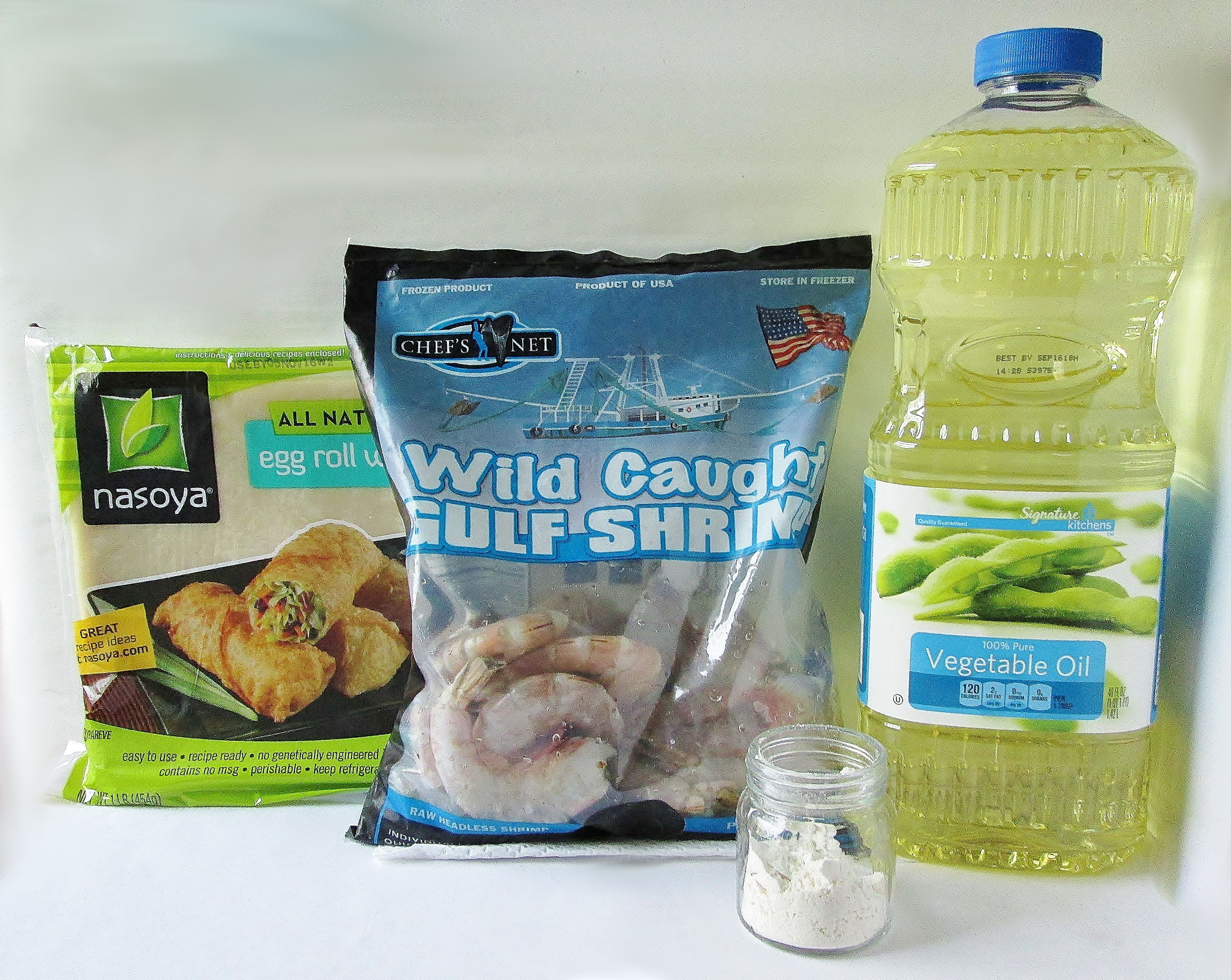 For the Shrimp

12 raw frozen jumbo shrimp (thawed, shelled, and deveined—leave on the tails!)
6 egg roll wrappers
1/2 tbsp flour
oil for frying

For the Marinade

1-3 tbsp sriracha (I used 1, but I didn't want mine to be that spicy. If you're looking for more kick, go for all 3 tbsps)
1 tbsp soy sauce
1/2 tbsp rice vinegar
1 tsp oil (I used mild olive oil, but sesame oil also works)
2 cloves garlic, minced
juice and jest from 1/2 a lime
1 tbsp sugar
salt and pepper, to taste
Makes 12 wrapped shrimp

.
INSTRUCTIONS:
Mix together all your marinade ingredients and pour them into a large Ziplock bag or 8×8 pan. Toss your shrimp in the marinade. If using a bag, seal and lay the bag flat. If using a pan, arrange in a single layer at the bottom of the pan and cover with plastic wrap. Chill the shrimp for 30 minutes, flipping them halfway through.

When the shrimp are finished marinading, mix just enough water into your flour to make a drippy paste. Cut your egg roll wrappers in half diagonally to make 12 triangles.

Working 1 at a time, roll each shrimp in a triangle wrapper. Start by placing the shrimp in the left hand corner of the triangle about an inch from the end (face the shrimp so that it is curved away from the left corner). The tale should be poking out the bottom. Fold the inch of wrapper over the shrimp and tightly roll the shrimp once, so it is facing the opposite way. Fold the top of the triangle down to create a straight line level with the top of the shrimp. Continue rolling the shrimp as tightly as possible until it is about an inch from the right hand corner. Brush some of the flour paste onto your wrapper and fold the last inch of wrapper over the shrimp (the paste will hold it in place).


This slideshow requires JavaScript.

Pour enough oil into a medium-sized pot to mostly submerge the shrimp (you want about 2-3 inches of oil). Heat the oil on medium-high heat until a sprinkling of water flicked into the oil causes it to give a strong sizzle. Lower 2-3 shrimp into the oil at a time and cook for 3-5 minutes or until the wrapper is golden. Three minutes was just perfect for mine.
Place your finished shrimp on a plate lined with a paper towel to drain.

You'll want to cut a shrimp from your first batch in half to check that it is cooked through. The inside should be white and tender. If it's still translucent or gray, it'll need to cook a bit longer.

Serve warm to a crew of hungry whalers. You can eat them plain, but I like to dip them in sweet Thai chili sauce! 🙂

These are DEFINITELY going on my list of appetizers to bring to family gatherings. They're easy, make great finger food, and taste amazing. They even reheat well: just pop them in a 350 oven for 7-10 minutes, and they're ready to go!
Craving more seafood? We've got what you need!