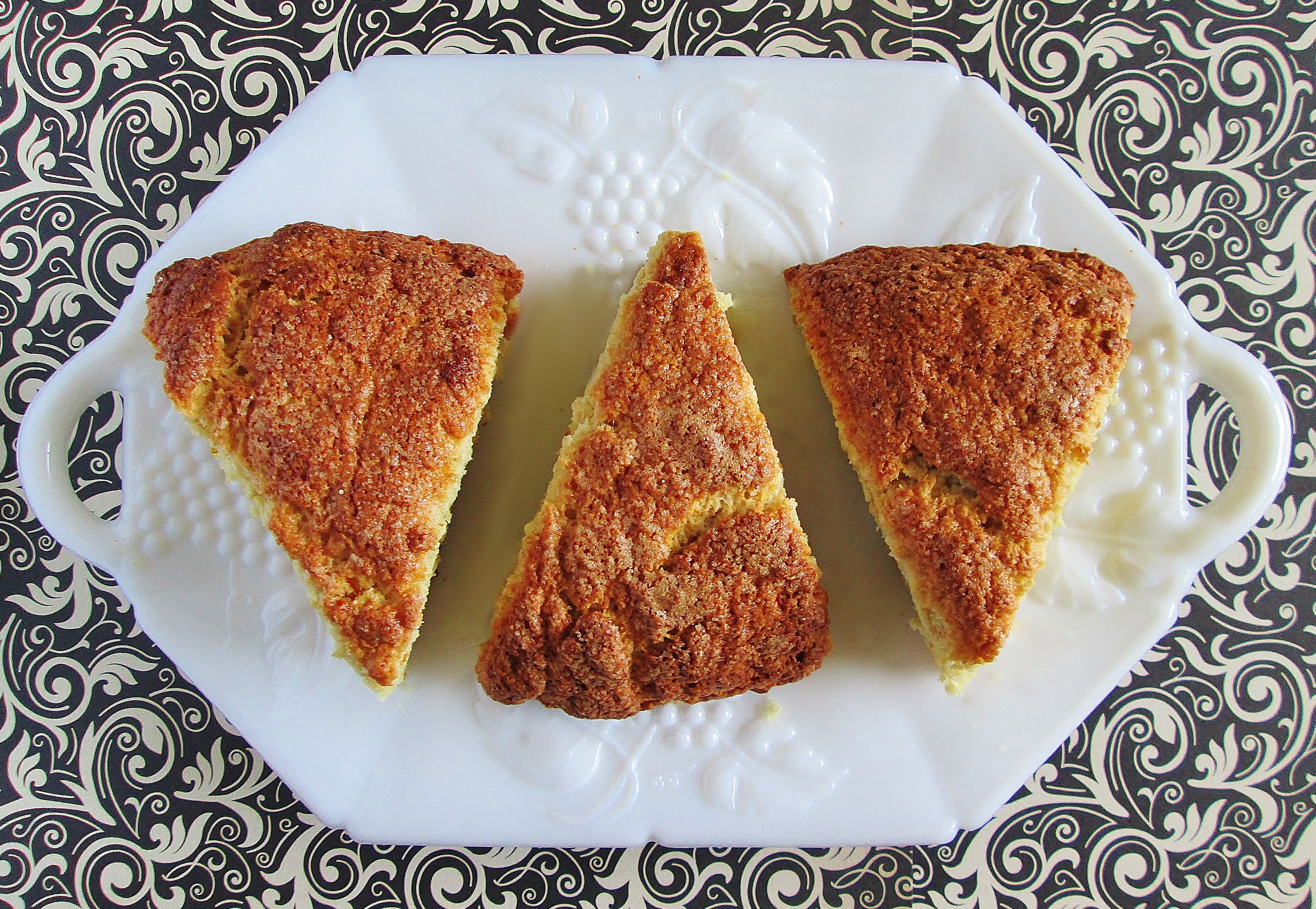 Say hello to our new Book of the Month: Sherlock Holmes! I've been wanting to making a Sherlock menu since Day 1 of this blog, but one of the struggles I ran into is that Holmes just doesn't eat a lot. He subsists mainly on coffee, pipe smoke, and music—which is cool to read about, but doesn't make for an appetizing dinner.
So up until a few months ago, I had Holmes on the back burner. Then a friend of mine specifically requested a menu for him, and I renewed my search. I tried a Holmesian recipe hunt once more, but just couldn't find enough to make a full menu. When I expressed my frustrations to another friend, she had a great idea: make recipes inspired by the names of the Sherlock Holmes stories! Before long, we were chatting about how fun it would be to have an orange-flavored recipe for The Five Orange Pips, something ginger for The Red-Headed League, and so on. So, at long last, my Sherlock Holmes menu is FINALLY ready to premiere! 😀

Today's recipe is a reinterpretation of the classic British scone inspired by The Five Orange Pips, which was one of Holmes' most difficult cases…because his witnesses couldn't seem to stop dying (#DetectiveProblems). Luckily, this citrusy scone is delicious enough to make you forget about even your peskiest cases. The outside has a firm, sweet crust, and the inside is tender with distinct orange flavor. And as you can tell from the title of this post, it features BLOOD ORANGES, which are just too perfect for a Sherlock menu, amiright?

"But blood oranges won't be in season until December!" You say.
To which I say, "Kudos for knowing so much about obscure fruit seasons! But don't worry—you can make this blood orange recipe ANY time of year!"
And then we cheer and eat scones until we explode.
The secret to making this recipe all year around is in the bitters. Instead of juice, I used blood orange bitters, which is available all year! I found mine at Whole Foods, but you can also find it next to the simple syrup at most major alcohol retailers (or on Amazon). When blood oranges are in season, you can just substitute their juice for the bitters.
Bon appetit! 🙂
 a
Blood Orange Scones

"'What can this be?' Opening [the envelope] hurriedly, out there jumped five little dried orange pips, which pattered down upon his plate."
— The Five Orange Pips
INGREDIENTS: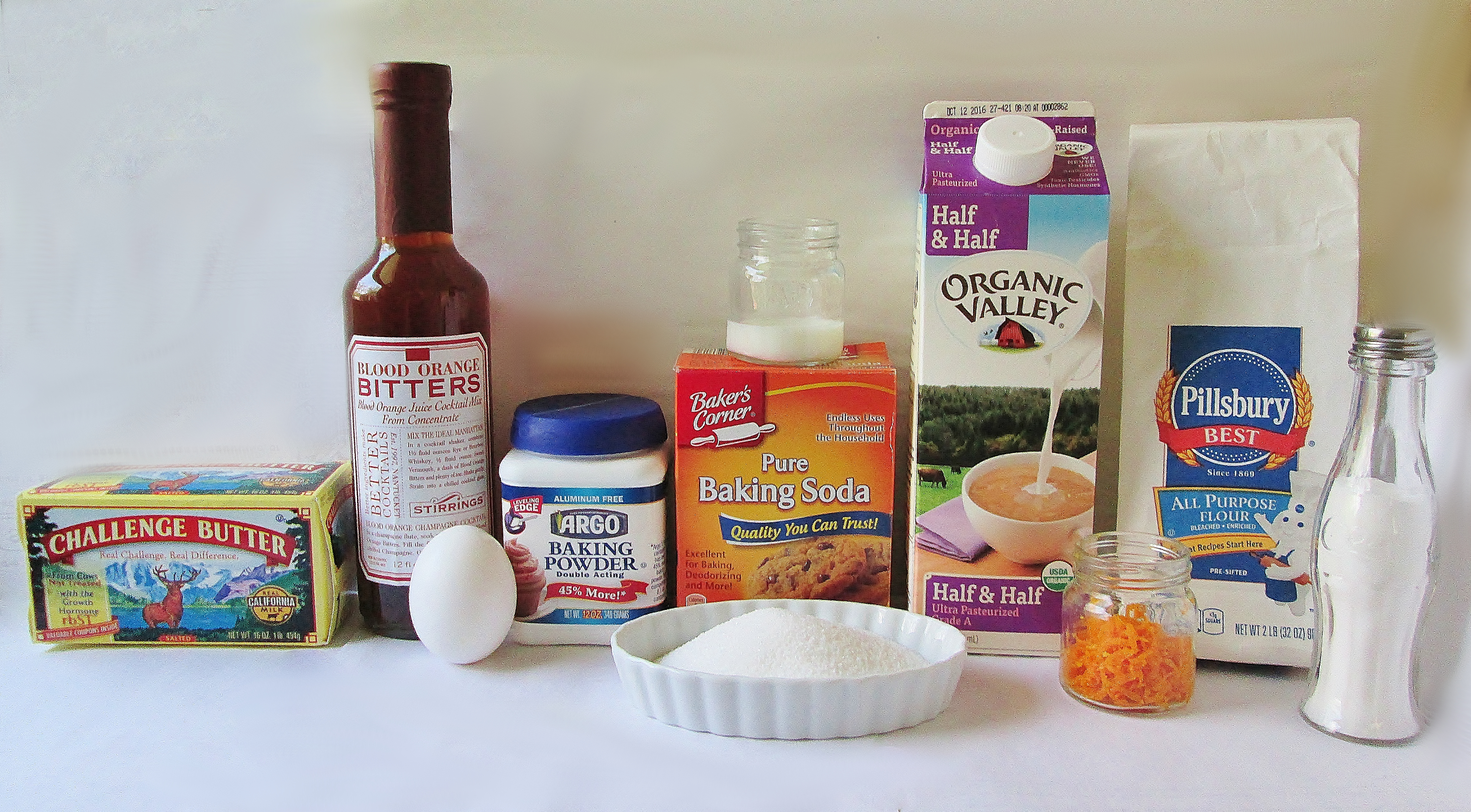 2 cups flour
1/4 cup sugar (plus 3/4 tsp for dusting)
2 tsp baking powder
1/2 tsp baking soda
1/2 tsp salt
1/3 cup cold butter (divided into tablespoons)
1 tbsp orange zest (or blood orange zest, if they're in season)
1/4 cup blood orange bitters (or blood orange juice, if they're in season)
1/4 cup cold half and half
1 egg, whisked
1 tbsp milk (for brushing on top to get that lovely crust)
Makes 8 scones

.
INSTRUCTIONS:
Preheat your oven to 425°. Line a baking sheet with parchment paper and set aside.
Whisk the flour, sugar, baking powder, baking soda, and salt together in a large bowl. Cut the butter into the flour mix and stir in the zest. Make a well in the middle.


Pour the egg into the well. Mix the bitters and half and half together. Pour that into the well also (if using blood orange juice, pour the two liquids into the well separately). Stir it all up with a fork until just combined.

The dough will be damp and a little sticky. We don't want to work it too much, because that can make the scones tough.

Shape the dough into a ball with your hands, making sure to press any stray bits from the bottom of the bowl into the ball. Place it on your baking sheet and flatten it with your hand into a 7 1/2 – 8 inch round disk. Use a sharp knife to score the dough into triangles. You'll want to cut about halfway through the dough to ensure that the lines don't disappear while baking. To make it easier to separate the portions later, you can even cut all the way through the dough when you reach the edge.


Brush the top of the dough with milk and sprinkle on the sugar.

This is what makes them really special. The crust is my favorite part!

Bake for 15-20 minutes or until the center is fully set and the top is golden brown. Allow to cool on the pan for 5 minutes.

Don't worry if the top browns well before the center is finished. The crust sets a bit early, but it shouldn't burn. Instead, keep an eye on the center. If it looks wet and uncooked, leave it in the oven. Once the center has just begun to look fully set, take it out.
Gotta have more baked goods? No worries, we're here for you.
Save
Save
Save
Save
Save
Save
Save
Save
Save