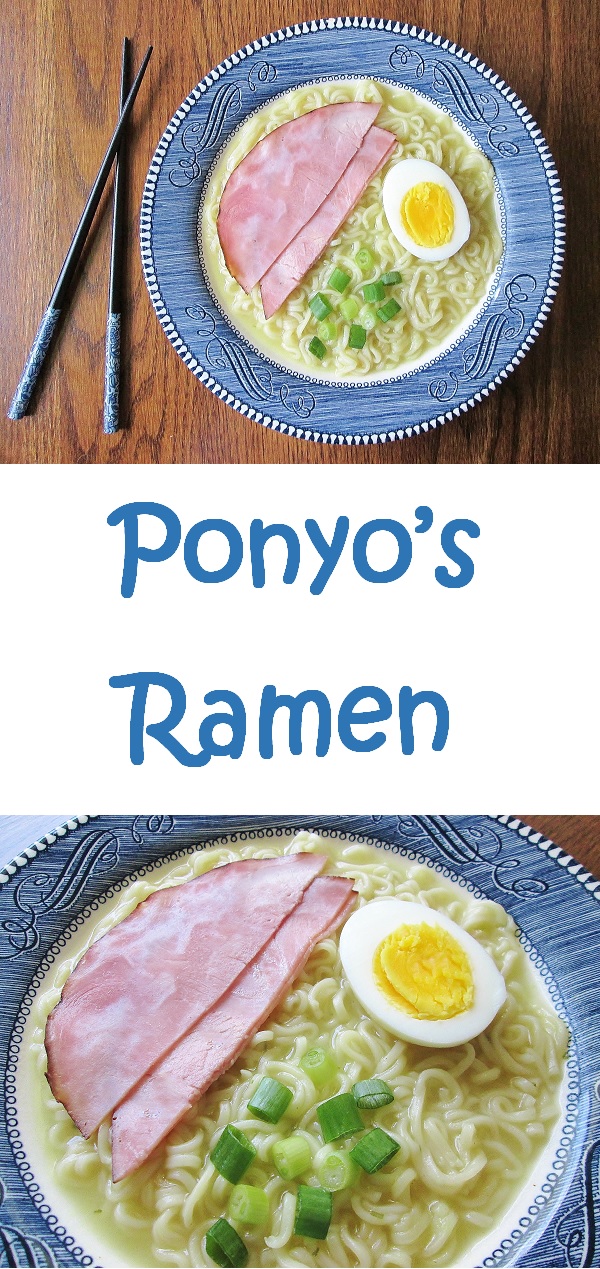 Our entree today comes from Hayao Miyazaki's Ponyo, a retelling of The Little Mermaid. I love Ponyo's preoccupation with food in the film, especially ham! Her reaction when Sosuke's mom serves pork ramen soup is adorable!
This ramen soup recipe is a recreation of the one in the movie, featuring classic ramen noodles, hard boiled eggs, green onions, and of course ham! It's a savory, salty, satisfying dish—sure to make you feel nice and cozy on a stormy night. 🙂

.
Ponyo's Ramen

"Ponyo loves ham!"
INGREDIENTS: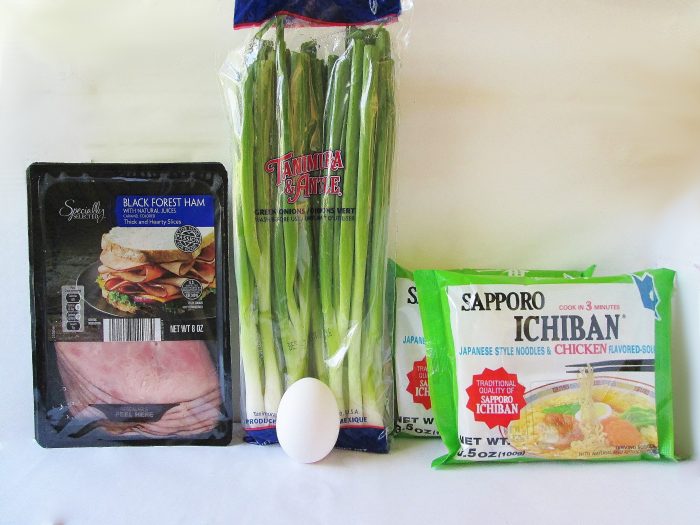 2 packages of ramen (The pre-packaged kind is more authentic to the film, since that's how Sosuke's mom makes it.)
1 green onion
4 slices ham
1 egg
Makes 2 bowls of ramen

.
INSTRUCTIONS:
Boil 4 cups of water and add the noodles from one pack of ramen. Cook for as long as the package suggests. When the noodles are cooked, stir in the seasoning packets from both packages of ramen.

We're adding half the usual amount of noodles since the ramen in the movie is closer to a ramen soup than just cooked noodles. You can save the extra noodles in a ziploc bag to crumble on top of salads.

While you wait, boil the egg. You can make it soft or hard boiled. I decided to make an 8-minute egg. When the egg is cool enough to handle. Peel away the shell and cut the egg in half lengthwise.

To cook, just boil enough water to completely submerge the egg, turn the heat down to a simmer, cook uncovered for 6-9 minutes, remove from water and allow to cool slightly before handling. You can also make a special kind of soft boiled egg called a ramen egg, but be aware that it involves letting the egg marinate overnight.

Slice up the green onion.

This was one of my favorite parts of the soup. The broth and ham are really salty, so the bite from the onion brightens it up a bit.

Scoop your ramen soup into serving bowls and top with egg, green onion, and ham.

I used a chicken flavored ramen package because the yellow broth in the movie looks like chicken ramen, but you can make any flavor you want.

Serve to a new friend to keep them cozy during a seaside storm. 🙂

This was really satisfying and quick to make. However, be aware that it's very salty. To keep the dish authentic, I only included ingredients shown in the movie, but if you're concerned about the salt factor, try adding some cooked carrots or thin slices of radish to change the flavor profile.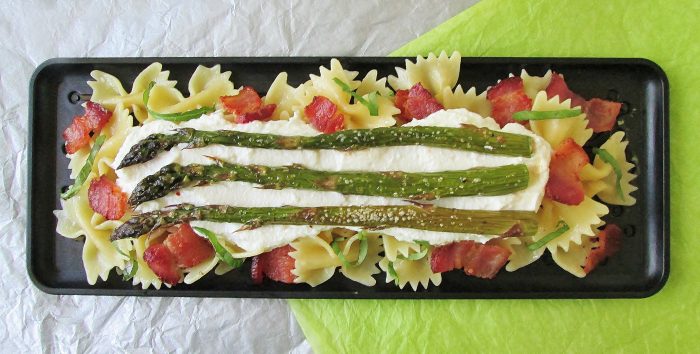 Save
Save
Save
Save
Save
Save
Save
Save
Save
Save