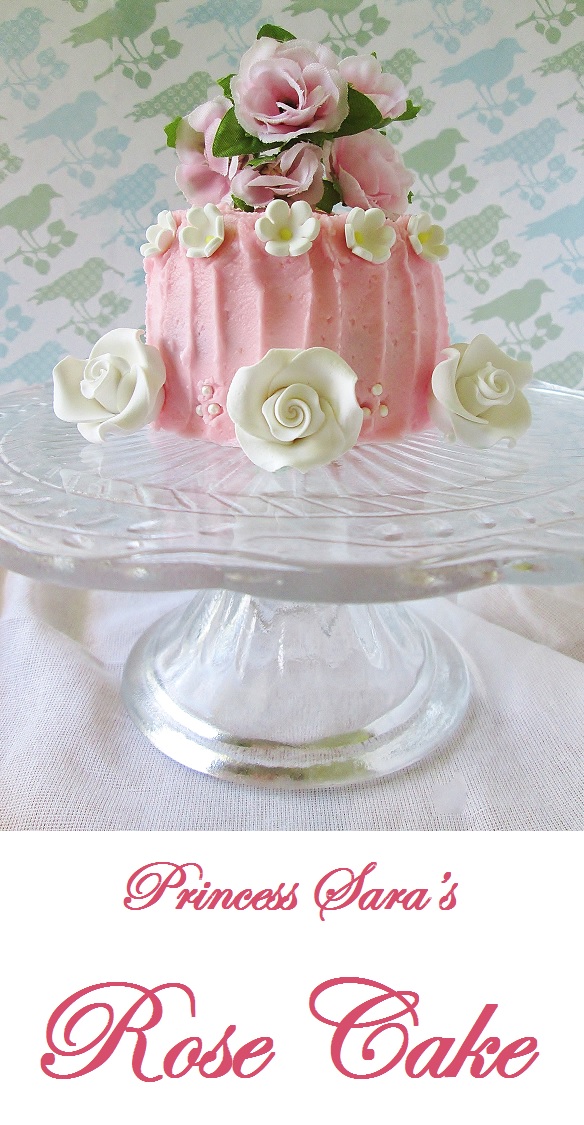 We're wrapping up our Little Princess menu with the very first food Sara ever shares with her close friend Becky: sweet, delicate, delicious cake!
I love the friendship that develops between Becky and Sara. And I think it's no coincidence that it all develops around food! 🙂 At first, Becky the maid is shy and uncertain around the well-to-do Sara, and Sara is lonely in an unfamiliar country.

But when Sara sees how hungry Becky is, she shares all kinds of foods with her, starting with this cake (which I modeled after the rosy dress Becky says she once saw on a real princess). Becky is touched by the generosity and soon gets over her shyness, opening the door for a friendship that both girls desperately need.
I always knew cake had the power to change lives! 🙂
 a
Princess Sara's Rose Cake

"Sara opened a cupboard, and gave her a thick slice of cake. She seemed to rejoice when it was devoured in hungry bites. She talked and asked questions, and laughed until Becky's fears actually began to calm themselves…For a few seconds Becky was almost speechless with admiration. Then she said in an awed voice, "Onct I see a princess. I was standin' in the street with the crowd outside Covin' Garden, watchin' the swells go inter the operer. An' there was one everyone stared at most. They ses to each other, 'That's the princess.' She was a growed-up young lady, but she was pink all over—gownd an' cloak, an' flowers an' all. I called her to mind the minnit I see you, sittin' there on the table, miss. You looked like her."

— A Little Princess

INGREDIENTS: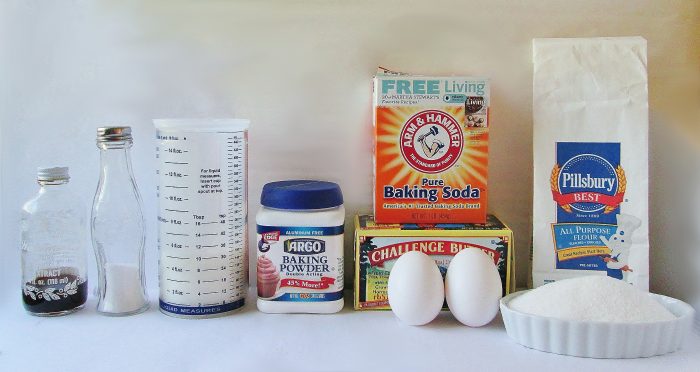 For the Cake (I used the cake recipe from this cookbook)

2 egg whites (allowed to stand at room temperature for 30 minutes)
1 cup flour
1/2 tsp baking powder
1/4 tsp baking soda
1/4 tsp salt
1/4 cup shortening or softened butter
3/4 cup sugar
1/2 tsp vanilla
2/3 cup sour milk (Just put 2/3 tbsp lemon juice in a measuring cup, then fill the rest with milk until you've got 2/3 cup of liquid. Stir and let sit 5 minutes before using.)
2-3 cups pink frosting

For the Decorations
Makes 2 single-serve cakes

INSTRUCTIONS:
Preheat your oven to 350°. To make the cake batter, stir the flour, baking powder, baking soda, and salt together in a medium bowl and set aside.
In a large bowl beat the butter on medium speed for 30 seconds or until creamy. Add the sugar and vanilla and beat until combined. Add the egg whites one at a time, beating well after each addition. Alternate adding the flour mix and sour milk, beating until just combined. In the end, you should have a nice, thick white cake batter.

Spray four 4-inch ramekins with cooking spray, and place them on a baking sheet. Fill each ramekin halfway with cake batter. Put the baking sheet in the oven for 18-20 minutes or until the cakes are just beginning to brown on top and spring back when touched.

Place the ramekins on a wire rack to cool for 20 minutes. Gently slide a butter knife around the outside edge of each cake to separate it from the ramekin. Turn the ramekins upside down and pop out the cakes. Let them continue sitting on the wire rack until completely cool.
If necessary, trim the tops from the cakes to make them flat. Discard the tops. Place one cake upside down on top of another cake. Repeat for the remaining two cakes (keeping the cut ends in the middle of the cake will make it easier to frost later).

Put your cakes on serving plates and frost them. You can frost in any style you want! I decided to create simple vertical lines, since the decorations are so fancy.


Place the daisy decorations in a circle around the upper edge of each cake, and arrange the roses and pearls in an alternating pattern around the bottom. Top with your little silk roses, and you're all set!
Craving more sweetness? Check out our other literary cakes!