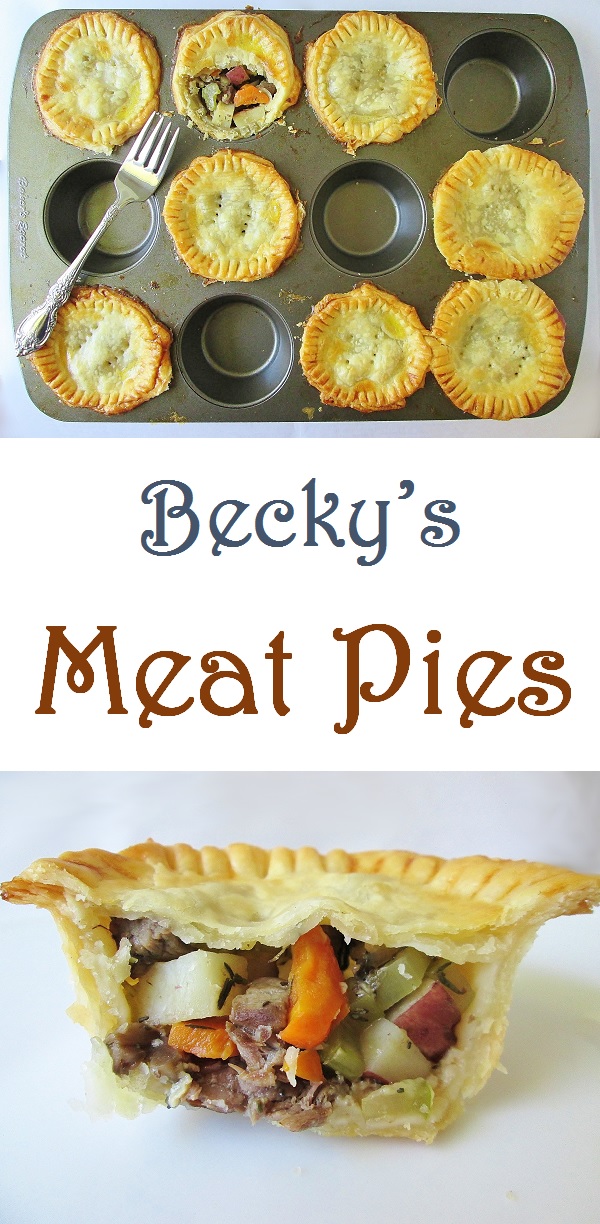 Becky is one of my favorite characters in A Little Princess because she's so genuine. As a young maid in a school full of little girls with large fortunes and influential families, it would be easy for her to get bogged down in resentment or jealousy. Instead, she's open to friendship with even the most affluent student—little Sara—and proves to be a great friend in Sara's time of need.

When Sara starts sharing food with Becky, these meat pies were Becky's favorite, and I can see why. They're hearty and heart-warming, with substance and simple goodness—much like Becky herself! 🙂
Becky's Meat Pies: An AWR Original Recipe!

"The first time it occurred to her to bring home two or three little meat pies, she felt that she had hit upon a discovery. When she exhibited them, Becky's eyes quite sparkled.
'Oh, miss!' she murmured. 'Them will be nice an' fillin.' It's fillin'ness that's best. Sponge cake's a 'evenly thing, but it melts away like—if you understand, miss. These'll just STAY in yer stummick.'"
INGREDIENTS: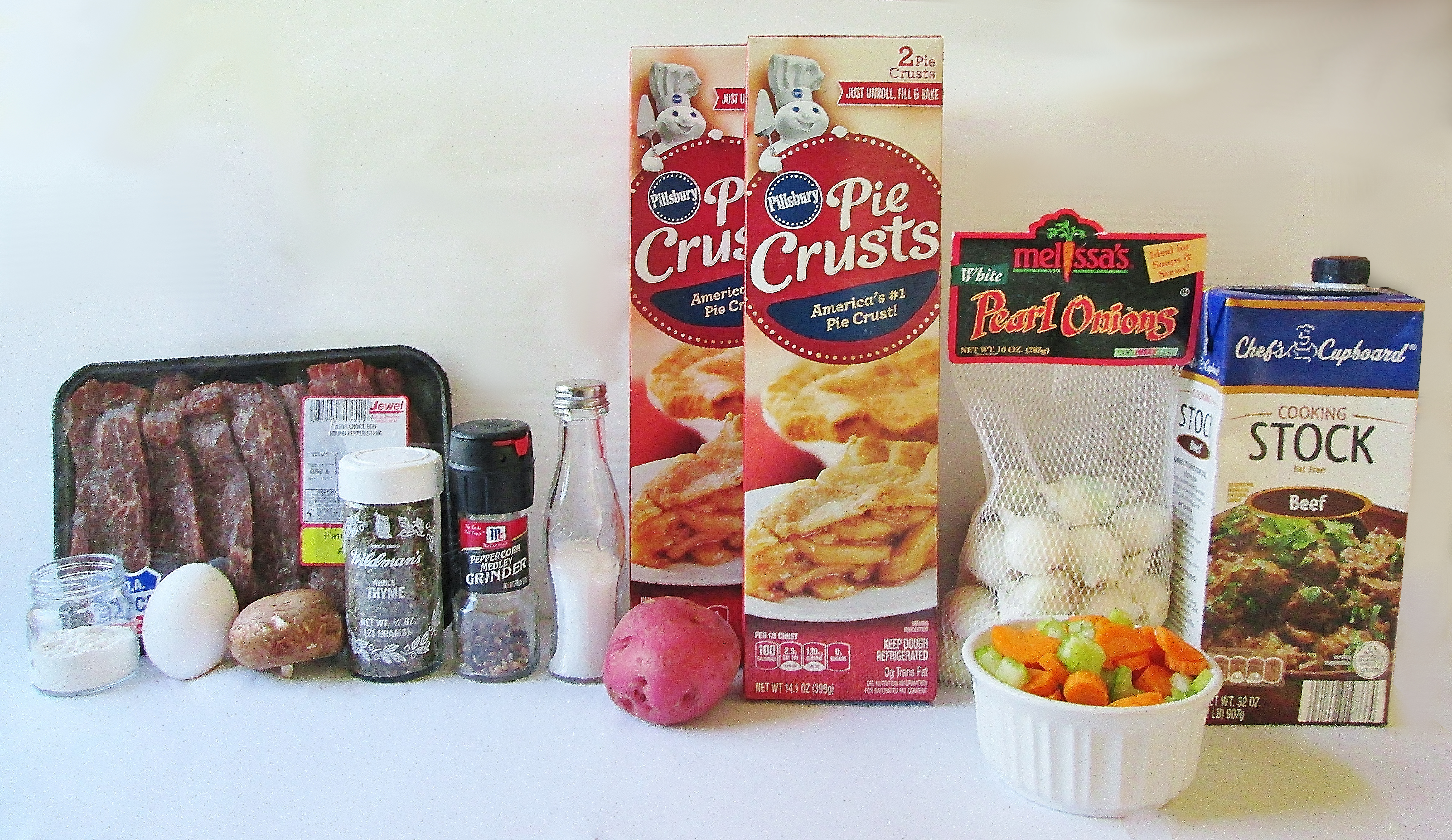 1 medium or 2 small red potatoes
1 large carrot
1 large celery stalk
1 medium baby bella mushroom
5 pearl onions
4.5 oz thin-cut steak
5 tbsp beef stock
3/4 tbsp flour
1 tsp thyme
1/2 tsp salt
1/4 tsp pepper
2 packages Pillsbury premade pie crusts (contains 4 sheets—keep chilled until read to use)
1 egg
       Makes 1 dozen muffin-sized meat pies

INSTRUCTIONS:
Preheat your oven to 400°.


Dice your potato, celery, and mushroom. Peel and finely chop your onions. Peel and dice your carrot. Microwave the potato and carrot on separate plates for 2 minutes each. Toss all the vegetables together in a large bowl.

Sear your steak in a hot skillet for only a minute or two on each side. Allow the meat to rest for 3-5 minutes before cutting it into 1/2 inch cubes. Add the meat to the vegetable bowl.

Unpackage your pie dough and cut out 24 circles—half should be 3 1/4 inches across and half should be 4 1/2 inches across. You will most likely have to reroll the leftover dough scraps into a new sheet to get the full 24 circles (be sure to flour your surface when you roll it out, so the circles don't stick).

I recommend putting the finished circles on a sheet of wax paper to keep them from getting in the way or sticking to each other.

Spray a cupcake tin with cooking spray. Gently lower your large circles into the cupcake wells, tapping down any excess dough at the top so that it lays around the lip of each well (this will give the top of the pie something to adhere to).
Add thyme, salt, and pepper to the bowl of vegetables and meat. In a small bowl, whisk your beef stock and flour together with a fork until smooth. Poor the stock mix into the bowl and stir thoroughly to combine.

Fill the cupcake wells with vegetable mix (if there's anything leftover stock at the bottom of the bowl, drizzle it evenly onto the top of the filling).

In a small bowl, whisk together your egg and 1 tbsp of water. Brush the edges of the pies with egg wash and place the small dough circles on top of each pie, crimping the edges with a fork to make sure they stick. Prick the top of each pie twice with the fork and brush the tops with the remaining egg wash.

The dough will be a little drier on top since it will have been sitting out for a bit. Make sure the dry side is on top when you place it on top of the pie, to ensure that it adheres properly.

Bake for 15-20 minutes or until golden brown.

Serve warm to a new friend! 🙂

Want more savory pies? Check out our Rokeg Pie!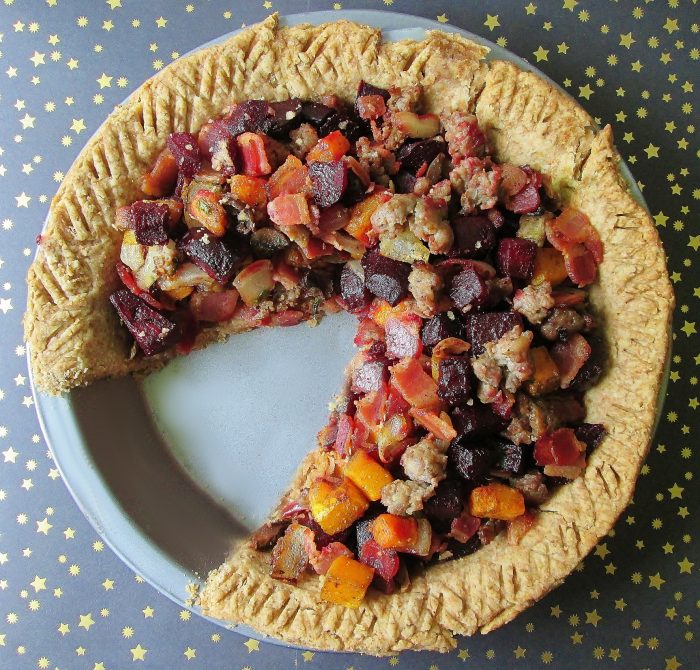 Save
Save
Save