Our new Book of the Month is A Little Princess, and we're starting it out with one of my favorite foods in the entire book: Sara's bakery buns! When the previously affluent Sara Crewe is suddenly thrown into poverty, she struggles with hunger every day. One day she finds a coin in the street, but instead of spending it right away, she tries to find who it belongs to. When she can't, she uses it to buy six warm, fresh bakery buns…then the baker woman sees her give five of them away to a starving child on the street! The baker woman is so touched by Sara's generosity, she takes in the child Sara helped and teaches her to work in the bakery. Who knew a little girl with a simple bun could do so much?
In the movie version of the story, the bun in Sara's hands looks like a giant, delicious cinnamon bun, but I decided to take it a step further and make something special: blackberry buns! Today we've spiraled traditional sweet roll dough around rich blackberry preserves and drizzled it with sweet lemon icing.
A dish fit for a princess!

P.S. The dough recipe and baking temp/time I use is the one from the Cinnamon Bun recipe printed on the side of the Pillsbury Hot Roll Mix box.
Blackberry Lemon Sweet Rolls

"…She looked straight at the shop directly facing her. And it was a baker's shop, and a cheerful, stout, motherly woman with rosy cheeks was putting into the window a tray of delicious newly baked hot buns, fresh from the oven…"
INGREDIENTS: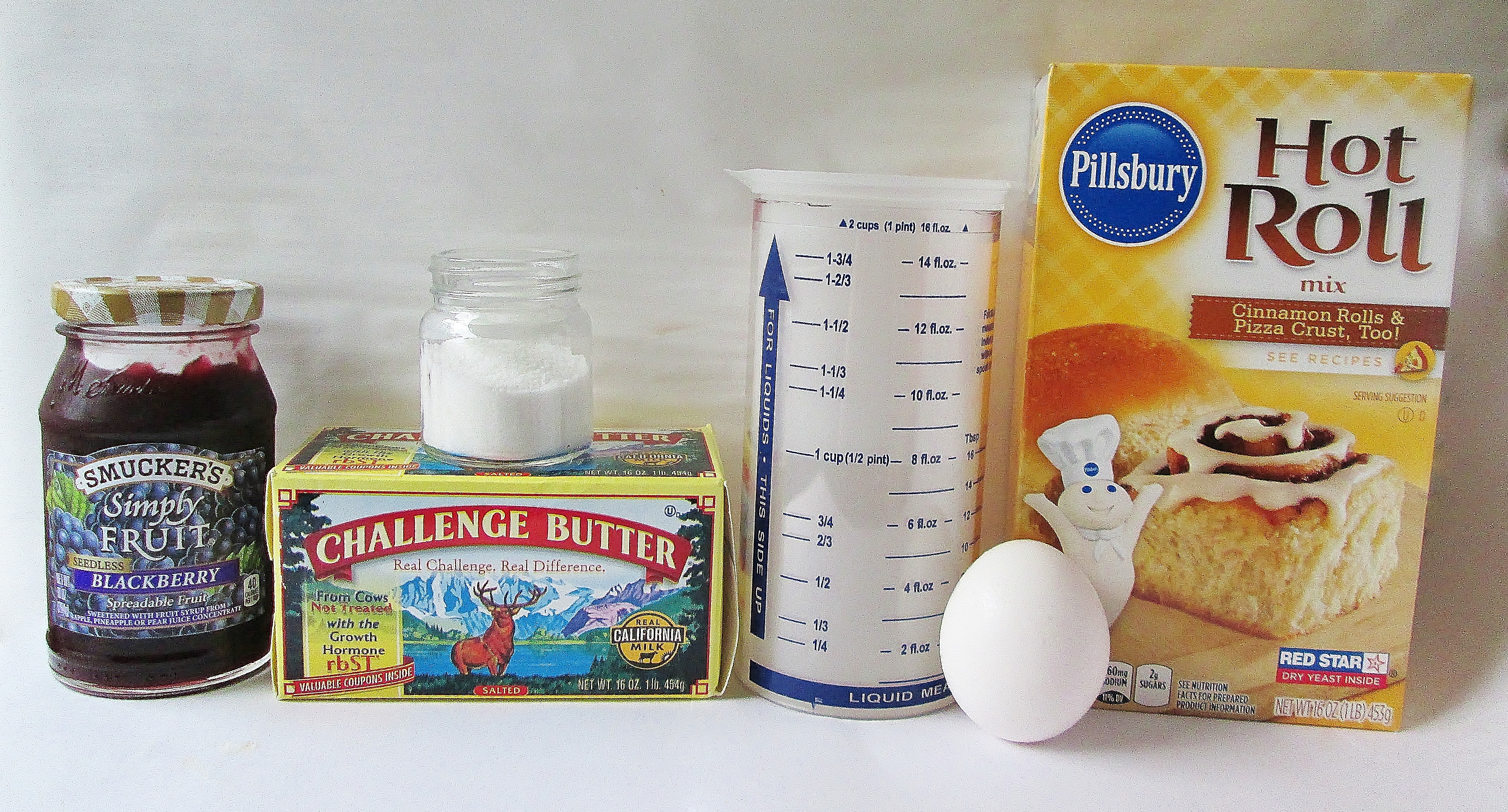 For the Rolls

1 box Pillsbury Hot Roll Mix
3 tbsp sugar
1 cup hot water, at least 95° (I recommend heating the water in a kettle until it whistles. That'll get you to the recommended temp quickly.)
2 tbsp softened butter
1 room-temperature egg (You can submerge a cold egg in very warm water for 10-15 minutes to bring it up to room temp.)
3/4 cup seedless blackberry preserves

For the Icing

1/2 cup powdered sugar
1 tbsp milk
1/2 tsp lemon extract
1 tsp lemon zest
       Makes 8 buns

INSTRUCTIONS:
Preheat your oven to 375°. Empty the contents of your hot roll mix (flour and yeast) into a large bowl and stir in the sugar. Add the water, butter, and egg. Stir until the mixture is thoroughly combined and the dough begins to pull away from the sides of the bowl.



On a thoroughly floured surface, knead the dough until it forms a soft, smooth ball (this should take about 5 minutes). Cover the dough and let it rest for 5 minutes.

Sprinkle more flour onto your work surface if necessary. Roll your dough into a 15×10 inch rectangle.

We want to make sure the surface is floured so the dough doesn't stick when we try to roll it up.

Spread the blackberry preserves onto the dough. The best way to do this is to scatter spoonfuls of preserves across the surface of the dough and spread them out with a spatula or back of a spoon (trying to spread large clumps is more difficult and can tear the dough). With a pizza cutter or sharp knife, cut the dough into 1-inch strips. Try to keep them as straight as possible, so your rolls will all be a consistent size.
Spray a cupcake tin with cooking spray. Roll your first strip into a spiral (keeping the preserves on the inside edge), and place it into one of the cupcake wells. Repeat with all your remaining strips.

You can also roll and cut your dough the traditional way (roll the whole rectangle into a spiral and cut slices from it to get smaller spirals), but I like the unique look each bun gets when you roll them individually.

Bake for 15-20 minutes or until the rolls are golden brown on top. While you wait, stir all your icing ingredients together in a small bowl.
When the rolls are finished, allow them to cool in the pan for 5 minutes, then remove them to a serving plate. Drizzle the icing evenly over all your rolls.

Serve warm to hungry passersby on the streets of London! 🙂

These taste amaaaaazing! I don't know if you've ever had raspberry rugelach, but the combo of fruit filling and sweet roll dough reminds me SO MUCH of that! My mom makes raspberry rugelach every Christmas, so this has a major nostalgia factor for me! 🙂