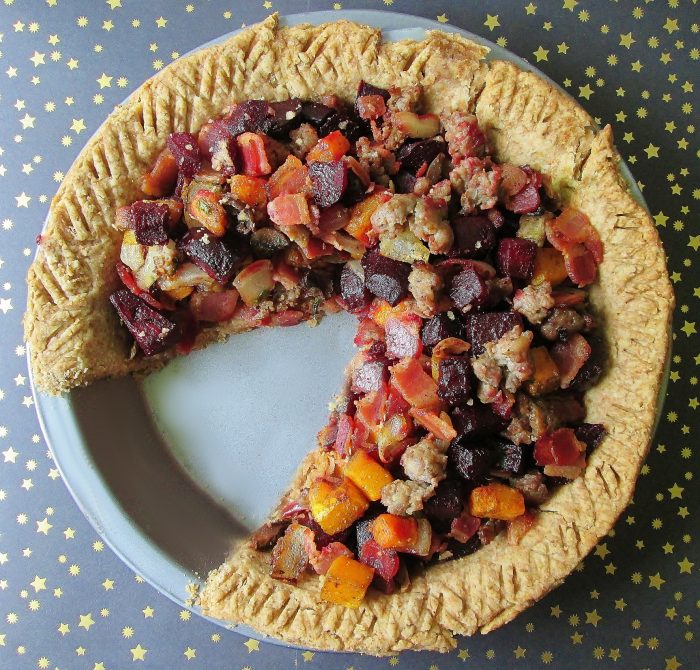 When it comes to Star Trek TNG, pretty much the entire cast is near and dear to my heart. I love Geordi La Forge's head for numbers and Deanna Troi's weakness for chocolate. And of course I love Captain Picard (how could you not?). But my all-time favorite Star Trek character is Lt Commander Worf, hands down.
I have a soft spot for prickly characters, and Worf is a veritable cactus of a Klingon. He is uncomfortable with affection, hates jokes, and resents having a birthday party thrown for him. What's not to love? 😉 Worf loves traditional Klingon food that reflects his planet's warrior culture, and what's more warrior-like than blood pie? Rokeg Blood Pie is a Klingon staple usually made with real blood, but don't worry, ours is made of bacon, sausage, beets, and butternut squash!
Rokeg Blood Pie

"Sergey Rozhenko: [of Worf] He never wanted any Human food while he was growing up. Everything had to be Klingon.
Helena Rozhenko: I learned to cook rokeg blood pie.
Sergey Rozhenko: However, we never quite learned how to eat it."
— Star Trek: The Next Generation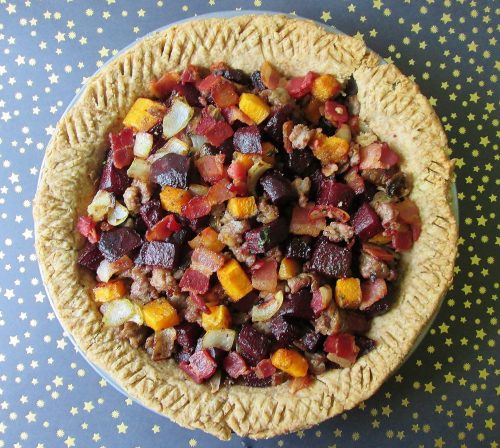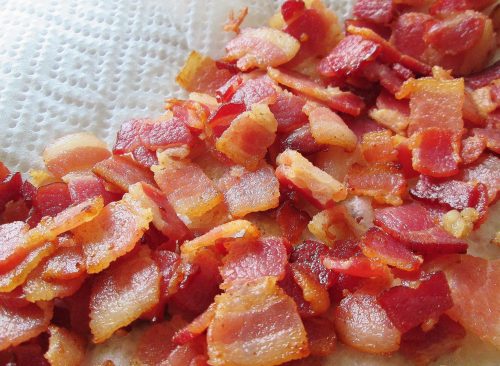 INGREDIENTS: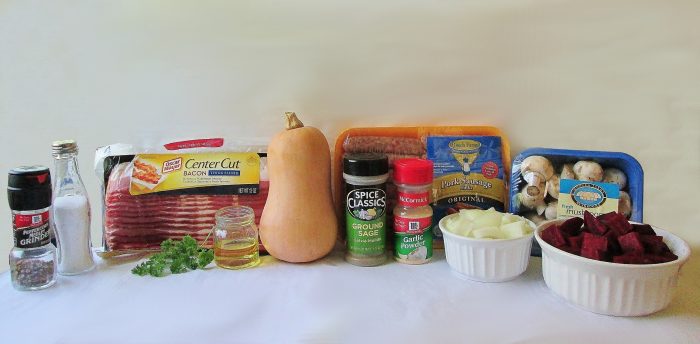 1/2 lb butternut squash
4 red beats
1/2 onion
heads of 5 button mushrooms
3-4 tbsp olive oil
1 1/2 tsp sage, separated
1 tsp garlic powder, separated
1 tsp fresh parsley
1/2 tsp salt
1/4 tsp pepper
1/2 lb sausage
1/2 lb bacon
1 whole wheat pie crust (You can buy them premade, but I used this recipe. If you decide to go with the recipe I used, be sure to add enough water that the dough easily sticks together and isn't too crumbly. Otherwise it will be very brittle and break apart during serving)
1 baking potato (not pictured)
1 egg
plus extra salt and pepper, to taste
Makes 1 9-inch pie

INSTRUCTIONS:
Preheat your oven to 400°. Peel your squash, beets, and onion and chop them into cubes. Coarsely chop your mushrooms.
Place your vegetables on a baking sheet and coat them with olive oil, 1 tsp sage, 1/2 tsp garlic powder, 1/2 tsp salt, 1/4 tsp pepper, and the parsley. Toss to combine and place them in the oven. Pierce the potato several times with a fork and place it on the oven rack next to the baking sheet. Roast for 30 minutes, stirring the baking sheet every 10 minutes.


While you wait for the vegetables, fry up your bacon and transfer it to a paper towel to drain (leave the bacon grease in the pan). Remove the sausages from their casings (discard the casings) and fry them up in the bacon grease, chopping them up with a spatula as you cook them. When fully browned, drain the sausage on the paper towel as well.

When the vegetables are fork tender, remove them from the oven. Turn the oven down to 375° (or whatever temp your pie dough calls for).
Carefully remove the skin from the potato (it will be hot) and place it in a large bowl with 1/2 tsp sage, 1/2 tsp garlic powder, salt and pepper to taste, and the egg. Whisk until smooth. Add 2/3 of the bacon, sausage, and vegetables to the bowl and stir it all up until they are fully coated with potato. Reserve the rest to add to the top of the pie later (this will preserve the color and texture). Set the bowl aside.
Roll out your pie crust to about 14 inches and gently lower it into a greased 9-inch pie tin. Trim the excess dough from the edge of the pie and decorate the edge if desired.


Thoroughly pierce the bottom of the crust with a fork in several places. Prebake for 15 minutes.

Pour the potato mix into the tin. Spread the reserved bacon, sausage, and veg on top. Return the pie to the oven to finish baking for 10-15 minutes or until the potato mix layer is hot and the edge of the crust is firm and lightly brown

If your crust is firm but your potato mix layer still isn't ready, wrap some tin foil over the edge of the crust to keep it from overbrowning for the rest of the bake time.
Want more savory pies? Check out our Deeper 'n Ever Pie!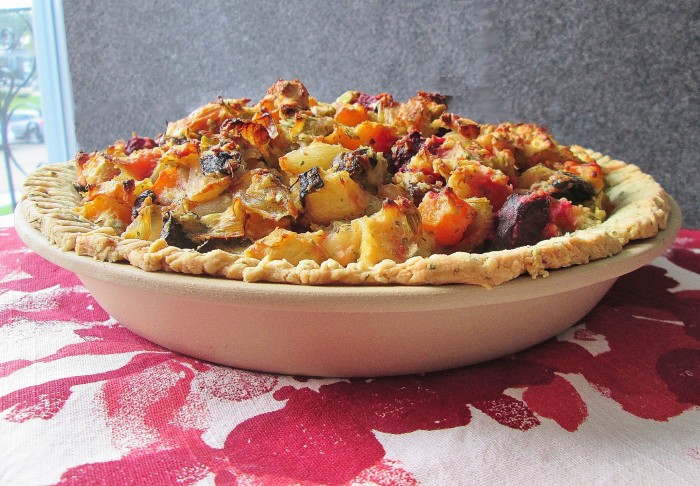 Save