As much as Homily complains about not wanting to live in a badger's set, something tells me she'd secretly love the challenge. Homily lives for homemaking, and making a home out of a badger's set is no small feat! These Badger's Set Salad Bites are inspired by the wild, field-to-table food the narrator hypothesizes Homily would serve at her new home. They feature dandelion greens, fresh berries, and edible blossoms. And don't forget the homemade strawberry-infused white balsamic vinegar for dressing! As with all our recipes from
The Borrowers
, each salad bite is the perfect size for a full-size Borrower meal or a Human Bean appetizer! 🙂

Badger's Set Salad Bites (an AWR Original Recipe!)

"They had hips and haws and blackberries and sloes and wild strawberries…Think of a salad made of those tender shoots of young hawthorn…with sorrel and dandelion…Homily was a good cook remember."
INGREDIENTS: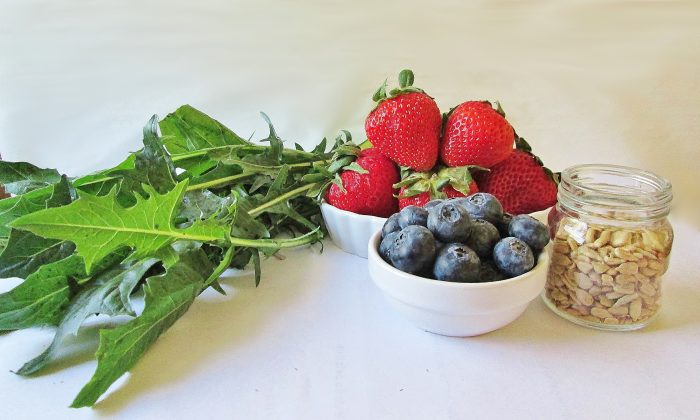 15 dandelion greens
8 small strawberries
30 blueberries (about 1/2 cup)
3 tbsp salted sunflower seeds
edible flowers (I used strawberry blossoms, but there's a full list of edible flowers here. Make sure they're clean and free of pesticides!)
strawberry balsamic vinegar (To make, coarsely chop some strawberries—I used 3 huge ones—and place them in small mason jar. Completely submerge the strawberries in white balsamic vinegar. Seal the container and leave to sit overnight at room temperature. After that, store in the refrigerator)
15 toothpicks

Makes 15 salad bites (enough to serve approximately 5 Human Beans or 60 Borrowers)

INSTRUCTIONS:
Start by rinsing and drying your greens and berries. Check your greens for any that have bristly hairs on their spines. Dandelion greens usually come in large packs, so discard the bristly ones and only choose your 15 greens from the ones with smooth spines.

See those little white hairs? They're prickly to the touch and not much fun to eat raw.

Cut your strawberries into wedges and trim your greens so that they're about 4 inches long.

Small strawberries are best for this because you can fit little wedges more comfortably on the toothpick than big wedges.

To assemble, insert a toothpick through one end of a dandelion green and slide the green to the bottom of the toothpick. Slide a strawberry and a blueberry width-wise onto the toothpick. Then slide on another strawberry and blueberry. Insert the toothpick through the other end of the dandelion green. Depending on what kind of flowers you use, they may be sturdy enough for you to insert them on the toothpick with the berries. My strawberry blossoms were kinda delicate, so I just tucked them in beside the berries. To finish, add some sunflower seeds.

I love the salt factor the seeds bring, balancing out the berries and vinegar, but it can be a little hard to keep the seeds on the bites if they're not tucked between the berries. You can leave them out for convenience sake, if you want.

Repeat Step 3 with the remaining salad components.
Sprinkle on some strawberry balsamic vinegar. If you want, you can strain the berries out of the vinegar and whisk in some olive oil, salt, and pepper to make an oil and vinegar dressing. I like the flavor of the complete dressing, but since this is finger food, I didn't really want to get messy fingers from dressing.
Still ain't got your salad fix? Check out these recipes!