A few months ago, I read The Borrowers for the very first time, and I couldn't believe what I'd been missing. It was amazing! Despite being written for a young audience, the characters were nuanced and relatable. The plot, though relatively simple, was engaging. I LOVED Arrietty's spunk—she quickly became one of my top literary heroines!
We first meet the Borrowers while they are making their evening dinner: potato soup. Of course, since the pot was no bigger than a thimble, only the most delicate slivers of potato and onion were taken from the Borrowers' stores to make the soup. Nevertheless, the resulting dinner was hearty and delicious, and I knew right away that it would be the appetizer for my Borrower menu.
In true Borrower fashion, all the dishes I make for this menu with be "mini dishes"—appetizers to Human Beans, but full-size meals to Borrowers. I found a delicious, simple potato soup recipe on Taste of Home and hollowed out some boiled potatoes to make little cups for serving. Topped with cheddar cheese, green onion, and bacon bits,  each cup is enough to feed a family of Borrowers…or whet the appetite of a Human Bean! 🙂
Potato Soup

"'You've ruined this potato,' she grumbled. 'You can't roll it back now in all that dust, not once it's been cut open.'
'Oh, what does it matter?' said Arrietty. 'There are plenty more.'
'That's a nice way to talk. Plenty more. Do you realize,' Homily went on gravely, laying down the half nail scissor, 'that your poor father risks his life every time he borrows a potato?'"
— The Borrowers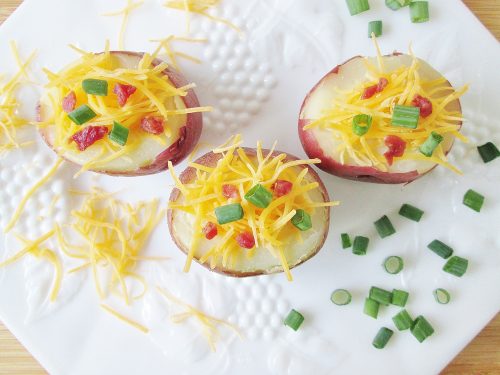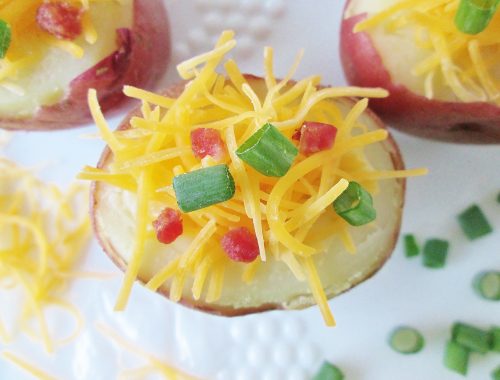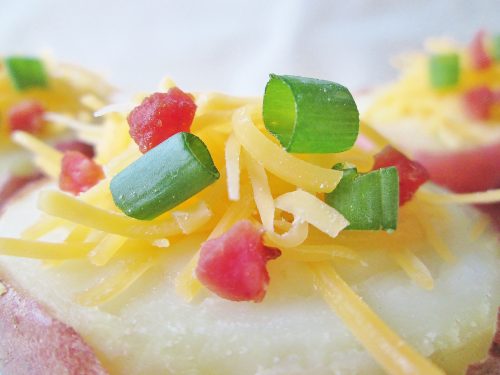 INGREDIENTS: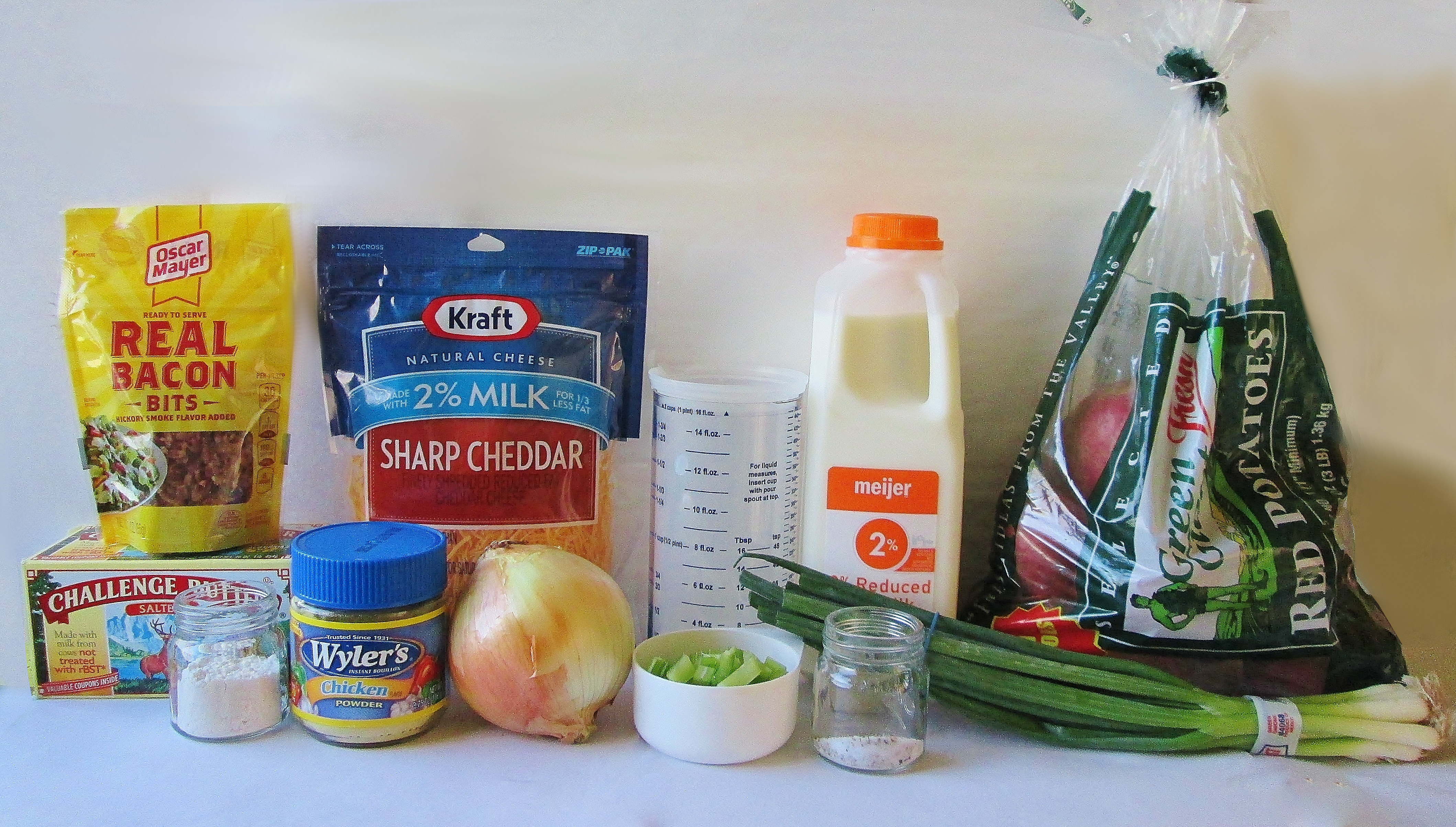 8 red potatoes for the soup, plus about 15 more to use for cups
1 stalk celery
1/2 onion
2 cups water
2 tsp chicken bouillon granules
2 tbsp butter
1/8 cup all purpose flour
1 tsp salt
1/4 tsp pepper
2 cups milk
cheddar cheese, bacon bits, and green onion for garnish

Serves approximately 5 Human Beans or 20 Borrowers

INSTRUCTIONS:
Peel 8 of your potatoes. Coarsely chop them, along with the celery and onion.

Word of Advice: Reserve your smoothest, prettiest potatoes to use as cups later. For the potatoes that you're chopping up now to put in soup, use the wonky-shaped ones.

In a large soup pot, stir together your potatoes, celery, onion, bouillon, and water. Bring them to a boil. Then turn the heat down to medium, cover the pot, and allow it to simmer for 20-25 minutes or until the potatoes are fork tender.

While you wait, add your remaining potatoes to a pot of cold water and bring it to a boil, allowing them to cook until fork tender. Drain the water, pat them dry with a cloth, and allow them to cool on a cutting board.

Since it was only me at home that day, I only made 5 potato cups and reserved the rest of the soup to serve in regular bowls later. If you want to put all the soup in potato cups, you'll want to boil a lot more potatoes (15-20, depending on the size).

When the potato mix in the pot is finished, let it cool for 5 minutes. Then transfer half the mixture to a blender. Blend until smooth and pour it into a large bowl. Repeat with the remaining half of the potato mix.


In the same soup pot, melt your butter. Then stir in the flour, salt, and pepper until smooth. Gradually stir in the milk, about 1/2 cup at a time. Bring it to a boil on medium heat, stirring regularly. Allow it to boil for 2 minutes, stirring constantly. Turn the heat down to medium-low and stir in the blended potato mix until fully incorporated. Allow it to heat through, stirring regularly.

While you wait for the soup to heat up, cut the tops off your potatoes so they're all level (about 3/4 inch off the top). If the potatoes do not stand upright on their own, you may need to trim a little off the bottom to make them flat. With a sharp paring knife, score a circle in the middle of each potato where you cut off the top, staying about 1/4 inch from the outside edge. Using the scored edge as a guide, scoop out the center of each potato, making each one into a small cup.


Spoon some soup into each potato cup and top with cheese, green onion, and bacon.

Still ain't got your potato fix? Check out these recipes!