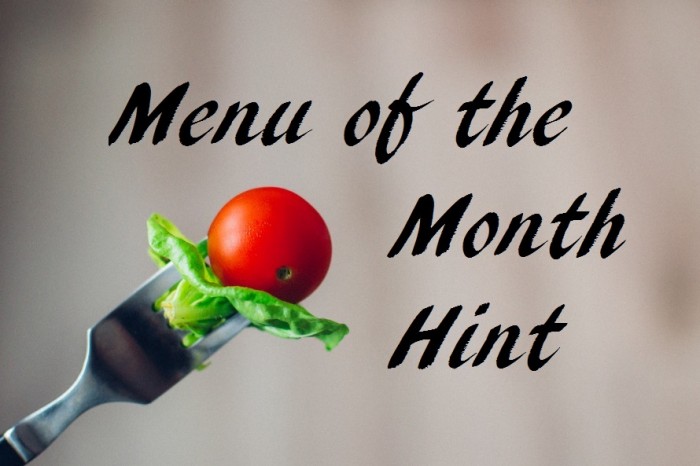 April is over and May is here—time to wrap up our current Book of the Month and introduce a new one! But before we get to that, let's sum up all the awesome stuff that happened this month:
Our Series of Unfortunate Events menu turned out to not be so unfortunate at all. With Aunt Joesphine's Chilled Cucumber Soup and Beatrice's Black Bean Mango Salad under our belt, we're ready for any hot weather that comes our way this summer. I also whipped up some oh-so-elegant (and easy!) Pasta Puttanesca, but I think the crown jewel of our Unfortunate menu was Uncle Monty's Coconut Cake. I still vividly remember reading about it as a kid—the soft, white cake and sweet, airy frosting. And now I've actually EATEN it! Truly, this is a book lover's greatest joy. 🙂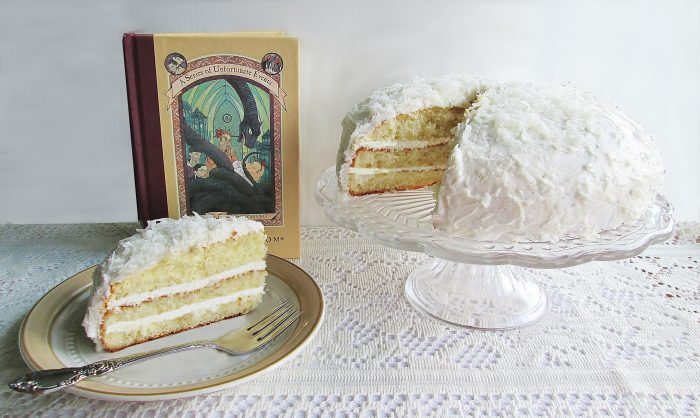 Esme Squalor's Aqueous Martini is Now Available in Tea Form. I premiered a new Adagio custom tea blend: Aqueous Tea, inspired by the Aqueous Martini from the Unfortunate Events books. The Aqueous Martini is just ice water with an olive in a martini glass, so the tea is a delicious white cucumber/spearmint blend to emphasize how refreshing the Aqueous Martini probably tasted after hiking all the way up the stairs to the penthouse of 667 Dark Avenue!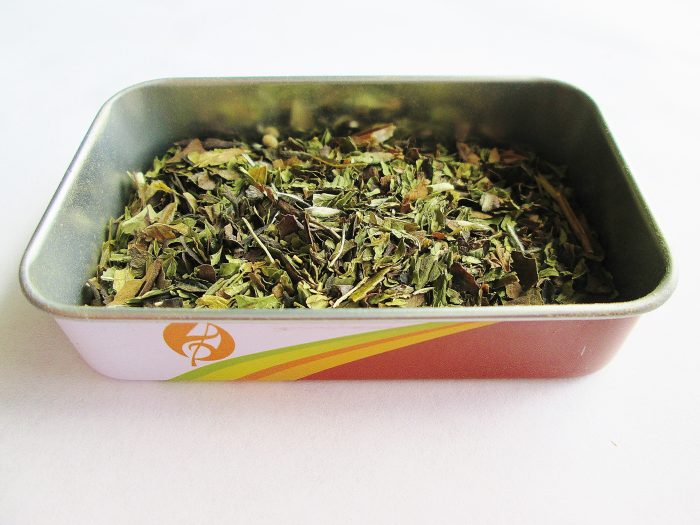 LOTS of family stuff going on this month. My youngest brother got confirmed and asked my husband to be his sponsor! 😀 I also got to hold my adorable baby nephew through most of the ceremony, so I may be a bit biased when I say the whole event was pretty awesome. Also, my cousin got married, so we got to party with my family a couple weeks ago. I "dressed like a sunflower" (green dress with the sunflower hair comb I wore at my own wedding). I also got to show off my intense bravery by killing a wasp at the reception. I AM CHAMPION!
I threw a tea party. My sister just became a Norwex consultant and has been throwing demo parties to get the word out about her products. She asked me to host a party for the NW Chicago suburbs…and may or may not have bribed me by saying I could make whatever food I wanted. 😉 So I did a tea party! Silly me forgot to take pictures, but I promise you it was amazing. I got to bust out my new stackable 3-tier cake stand and serve up lots of recipes from my site, including coffee muffins, cranberry pecan cheese balls, tea sandwiches, Belgian truffles, and coconut cake. In terms of tea, I served two hot teas (Abbot's Chocolate Hazelnut Tea and Miss Mary's Garden Blend) plus one iced tea (Becky's Peach Tea). Lots of noms were had by all!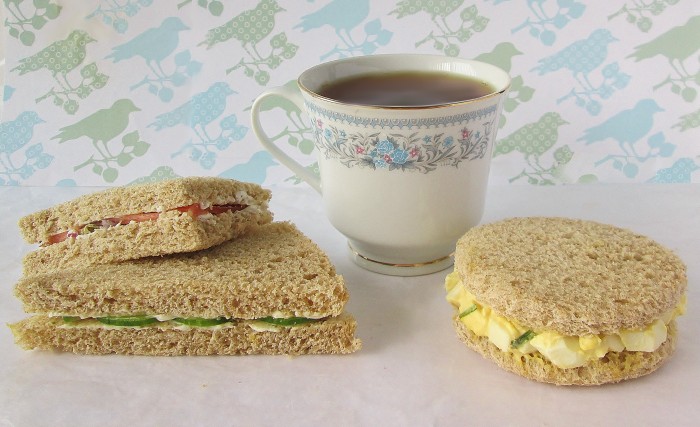 I finished Camp NaNoWriMo! For those unfamiliar, Camp NaNoWriMo is a less-intensive version of National Novel Writing Month, which is a novel writing challenge held every November. For the official NaNo in November, writers are challenged to complete 50K words in 30 days, but Camp NaNo is easier, allowing writers to set their own word count goals to be completed by the end of the month. Finishing Camp NaNo is a little less impressive than finishing NaNo in November, but I'm still proud that I met my goal, which was to write a full draft of the first scene for my next November NaNo book. The scene was only about 1,000 words (which I basically wrote in an hour), but I wanted to practice getting the tone of the narrator and two main characters right. It was fun to write, and I think perfecting it is going to be equally fun…and informative, as I learn how I want to present the story.

But now I'm ready for May! How 'bout you? Your photo hint for the next Book of the Month is posted below. Any guesses as to what it is?
The new menu premieres this Thursday! 😀