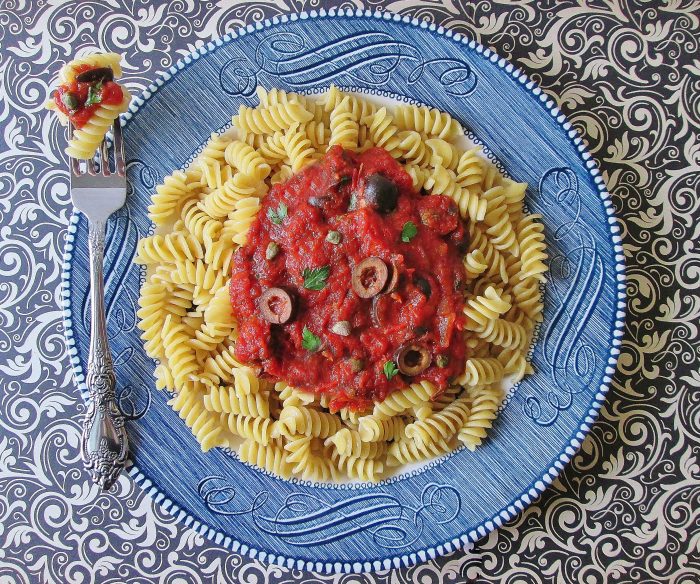 Can you guys believe I've never made pasta for the blog before? I couldn't believe it either, but when I decided to make the Baudelaires' pasta puttanesca for my Series of Unfortunate Events entrée, I went back and checked…and it's true. I've NEVER done a post about pasta. So we're fixing that now! 🙂

I'll admit, I wasn't sure I was going to like pasta puttanesca when I first read about it. No matter where you get your recipe, classic puttanesca sauce involves significant amounts of black olives, anchovies, and capers: all of which I was tentative about. I don't DISLIKE them exactly, but I usually only like them in very small amounts. Even so, I was resolved to make pasta puttanesca: you can't have a Series of Unfortunate Events menu without it! So I hunted down a good quality recipe (I chose one from Simply Recipes, since it looked the most authentically Italian and relatively easy to recreate).

After I tasted it, I was super impressed! What had seemed like a lot of odd ingredients came together in a balanced, delicious tomato sauce. The chopped anchovies incorporate into the sauce, eliminating the need for salt while adding just a liiiiiiittle bit of extra flavor (no fishy taste). The capers are mellowed out from simmering in the sauce, and the black olives actually sweeten things a little. The final product was nuanced and (because of the red pepper flakes) gently spicy. I can't believe Count Olaf didn't love it when the Baudelaires made it for him!

Pasta Puttanesca

"For most of the afternoon, Violet, Klaus, and Sunny cooked the puttanesca sauce according to the recipe. Violet roasted the garlic and washed and chopped the anchovies. Klaus peeled the tomatoes and pitted the olives. Sunny banged on a pot with a wooden spoon, singing a rather repetitive song she had written herself. And all three of the children felt less miserable than they had since their arrival at Count Olaf's. The smell of cooking food is often a calming one, and the kitchen grew cozy as the sauce simmered…"
— A Series of Unfortunate Events: The Bad Beginning

INGREDIENTS: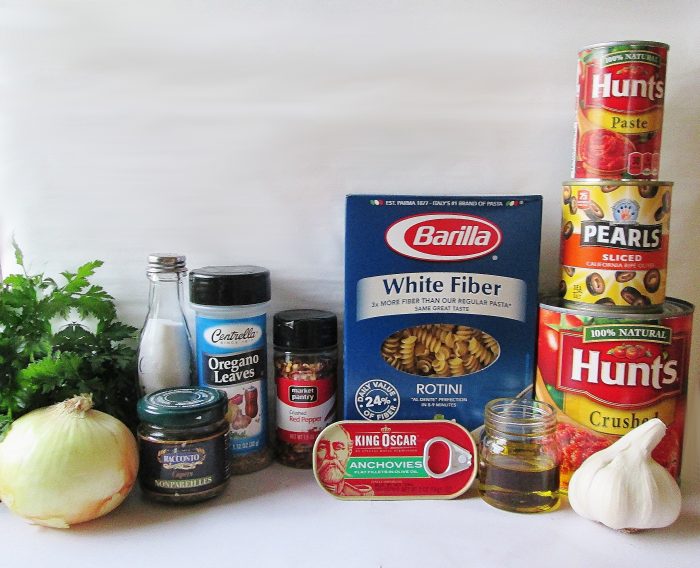 2 tbsp olive oil
1/2 cup chopped onion
2 large or 3 small cloves garlic
4 canned anchovies
2 tbsp tomato paste
1 28-oz can crushed tomatoes
1/2 tsp red pepper flakes
2 tsp dried oregano
3/4 cup pitted sliced olives
2 tbsp non-pariel capers
1/4 cup fresh flat-leaf parsley
1 12-oz box dry pasta (I used rotini, because the Baudelaires specifically mention using interestingly shaped noodles)
extra olive oil, for drizzling
Makes 4-6 servings
INSTRUCTIONS:
Heat the 2 tbsp olive oil over medium heat in a large saute pan with tall sides. Saute the onions until tender (approx. 5 minutes).
While you wait, mince your garlic. Coarsely chop your anchovies and parsley. Save the parsley for later. Add the anchovies and garlic to the pan, along with a drizzle of oil from the anchovy tin. Stir and cook 1 more minute.

Stir in the tomato paste and let it cook for 2 minutes. Add the crushed tomatoes, red pepper flakes, oregano, and olives. Turn the heat down to medium-low, give it a good stir, and let it simmer.

I almost halved the amount of pepper flakes the first time I made this, just because I'm not a huge spice fan. The original 1/2 tsp didn't seem like a lot though, so I kept it as is. SO GLAD I DID! I think the spice level is perfect: present but not overpowering. It's downright sophisticated!

Bring a pot of salted water to a boil and add your pasta. Add the capers to your sauce and continue to simmer. Cook the pasta for as long as the package suggests (for rotini, it usually takes around 8 minutes to reach al dente).

Drain the pasta, but keep it in the pot. Drizzle the extra olive oil over it and give it a good stir. This adds a hint of flavor and keeps the pasta from sticking together. Stir the parsley into your sauce.
Scoop the pasta onto serving plates and ladle the sauce over the top. Garnish with freshly grated Parmesan cheese, if desired.