You knew it was coming. How could a Three Musketeers menu end without a 3 Musketeers bar? Luckily, this recipe (which I originally found here) is super easy to make. There's a little bit of wait time involved while the filling chills, but the active preparation time is only 5-10 minutes…and there are only two ingredients! When I first tested the recipe, I was a little nervous that it was all too good to be true, but the finished candy bars DEFINITELY taste like the 3 Musketeers bars you buy in the store. 🙂
All for one and one for all! Let's all eat dessert! 😀
3 Musketeers Copycat Candy Bar

"Did you inquire the names of those three Musketeers?"
"Yes, monseigneur."
"What are their names?"
"Messieurs Athos, Porthos, and Aramis."
"Still my three brave fellows!" murmured the cardinal.
— The Three Musketeers


INGREDIENTS: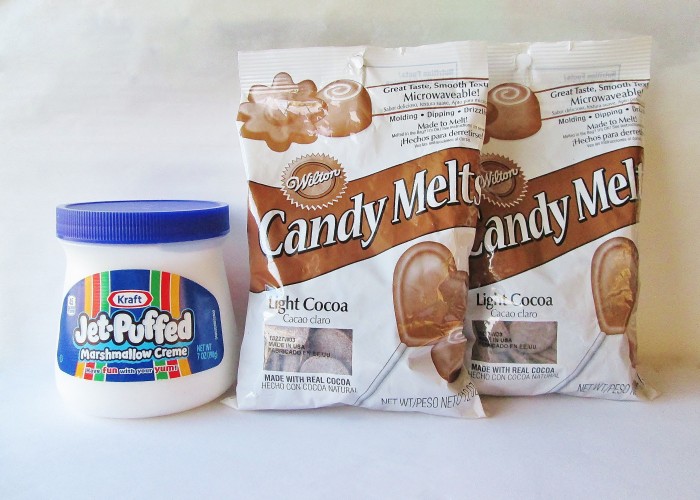 20 oz chocolate candy melts, separated
7 oz marshmallow creme

Makes 7 full size candy bars or 14 mini bars

INSTRUCTIONS:
Line a standard loaf pan with tinfoil and lightly coat with cooking spray. Set aside.
Pour 8 oz of candy melts into a medium-sized microwave safe bowl and heat according to package instructions, stirring until smooth.
Scoop the marshmallow creme into a large microwave safe bowl. Microwave for 30 seconds.
Gradually stir the melted chocolate into the marshmallow creme until it is fully incorporated and the coloring is even. Scrape the marshmallow mix into the loaf pan, using a spatula to flatten it into an even layer. Freeze for 30 minutes.


Remove the marshmallow mix from the pan by lifting out the tinfoil. Keeping the tinfoil in place, cut the mix width-wise on a cutting board into 7 candy bar sized rectangles. Place the bars back in the pan by lifting the edges of the tinfoil. Freeze for 1 hour.

You can also make a long cut lengthwise down the center to make mini candy bars.

Place a silicone mat on a baking sheet. When the bars are ready, melt 12 oz chocolate candy melts in a medium-sized microwave safe bowl according to package instructions. Stir until smooth.
One at a time, lower the bars into the chocolate. Completely coat them with chocolate using a spatula, and lift them out with an offset spatula. Place them in a row on the silicone mat. If you want, you can use the spatula to make a swirl across the top of each candy bar (make sure to do this quickly, though, or the coating will have already started to harden).


Place the baking sheet in the fridge, uncovered, for 5 minutes or until the coating has set.