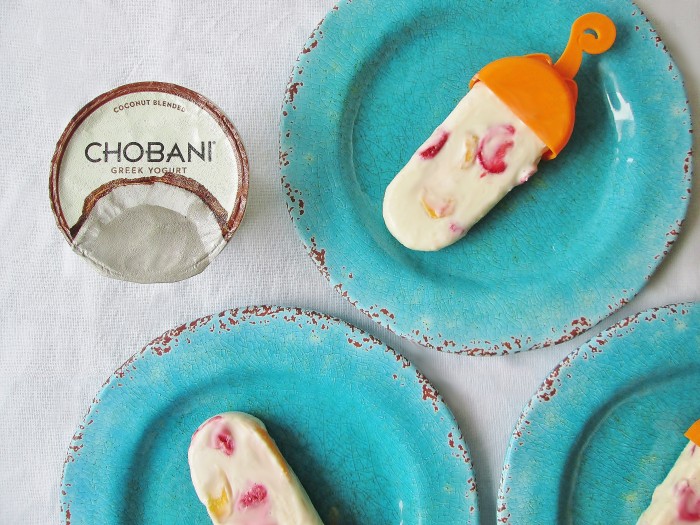 GUYS. Do you remember last year when Chobani asked a bunch of food bloggers (including myself) to make recipes for their #deliciousbowl Super Bowl project? Well, they emailed me again this year to say they liked my Healthy Dessert Pizza so much that they want me to make another healthy Super Bowl recipe! On the outside I was all "Ah yes, my good people. I would be elated to oblige," but on the inside I was all:

So I whipped up these good-for-you little beauties this past weekend: homemade healthy yogurt pops with freeze dried strawberries and peaches! You can use fresh fruit if you want, but I like the fact that the freeze dried fruit softens instead of freezing like the rest of the pop, adding a fun textural element. I also blended bananas into the yogurt, since pure yogurt doesn't really like to stay frozen. The bananas help the pops keep their form and add a little extra flavor. Enjoy!
P.S. You can find more #madewithchobani Super Bowl recipes here.
INGREDIENTS: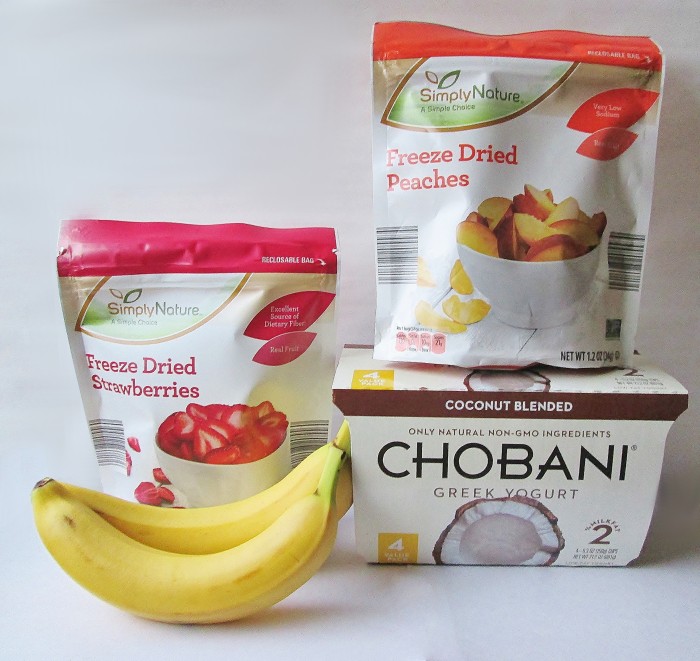 21 oz coconut Greek yogurt
2 bananas
freeze dried strawberries
freeze dried peaches

Makes approx. 6 pops, depending on the size of your molds

INSTRUCTIONS:
Peel and slice your bananas. Pour them into a blender with the yogurt and blend until smooth.
Stir your fruit into the yogurt mix and pour it into your molds. The peach pieces may be kind of big depending on the brand you buy, so you may need to chop them up first. I recommend using about a 1/2 cup strawberry pieces and the equivalent of 12 whole peach pieces.
Freeze for 3 hours or until completely firm.
Run warm water over the outside of the molds to loosen them. Slide the molds from the pops.
Serve as a guilt-free Super Bowl snack!